From the historical U.S. presidential inauguration to a world flu pandemic, 2009 was a year of successes and concerns. This year, we endured a recession, marveled at Mars and flooded the Internet with Michael Jackson searches.
Mid-January, NASA revealed that methane had been detected in the Martian atmosphere. While scientists are still endeavoring to understand how this methane is created, the presence of the gas indicates that there is some life on the planet.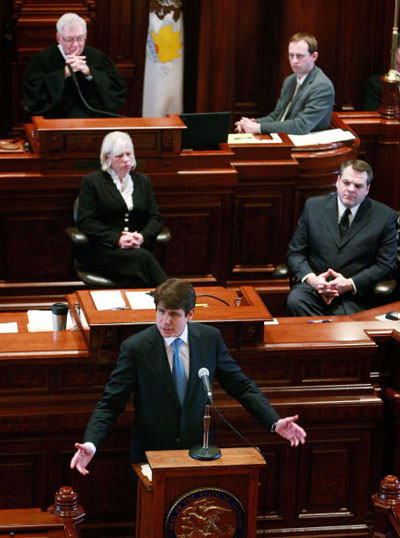 Gov. Rod Blagojevich was impeached on Jan. 9, after the Illinois House voted 114-1 that he was unfit to hold the office of governor. Blagojevich stood accused of abusing his power by attempting to sell Barack Obama's Senate seat.
Chris McGrath/Getty Images
US Airways flight 1549 crashed into the Hudson River shortly after it left La Guardia Airport in New York for Charlotte, N.C. The 150 passengers and five crew members on board survived the emergency water landing that pilot Chesley Burnett Sullenberger III made after birds struck the plane's engines.
On Jan. 20, Barack Obama was sworn in as the 44th U.S. president. His inaugural address described the dawn of a "new era of responsibility," and he took the oath of office with Abraham Lincoln's Bible.
Kevin Winter/Getty Images
The low-budget Bollywood film "Slumdog Millionaire" was nominated for 10 Academy Awards and won eight, including Best Motion Picture of the Year and Achievement in Directing. News outlets reporting on the honors called it a rags-to-riches story for the film crew and actors.
By early February, Australian brush fires had caused 173 deaths, a historical high for fire-related fatalities. As people were forced from their homes and the landscape burned on, smoldering parts of Healesville, Victoria, revealed the extent of the damage.
Chip Somodevilla/Getty Images
On June 1, General Motors filed for bankruptcy. The Wall Street Journal called this event a "landmark case," and declared it the "second-largest industrial bankruptcy in history."
An Oxford University research team published an article in February's issue of Nature about the state of HIV. Lead researcher Professor Philip Goulder said the virus was undergoing "high-speed evolution" that's led to about 14 different mutations. The virus has adapted to dodge medicine's "best efforts at natural immune control."
On March 5, President Obama is cheered on as he signs an executive order to reverse the Bush administration's policy on embryonic stem cell research, which was signed into effect on Aug. 9, 2001.
Stephen Chernin/Getty Images
On March 12, Bernard Madoff pleaded guilty to the 11 charges stacked against him. He said that he was "deeply sorry and ashamed" for his financial scheme, which drained about $65 billion from investors' pockets. Madoff was sentenced to 150 years in prison on June 29, which he's now carrying out in Butner, N.C.
Zeus is as much a part of ancient Greece as the Parthenon is -- even if he is mythical. In 2009, archaeologists revealed that they've found his supposed birthplace -- and it's near Mount Lykaion instead of Crete, as other historians supposed. Scientists unearthed cult ceremony fragments near Mount Lykaion that date as far back as 3,000 or 4,000 years, according to LiveScience.
London hosted the G20 summit in April, and anti-capitalists and climate change activists demonstrated in front of the Bank of England on April 1. They called for attention to climate change, unemployment and poverty.
On April 15, protesters gathered at the Federal Building Plaza in Chicago to speak out against government spending and corporate bailouts. This Chicago Tea Party was just one of many tea parties around the nation. The term came from the Boston Tea Party tax protesters of the late 18th century.
Chung Sung-Jun/Getty Images
At a rally protesting North Korea's construction and launch of a long-range rocket, South Koreans burn a mock replica of the weapon. Back in March, North Korea released word that it would launch the rocket and a commercial satellite between April 4 and 8. In preparation, the U.S. Navy moved ships to the Sea of Japan to shoot it down.
Gu Jun/China FotoPress/Getty Images
On April 27, a government worker from China's animal disease department disinfects a pig to protect against swine flu in Taizhou, Jiangsu Province.
John Kopaloff/FilmMagic/Getty Images
"X-Men Origins: Wolverine," starring Hugh Jackman, was scheduled to hit theaters on May 1. However, a pirated copy of the film, which 20th Century Fox called "an incomplete and early version," was leaked online. More than 1 million people downloaded it, and the FBI launched an investigation into the leak.
Chip Somodevilla/Getty Images
On May 22, journalist Roxana Saberi lands at the Dulles International Airport in Dulles, Va. The National Public Radio and BBC freelancer was detained in prison in Iran after being fingered as a U.S. spy.
BuzzFoto/FilmMagic/Getty Images
Nine weeks early, Nadya Suleman (rear) gave birth to octuplets on Jan. 26. The eight babies rounded out the family to 14 children -- and the single mom conceived all of them through in vitro fertilization. Suleman, who became known in the media as "Octomom," made headlines again in the summer as she explained how she dropped the baby weight.
Ahikam Seri-Pool/Getty Images
Pope Benedict XVI launched an eight-day tour of the Middle East in May. On May 12, he visited the Western Wall, a holy prayer site. TIME magazine acknowledged the pope's difficult task as he visited monuments of "three monotheistic faiths" and "carried a message of peace and reconciliation."
Michael Buckner/Getty Images
Pixar's "Up" was the first animated film ever to open the Cannes Film Festival. On May 13, children play with balloons at the film's premiere in France.
Justin Sullivan/Getty Images
On May 26, the streets of San Francisco filled with advocates of same-sex marriage, who reacted to the California Supreme Court's ruling to uphold Proposition 8. The court voted 6-1 in favor of the proposition, making it illegal for same-sex couples to wed.
Jeff Zelevansky/Getty Images
In June, French President Nicolas Sarkozy sparked controversy by declaring that the burqa, a garment that covers the face and body, "imprison[s]" the Muslim women who wear it. Sarkozy declared that the burqa does not represent "the French republic's idea of women's dignity."
Denise Truscello/Getty Images
In the Abruzzo region of Italy, the 6.3-magnitude earthquake that occurred on April 6 left behind massive damage and a death toll that had escalated to nearly 300 by early June.
Julien Hekimian/WireImage/Getty Images
Air France flight personnel and relatives of the passengers on board flight 447 gather at a memorial service at the Notre Dame Cathedral in Paris on June 3. The plane, which carried 216 passengers and 12 crew members, disappeared in the Atlantic Ocean on June 1, nearly halfway through the flight from Rio de Janeiro to Paris.
On June 10, James W. von Brunn opened fire in the U.S. Holocaust Museum in Washington, D.C. He struck and killed guard Stephen Tyrone Johns before being wounded himself. Von Brunn, a white supremacist and Holocaust denier, targeted the museum on the day a play was set to open that imagined a conversation between Anne Frank, a young Jewish girl who died during the Holocaust, and Emmett Till, a young black man who was murdered in Mississippi in 1955.
On June 12, Iranian President Mahmoud Ahmadinejad was re-elected; here, at a June 14 press conference, he acknowledges his supporters. However, the election was not without controversy.
A candlelight vigil for Neda Agha Soltan, a 26-year-old music student, is held in Berlin on June 25. Soltan was shot in Tehran, where she and a crowd of demonstrators were protesting the recent presidential election results. The young woman became a symbol for the cause.
Pop superstar Michael Jackson's death on June 25 caused what Google termed a "volcanic" increase in Web traffic. People took to sites like Wikipedia, Google News, Twitter and TMZ to track down the story, causing unprecedented amounts of Internet activity that stalled sites and fueled rumors about Jackson's fate.
Davis Turner/Getty Images
At a press conference on June 24, South Carolina Governor Mark Sanford tearfully admitted that he'd been having an affair. Sanford came under fire after leaving town for several days without giving notice of his whereabouts. He offered to resign as head of the Republican Governors' Association; however, he said he would not resign from the governorship.
Muhannad Fala'ah/Getty Images
Iraq declared June 30 National Sovereignty Day in honor of U.S. troops restoring control of Iraqi cities to the country's own security forces. Iraqi soldiers here in Baghdad wave in celebration of the occasion.
China FotoPress/Getty Images
The longest solar eclipse of the century occurred on July 22, and the astronomical phenomenon drew tourists to Asia, where it was visible in parts of India, Nepal, Bangladesh, Bhutan, Myanmar and China. The eclipse lasted nearly six minutes and 39 seconds. This view is from Wuhan, Hubei Province of China.
In a meeting dubbed "the Beer Summit," President Obama shared a beer and mediated a conversation with Harvard University Professor Henry Louis Gates and Cambridge Police Sgt. James Crowley on July 30 in Washington, D.C. On July 16, Crowley arrested Gates for disorderly conduct in Gates' home.
Honduran President Manuel Zelaya was captured by the country's army and forced into exile in Costa Rica after a coup on June 28. Zelaya was accused of changing his agenda after coming into office. By November, the United States was hopeful that elections would settle the power struggle in Honduras.
Koichi Kamoshida/Getty Images
Late August marked a historic election in Japan with Yukio Hatoyama's victory. A member of the Democratic Party of Japan (DPJ), Hatoyama's electoral win closed a half-century's reign of influence by the country's Liberal Democratic Party (LDP). The Japanese parliament's power is now concentrated in the democratic party.
In late August, the Walt Disney Co. announced that it would purchase Marvel Comics for $4 billion. The business deal gave Disney proprietary control of such famous Marvel figures as Spider-Man and the Incredible Hulk.
Kevork Djansezian/Getty Images for Shangri-La
Euna Lee and Laura Ling, two U.S. journalists who had been arrested and detained in North Korea, arrived at Hangar 25 in Burbank, Calif., on Aug. 5 after former President Bill Clinton met with President Kim Jong-Il and negotiated a pardon and their release.
On Aug. 6, the U.S. Senate confirmed Sonia Sotomayor's Supreme Court nomination, voting 68-31. Sotomayor became the first Hispanic justice. Here, the 111th justice is photographed with Chief Justice John Roberts outside the U.S. Supreme Court building.
Bill Pugliano/Getty Images
During a public webcast on Aug. 11, General Motors CEO Fritz Henderson revealed the Chevy Volt Extended Range vehicle. As part of the "new GM," the Volt gets an impressive 230 mpg in the city.
Danny Lawson-Pool/Getty Images
Abdelbaset Ali al-Megrahi, the Lockerbie bomber, was released from Greenock Prison in Glasgow, Scotland, on Aug. 20. In 1988, he bombed Pan-Am flight 103, causing the deaths of 270 people. After serving eight years of a life sentence, Megrahi, who had been diagnosed with terminal prostate cancer, was granted a compassionate release to return home to Libya. News of his death reached journalists in late October, but Megrahi's lawyers denied the claims.
Petty Officer 2nd Class William Ramsey/U.S. Navy via Getty Images
Tropical Storm Ketsana, which slammed the Philippines in late September, caused massive damage and heavy flooding that claimed the lives of at least 140 people and displaced about 300,000.
The Station fire, the biggest wildfire in Los Angeles county history and the eighth-largest in state history, engulfed an area twice the size of Sacramento by Sept. 8. Officials believe an arsonist set the blaze, which killed two firefighters.
A study published in the Sept. 4 issue of Science revealed that Arctic air temperatures were at a 2,000-year high in the 1990s. Scientists claim that the high air temperatures are a result of greenhouse gas emissions; based on cooling trends, the Arctic temperatures should be on the cooler end of their natural cycle now.
Chip Somodevilla/Getty Images
U.S. House Rep. Joe Wilson of South Carolina shouted "You lie!" during President Obama's health care speech to Congress on Sept. 9. Shortly after the outburst, Wilson telephoned White House Chief of Staff Rahm Emanuel with an apology for Obama. The House also passed a resolution of disapproval against him -- a vote that was split along party lines, 240-179.
Vittorio Zunina Celotto/Getty Images
On Sept. 27, film director Roman Polanski was arrested in Switzerland. Since 1988, the United States had been seeking to arrest Polanski, who left the country for France after a 1977 court case in which he pleaded guilty to sex with a minor. In December, Polanski posted bail at $4.5 million and began serving house arrest at his chalet in Gstaad, Switzerland.
On Oct. 2, the city of Beijing hosted a celebration for the 60th anniversary of the People's Republic of China. This screen in Tiananmen Square projected images of such festivities as a military parade and a pageant consisting of nearly 200,000 citizens.
Falcon Heene, popularly known as "Balloon Boy," was believed to have taken flight inside a homemade weather balloon on Oct 15. After a media blitz and widespread frenzy, Falcon was discovered in the attic of his family's home. When the balloon flight was revealed to be a hoax, Richard Heene, the boy's father, was charged with attempting to influence a public servant, and Falcon's mother, Mayumi Heene, was charged with false reporting to authorities.
Stephan Gladieu/Getty Images
In early October, scientists introduced the world to "Ardi," the skeleton of a species termed Ardipithecus ramidus, the oldest known human ancestor. The skeleton, which was found in the Afar Desert in Ethiopia, pictured here, offers evidence of another stage of human evolution that pre-dates Lucy.
Paula Bronstein/Getty Images
An Afghan man passes underneath an election billboard in Kabul in mid-October. The Independent Election Commission oversaw the voting process after Afghanistan's Electoral Complaints Commission expressed concerns of fraud, leading to a runoff between President Hamid Karzai and Abdullah Abdullah. Shortly before the runoff, Abdullah withdrew his name, guaranteeing another term for Karzai.
Charles Dharapak-Pool/Getty Images
Brazilian President Luiz Inacio Lula da Silva (center) is surrounded by merrymakers in Copenhagen, Denmark, after the International Olympic Committee (IOC) announced that Rio de Janeiro would be the site of the 2016 games. Chicago, Tokyo and Madrid were other cities considered to host the games.
Chung Sung-Jun/Getty Images
The Supreme Court of Burma agreed to hear the case of Aung San Suu Kyi on Dec. 21. The Nobel Peace Prize winner is the elected leader of the country and is part of the National League for Democracy (NLD), but she's been kept under house arrest by the Burmese military for 14 of the past 20 years.