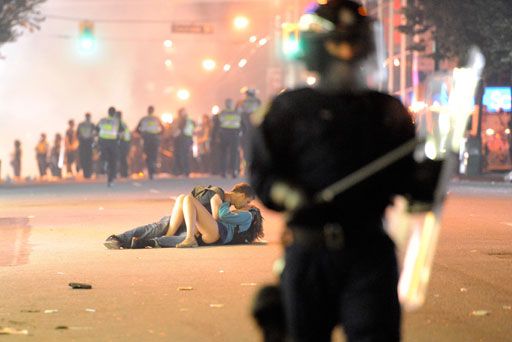 It was a year of civil uprising, financial uncertainty and natural disaster, yet amid the turmoil, there were still moments of joy and triumph. Perhaps no other image from 2011 sums this up as well as this scene from a June 15 riot in Vancouver, Canada.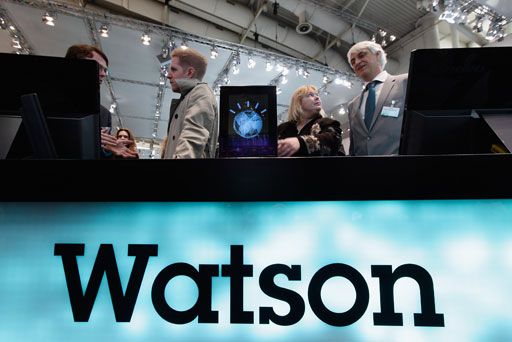 January 2011 was a big month for the artificially intelligent among us, as IBM's supercomputer Watson defeated its human adversaries, first in a Jan. 13 practice round and then in two televised matches, on the game show "Jeopardy!" Here, attendees at a German technology trade fair inspect a slimmed-down version of Watson.
Peter Macdiarmid/Getty Images
The so-called "Arab Spring" wave of antigovernment protests spread through the Middle East in 2011, bringing with it both the threat and the promise of political change. Here, riot police fire water cannons at protesters attempting to cross the Kasr al-Nile Bridge in downtown Cairo, Egypt, on Jan. 28. Thousands of police took to the streets in a fruitless attempt to quell the growing unrest.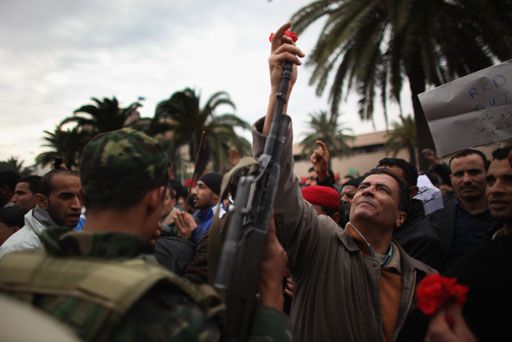 Christopher Furlong/Getty Images
Images of peace and celebration also emerged from 2011's Arab Spring. Here, a demonstrator places a flower in the barrel of a soldier's rifle following the ousting of Tunisia's then-president Zine al-Abidine Ben Ali. Crowds gathered outside the headquarters of the Constitutional Democratic Rally (RCD), the ruling party for decades, and cheers erupted as the party's signs were torn down from the building.
Chris Hondros/Getty Images
Here we see a moment of celebratory bliss in Egypt's roller-coaster year of protest and political change, as a demonstrator reacts to Feb. 10 news of a planned statement by embattled Egyptian President Hosni Mubarak just before his resignation from office.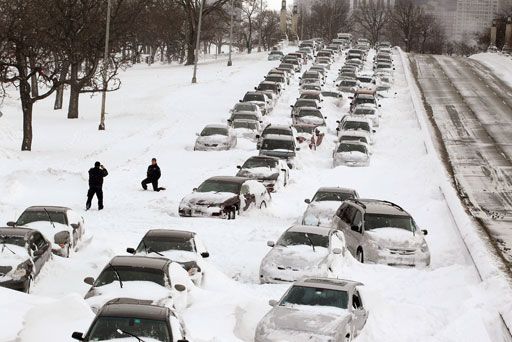 February 2011 was a chilly month for many residents of North America, as freezing weather gridlocked much of the continent. Here, cars sit snow-stranded in Chicago's northbound lanes following a Feb. 2 blizzard. With 20 inches (51 centimeters) of snowfall, it was the third largest snowstorm in the city's history.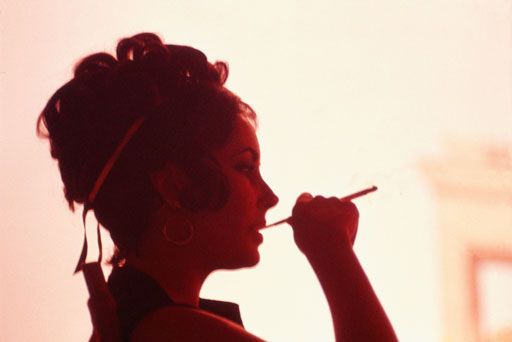 A number of entertainment luminaries passed on in 2011, including screen legend Elizabeth Taylor, seen here in the dressing room of the "Cleopatra" set in 1962. The year also saw the passing of Jane Russell, Nate Dogg, Michael Gough, Peter Falk, Anne McCaffrey, Ken Russell, Joe Frazier and Amy Winehouse.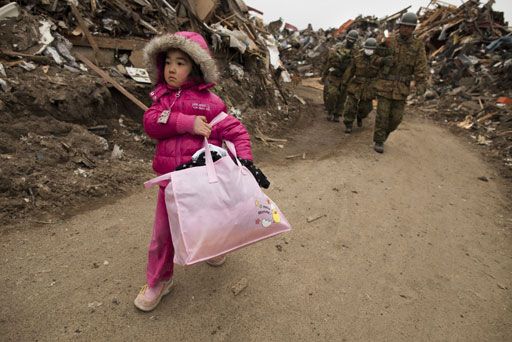 Paula Bronstein /Getty Images
On March 11, a devastating magnitude-9.0 earthquake hit Japan. The quake and ensuing tsunami claimed more than 10,000 lives and obliterated coastal regions. Here, Neena Sasaki, 5, carries some of the family belongings from her destroyed home in Rikuzentakata, Miyagi province, Japan.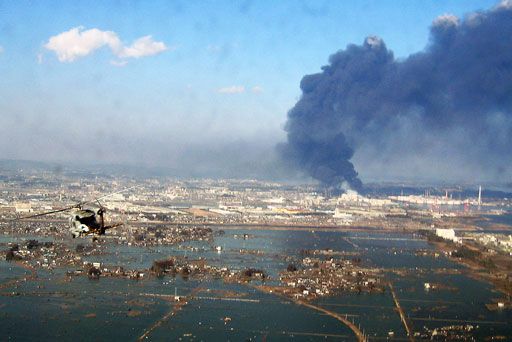 The tsunami that followed on the heels of that fateful earthquake damaged backup generators at the Fukushima Daiichi nuclear power plant, resulting in a series of equipment failures, nuclear meltdowns and radioactive leakages. The event caused considerable panic in Japan and renewed concerns over nuclear power spread around the globe. Pictured is an aerial view of tsunami and earthquake damage off the coast of northern Japan on March 12, 2011.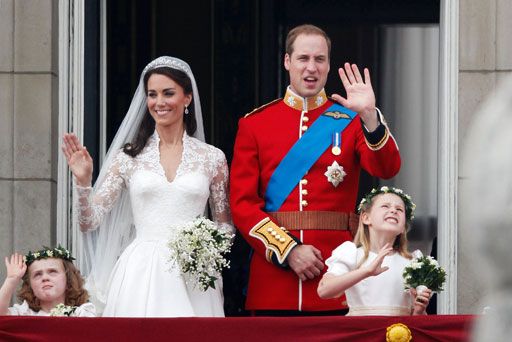 Christopher Furlong/Getty Images
The year 2011 provided plenty of troubling news stories, but it also gave us one monumental distraction in the form of the April 29 royal wedding. Here, newlywed Catherine, Duchess of Cambridge, and Prince William, Duke of Cambridge, greet well-wishers from the balcony at Buckingham Palace in London, England. The ceremony was attended by 1,900 guests, including royal family members and heads of state. Thousands of well-wishers from around the world flocked to London to witness the spectacle, and countless more watched on TV.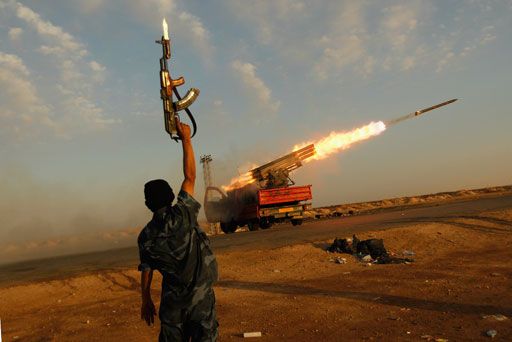 Chris Hondros/Getty Images
Violent upheaval altered the political landscape of Libya in 2011, as rebel forces raised arms against the 34-year rule of Moammar Gadhafi. Here, on April 14, a rebel celebrates as his comrades fire a rocket barrage at Gadhafi-loyalist troops west of Ajdabiyah, Libya. The fighting would continue much of the year, with Gadhafi himself dying in rebel captivity on Oct. 20.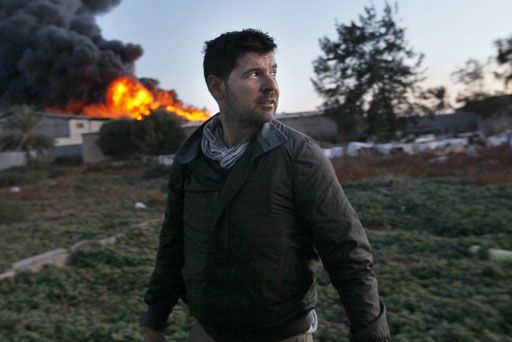 Katie Orlinsky/Getty Images
As we experience the stunning photographs that brought the world to our screens and newspapers in 2011, it's important to recognize the men and women who put themselves in life-threatening situations to capture global conflict. Pictured is photojournalist Chris Hondros, who was responsible for the previous image in this slide show and was killed on assignment in Misrata, Libya, during a rocket-propelled grenade attack. Oscar-nominated documentarian Tim Hetherington also died in the same attack.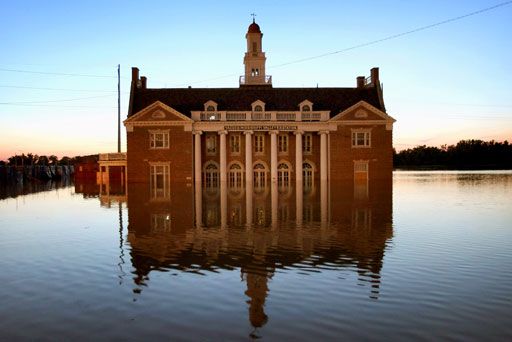 Global weather patterns typically refuse to fall in step with human plans, and 2011 was no exception. The month of May saw the mighty Mississippi River swell and overflow its banks due to massive amounts of rainfall. This is the historic Yazoo and Mississippi Valley Railroad Station in Vicksburg, Miss., surrounded by floodwaters. Flood levels saturated the ground and caused widespread damage from Illinois to Louisiana.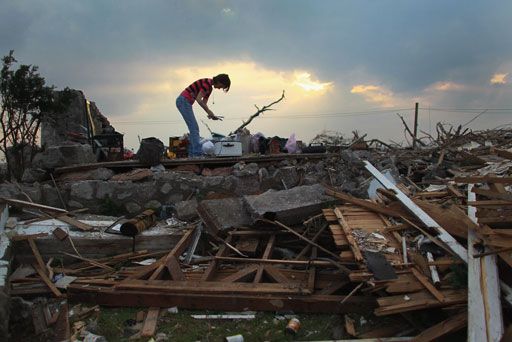 The wind also ravaged North American populations in 2011. Here we see Shanie Spencer as she salvages what she can from what remains of her house on May 28 in Joplin, Mo. A massive tornado hit the town on May 22, killing at least 142 residents.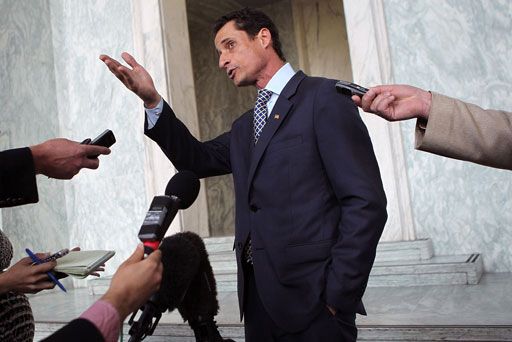 A year in American politics scarcely seems complete without a sex scandal, and 2011 provided one worthy of the social media age. That's U.S. Rep. Anthony Weiner from New York speaking to the media regarding a lewd underwear photo he tweeted to a college student in Seattle. Bombarded by public scrutiny and media mockery, Weiner resigned the following month.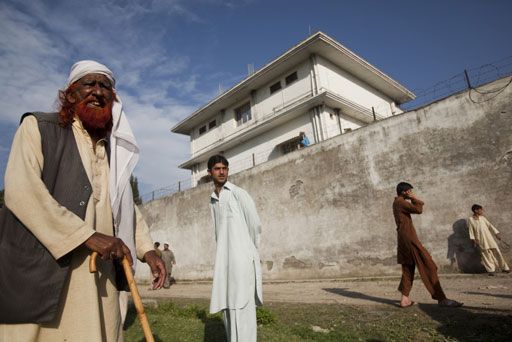 Warrick Page/Getty Images
On May 2, American forces finally succeeded in their hunt for Osama bin Laden, the al-Qaida mastermind behind the terrorist attacks of Sept. 11. Here, locals in Abottabad, Pakistan, gather outside the compound where U.S. Navy Seals fatally shot bin Laden in a May 3 operation. The Obama administration opted not to release photographs of bin Laden's body, which was buried subsequently at sea.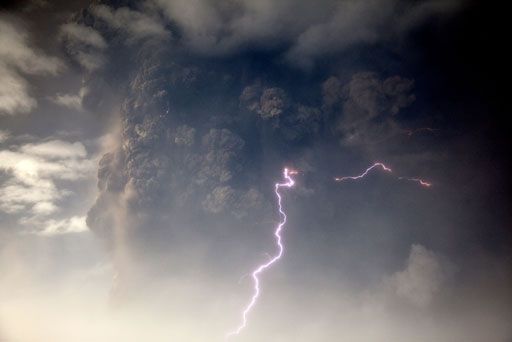 Jon Magnusson/Getty Images
Lighting lashes through the clouds of volcanic ash spewed by the May 23 eruption of Iceland's Grimsvotn volcano. The clouds forced the closure of Icelandic airspace and briefly spread fears of a repeat of the 2010 global travel chaos stirred by the Icelandic eruption of Eyjafjallajökull.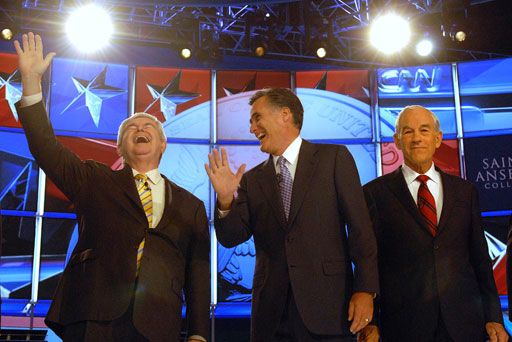 Darren McCollester/Getty Images
The quest for the Republican Party's presidential nomination dominated U.S. political coverage in 2011, as GOP candidates debated and stumped across the country for the chance to challenge President Obama in 2012. In this photo, candidates Newt Gingrich, Mitt Romney and Ron Paul share a laugh before a debate on June 13 in Manchester, N.H.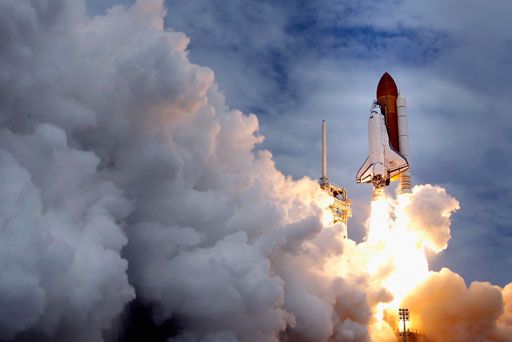 Chip Somodevilla/Getty Images
NASA's 30-year space shuttle program ended in 2011, stirring feelings of nostalgia in even the most casual of space fans. Here we see space shuttle Atlantis as it blasts off from Kennedy Space Center on July 8, 2011. The bittersweet launch highlighted concerns over the future of manned space exploration, even as private ventures such as Virgin Galactic and new national space programs in China and India continued to grow.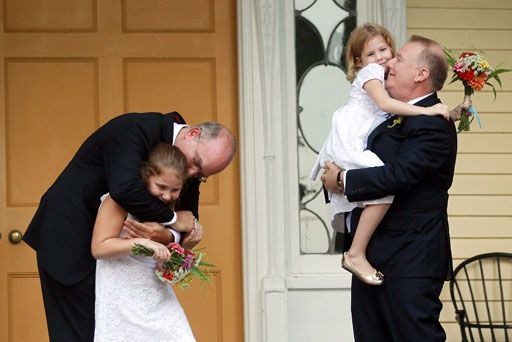 Gay rights advocates in the United States grabbed headlines in July 2011. Here, newlyweds John Feinblatt and Jonathan Mintz celebrate with their daughters Maeve and Georgia at Gracie Mansion on July 24, the first day gay couples were allowed to legally marry in New York state. The couple worked at city hall for Mayor Michael Bloomberg, who officiated the wedding.
This stunning photo encapsulates both the harsh realities and resilient hope associated with drought. A weed grows out of the dry, cracked bed of O.C. Fisher Lake on July 25 in San Angelo, Texas. Formerly a source of drinking water and recreation for surrounding communities, the area lake suffered from nine months of the driest Texan weather on record, with 75 percent of the state classified as dealing with "exceptional drought," the worst level.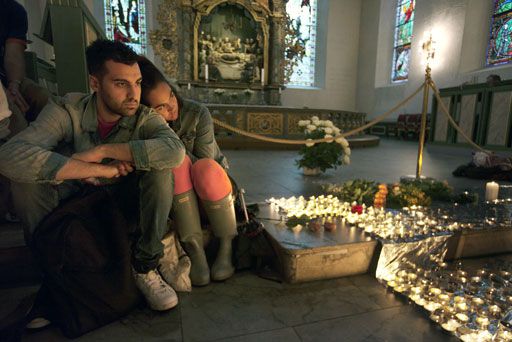 Paula Bronstein /Getty Images
Human violence and human madness are always with us, as the events of July 24 in Oslo, Norway, illustrated. Here, friends and loved ones gather at an Oslo cathedral to mourn the 77 victims killed in twin terror attacks from a bombing in downtown Oslo and a mass shooting on Utoya Island. Norwegian Anders Behring Breivik confessed to the attacks but refused to plead guilty.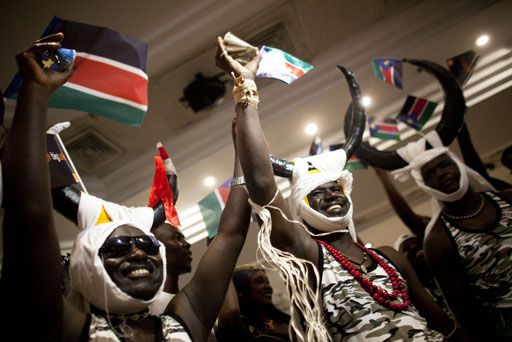 Unity isn't always a reason to rejoice; sometimes division is the long-sought prize. Here, Sudanese refugees living in Tel Aviv dance to celebrate South Sudan's independence from the Republic of Sudan. South Sudan became a state on July 9 after it separated from the north, with its capital in Juba, following a vote for independence. The country was recognized on July 8 by the government of Sudan.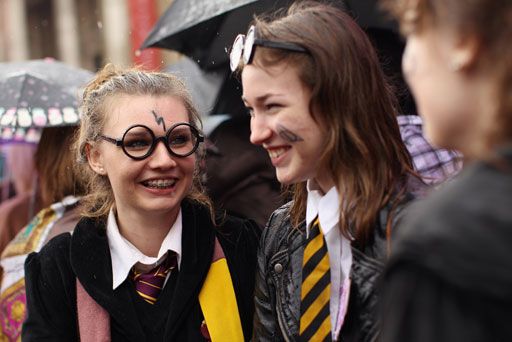 A film saga close to the hearts of millions came to an end in 2011, as the final Harry Potter film debuted in July. These enthusiastic fans in London waited overnight to glimpse the film's cast members and watch a screening of "Harry Potter and the Deathly Hallows: Part 2" before its general release date of July 15, 2011. Fantasy buffs also enjoyed the penultimate film in the "Twilight" stories, along with the long-awaited fifth volume in George R. R. Martin's "A Song of Ice and Fire" series.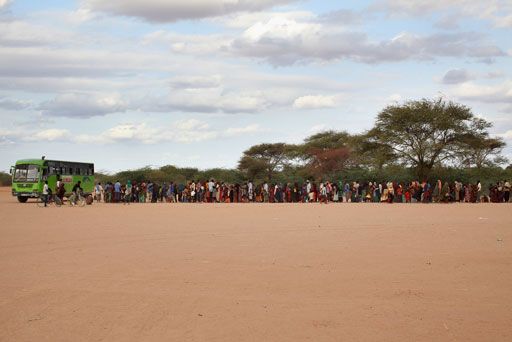 It was a hard year for the people of Somalia, marked by an ongoing civil war and the worst drought to affect the Horn of Africa in six decades. Here, we see refugees lined up for a bus to transport them to a refugee camp close to the Kenyan border with Somalia. The camp was designed in the early 1990s to accommodate 90,000 people, but the United Nations estimates that more than four times as many people reside there.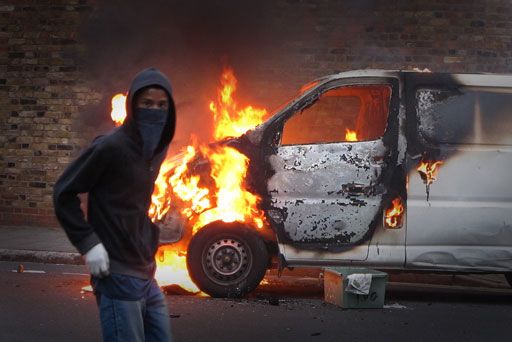 Peter Macdiarmid/Getty Images
Looting, vandalism and violence ravaged the streets of London in August, stirred by the police shooting of 29-year-old Mark Duggan and stemming from deeper undercurrents of social unrest. Here, a hooded youth walks past a burning vehicle as pockets of rioting and looting spread through various boroughs of London and Birmingham. Several days passed before police completely retook the streets, resulting in thousands of arrests.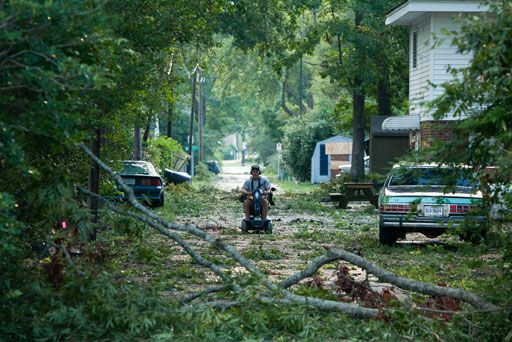 Brendan Hoffman/Getty Images
Coastal communities in the United States endured the seasonal threat posed by hurricanes yet again in 2011, this time in the form of Hurricane Irene. These branches litter an alley in Virginia Beach as a result of the Aug. 28 storm. The hurricane made landfall in North Carolina and Virginia before moving farther up the East Coast.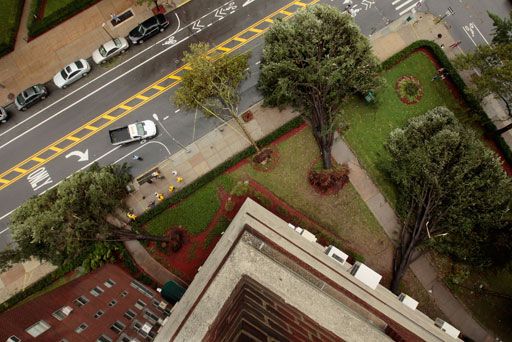 Chip Somodevilla/Getty Images
Residents of New York City even experienced the rarity of a hurricane threat in 2011. The city of 8 million people had only experienced five such storms since 1851. Here, high winds from Hurricane Irene knock down five large trees in front of the East River Cooperative Village apartment buildings along Grand Street. The hurricane hit New York as a Category 1 storm before being downgraded to a tropical storm.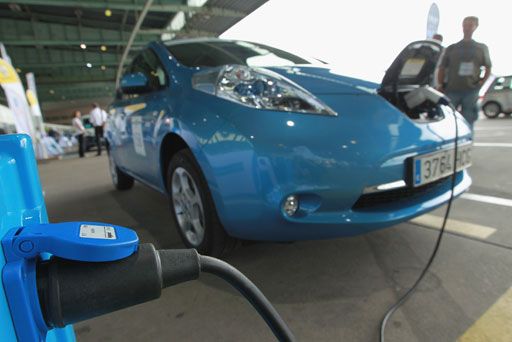 The electric Nissan Leaf arguably provided the most notable development in energy and automobile technology for 2011. This Nissan Leaf is fueling up at a recharging station at the May 19 Challenge Bibendum car show in Berlin, Germany. The trade fair highlights fuel-efficient, fuel cell, hybrid and electric car technologies.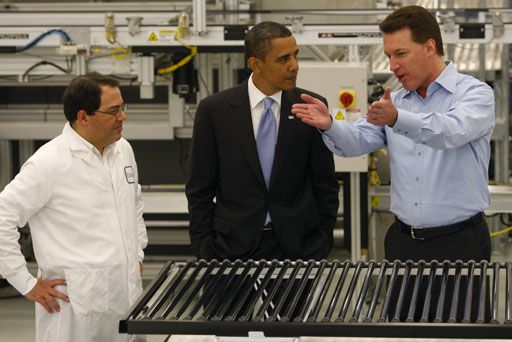 Paul Chinn-Pool/Getty Images
The rise of alternative energy in the U.S. suffered setbacks, as well as victories, in 2011. Here we see an earlier optimism from 2010 as U.S. President Barack Obama tours the Solyndra solar panel company in Fremont, Calif., with company CEO Chris Gronet (right) and Executive Vice President Ben Bierman. The U.S. Department of Energy provided the company with a $535 million loan guarantee and refinancing before Solyndra went bankrupt in August 2011, leading to a congressional investigation.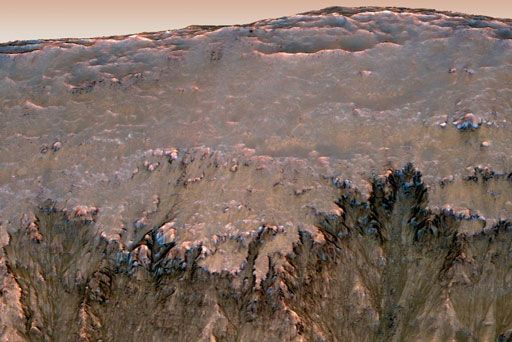 Image courtesy NASA/JPL-Caltech/Univ. of Arizona
This picture, combining imagery from NASA's Mars Reconnaissance Orbiter with 3-D modeling, reveals dark, fingerlike troughs on the Martian slopes during late spring through summer. Captured in August 2011, these images suggest the presence of seasonal flows of briny water on the red planet, which in turn raises the possibilities of distant or even current microbial life in the alien soil.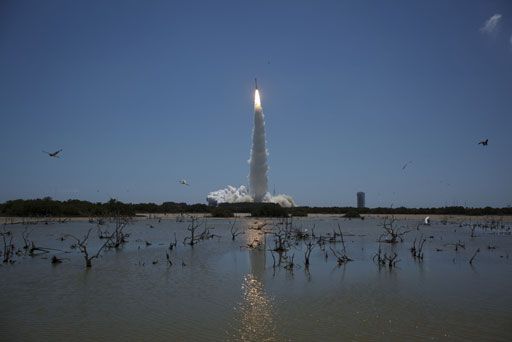 Bill Ingalls/NASA/Getty Images
The space shuttle program may be history, but NASA's quest to unravel the mysteries of the cosmos continued. On Aug. 5, this Atlas V rocket carried the Juno spacecraft into orbit to kick off its five-year voyage to Jupiter. Upon arrival at the gas giant, the craft will orbit the planet, probe its internal structure and gravity field and measure the contents of its atmosphere.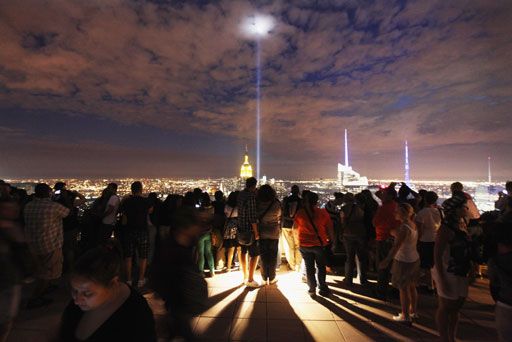 No matter the magnitude of the loss, time passes on. In this photo, mourners view the Tribute in Light on the eve of the 10-year anniversary of the Sept. 11 terrorist attacks in New York City. The tribute was an art installation honoring the people who perished in the attacks.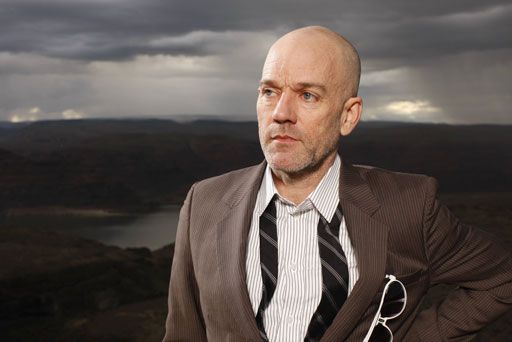 Steven Dewall/Redferns/Getty Images
2011 wasn't the end of the world as we know it, but the same can't be said for R.E.M. The American rock band called it quits after 31 years of music making. Here, lead singer Michael Stipe no doubt considers his future solo projects -- and his lack of an umbrella. Elsewhere in the musical world, The White Stripes and Faithless all threw in the towel, too.
The wave of protest and civil unrest eventually swept into the United States in September, as more than 1,000 Occupy Wall Street demonstrators thronged Zuccotti Park to voice criticism of corporate greed and economic inequality in America, in addition to a host of other grievances. The amorphous, leaderless movement quickly spread to cities around the country.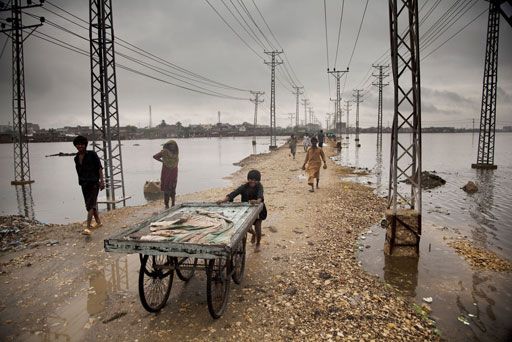 Warrick Page/Getty Images
Torrential monsoon rains flooded Pakistan in September, killing hundreds and leaving an estimated 300,000 without homes. Here we see residents in the town of Hyderabad as they walk along a road all but consumed by standing waters.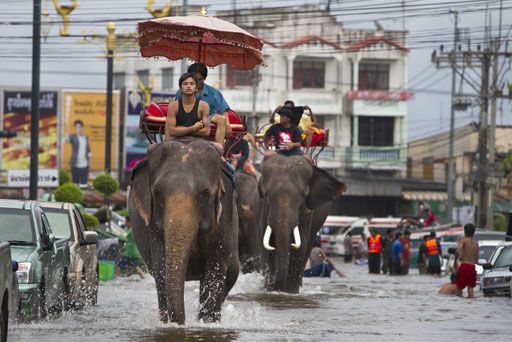 Paula Bronstein /Getty Images
Flooding also ravaged the nation of Thailand in 2011. Here we see Thai mahouts, or elephant riders, navigating flooded streets in the ancient city of Ayutthaya. Around 200 factories closed in the central Thai province due to the October flooding, which also affected the capital of Bangkok. Some areas of the country experienced the worst flooding in 50 years, mainly in the center, north and northeast areas of Thailand.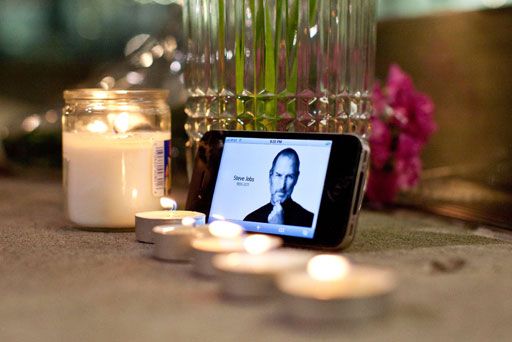 Andrew Burton/Getty Images
Few names stand out in the computer world as prominently as that of Steve Jobs, who co-founded Apple in 1976 and, along with Steve Wozniak, marketed the world's first personal computer. In recent years, the company introduced the popular iPod, iPhone and iPad. Jobs died on Oct. 5 at the age of 56, following a long battle with pancreatic cancer. Here we see a suitable memorial placed outside the Apple Store at West 66th Street in New York City.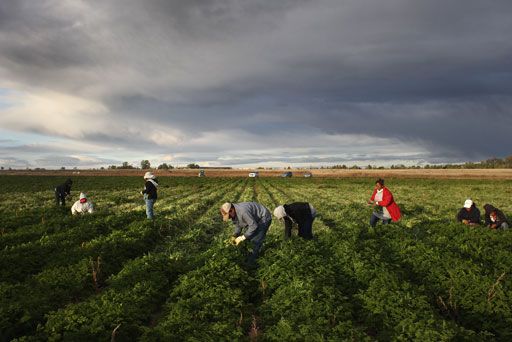 Stricter U.S. immigration policies affected agriculture across the country in 2011, as many farmers faced the difficulty of hiring American citizens for seasonal, labor-intensive farm work. Here, Mexican migrant workers harvest organic parsley at Grant Family Farms on Oct. 11 in Wellington, Colo. Despite high demand for its produce, the farm suffered from sharply reduced migrant labor. As a result, up to a third of the farm's fall crops were left to rot in the fields.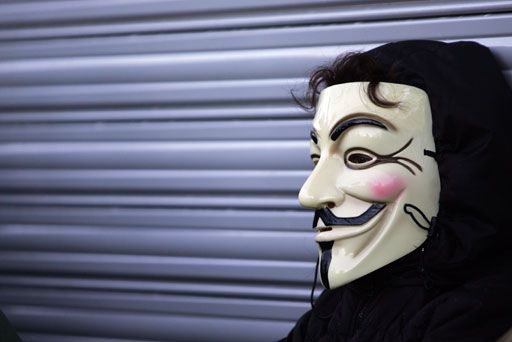 Milos Bicanski/Getty Images
The Guy Fawkes mask featured in the 2006 movie "V for Vendetta" became something of an icon in 2011, as demonstrators around the world donned the signature disguise during protests. Here we see a Greek demonstrator in the mask at an Oct. 20 protest against Greece's new austerity measures (including program cuts and tax hikes), which critics argued took too much away from the poorest citizens in an attempt to tighten Greece's budget.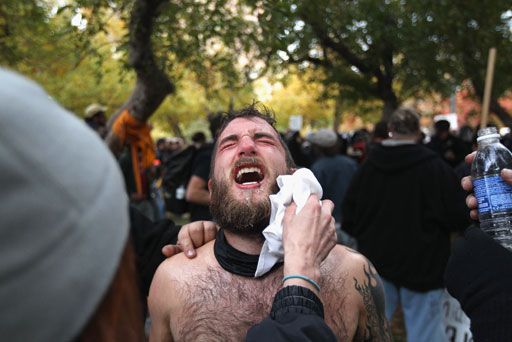 The controversial use of pepper spray made the news in late 2011 as police used the painful chemical irritant to disperse Occupy protesters in cities throughout the United States. In this picture, Occupy Denver protesters wash pepper spray from the eyes of a fellow demonstrator following a crackdown by police on Oct. 29.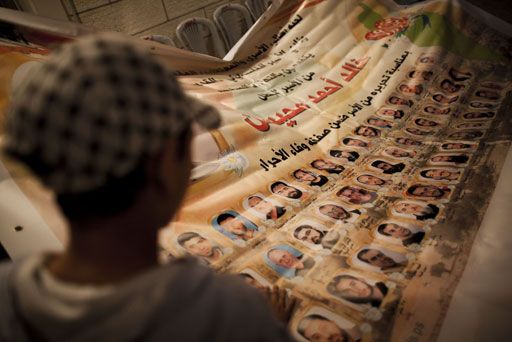 Ilia Yefimovich/Getty Images
While tensions between Israel and Palestine remain, a landmark prisoner exchange took place on Oct. 18 as Hamas released Israeli soldier Gilad Shalit in exchange for more than 1,000 Palestinian prisoners. Here, children in Jerusalem carry a banner decorated with pictures of Palestinian prisoners in anticipation of the exchange.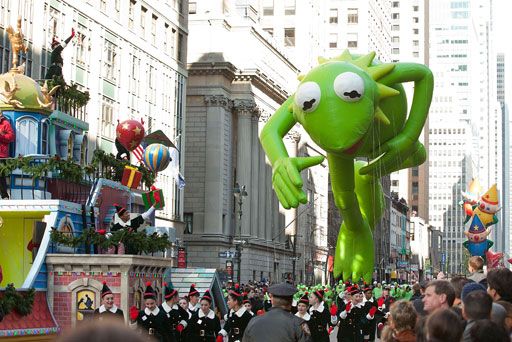 It was a big year for the Muppets, as Jim Henson's beloved characters took to the big screen for the first time in 12 years. "The Muppets" introduced a new audience to such iconic characters as Miss Piggy, Gonzo and Animal. Here, a Kermit the Frog balloon floats in Macy's Legendary Thanksgiving Day Parade on Nov. 24 in New York City.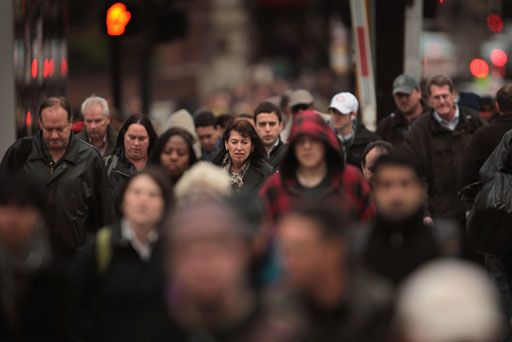 Ever feel like you're just another face in the crowd? Well the crowd is now an estimated 7 billion strong, according to the United Nations Population Fund. Global population hit the unprecedented high on Oct. 31, with estimates predicting an 8-billion human population by 2025 and 10 billion by 2083.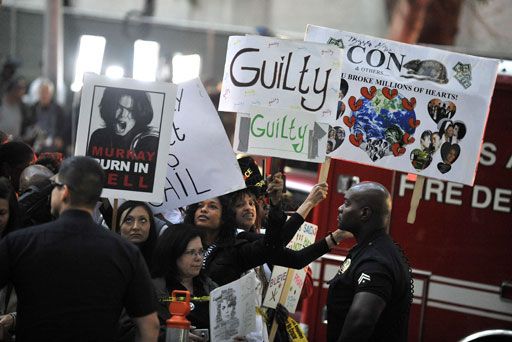 Another chapter in the 2009 death of Michael Jackson came to a close on Nov. 7 as Dr. Conrad Murray was convicted in the death of the pop icon from an overdose of the powerful anesthetic propofol. Murray was later sentenced to four years in prison. Here, an impassioned crowd reacts to the verdict outside the courthouse in Los Angeles.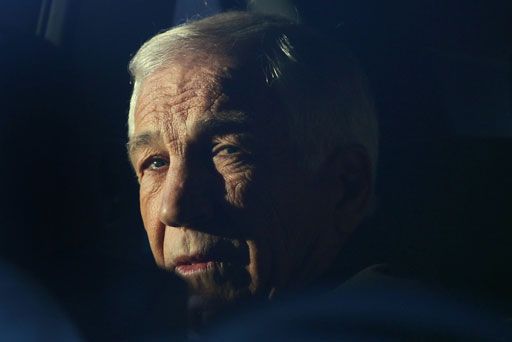 The Penn State sex abuse scandal shook the college sporting world in 2011 as former assistant football coach Jerry Sandusky, seen here, was charged with sexual abuse involving 10 boys he met through his nonprofit organization. The scandal also saw the dismissal of both famed head football coach Joe Paterno and school president Graham Spanier.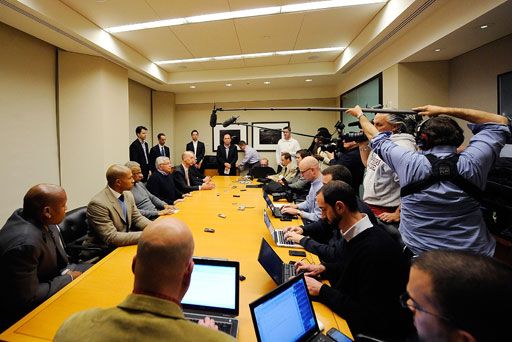 Patrick McDermott/Getty Images
Sadly, professional basketball action was this exciting for a large chunk of 2011 as a 149-day lockout brought the NBA to a standstill. Here, NBA Commissioner David Stern, center, and former Executive Director of the National Basketball Players Association Billy Hunter speak to members of the press to announce a tentative labor agreement to end the lockout on Nov. 26 in New York City.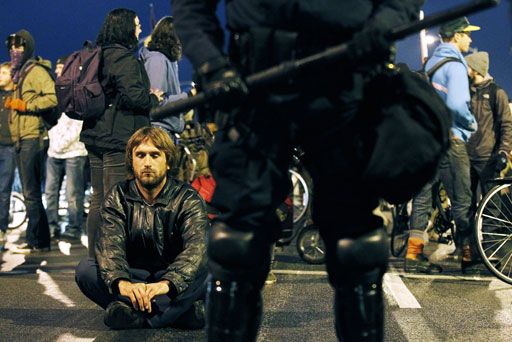 Kimberly White/Getty Images
The occupy protesters came in growing numbers, and authorities dispersed them with pepper spray and arrests. But then they came back -- and the movement would seem to march on into the year 2012. Here, a demonstrator sits in a street before riot police as protesters attempt to block an entrance to the Port of Oakland on Dec. 12 in Oakland, Calif. This followed a general strike coordinated by Occupy Oakland that closed the port on Nov. 2.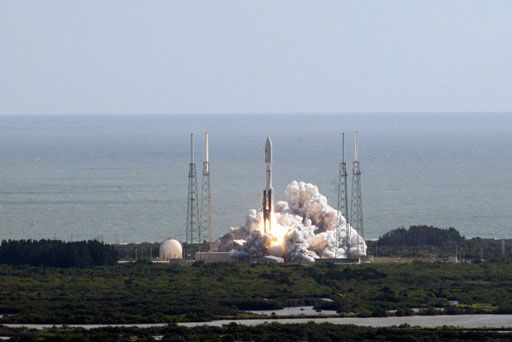 Darrell L. McCall/NASA/Getty Images
As these currents of change continue to grip the residents of Earth, what's life like elsewhere in the galaxy? Might it thrive as near to us as the planet Mars? That's one of the questions NASA hopes to answer with the Mars Science Laboratory (MSL) Curiosity rover, seen here blasting off from Cape Canaveral Air Force Station on Nov. 26. After a nine-month interplanetary cruise, the rover will search for signs of life such as methane and help determine if the gas is from a biological or geological source.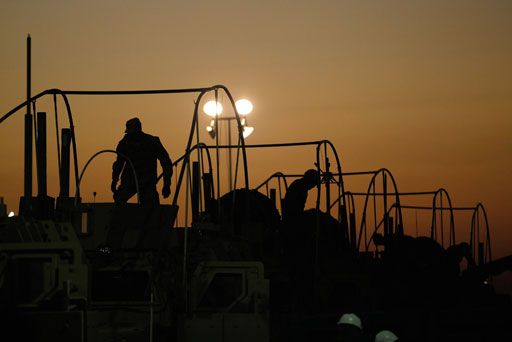 Is it really over? After nearly nine years, December 2011 saw U.S. military forces withdraw nearly all its remaining troops from Iraq, drawing its operations there to a close and handing full authority to the Iraqi government. Here, soldiers from the 2-82 Field Artillery, 3rd Brigade, 1st Cavalry Division, unload gear from the roof of their armored vehicles as they arrive in Kuwait after a long drive from Camp Adder in Iraq.