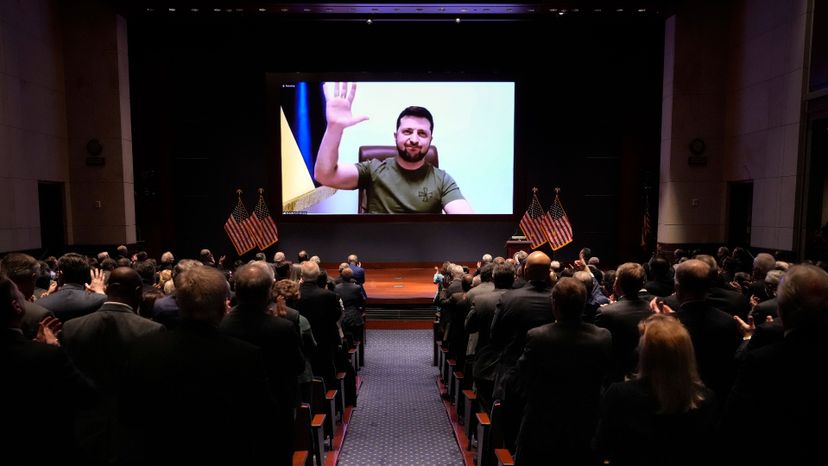 Speaking from his nation's capital of Kyiv, Ukrainian President Volodymyr Zelenskyy addressed a joint session of the U.S. Congress as Russian shells continue to bombard the city.
In the historic event March 16, 2022, Zelenskyy sought to persuade U.S. legislators and the American public of the similarities between U.S. history and Ukraine's present.
A savvy communicator, Zelenskyy understands that before a speaker can argue for policy changes — in this case, stronger action from the U.S. against Russian aggression — they must create a shared identity with the audience. In many ways, every successful political speech is an exercise in community building.
As a political communication scholar, I study what makes political messages persuasive and how strategic communication does more than just argue for policy — it creates individual and group identities.
This principle has been known for decades. Writing in the immediate aftermath of World War II, communication scholar Kenneth Burke challenged the assumption that successful persuasion was premised on constructing sound arguments. Instead, he said the key to persuasion is "identification" — convincing the audience that you and they have not only common interests, but a shared identity.
Zelenskyy intuited the importance of identification, beginning his speech with a list of similarities between "brave and freedom loving" Americans and Ukrainians. He compared the Russian invasion of Ukraine to calamities in U.S. history such as the bombing of Pearl Harbor and the terrorist attacks of 9/11. He also invoked symbols like Mount Rushmore and famous U.S. speeches, such as Martin Luther King Jr.'s "I Have a Dream" speech.
Addressing both Congress and the American public, he noted that the words "I have a dream" are "known to each of you" and then echoed King, imploring: "I have a need." It was a tacit but forceful argument about being on the right side of history.