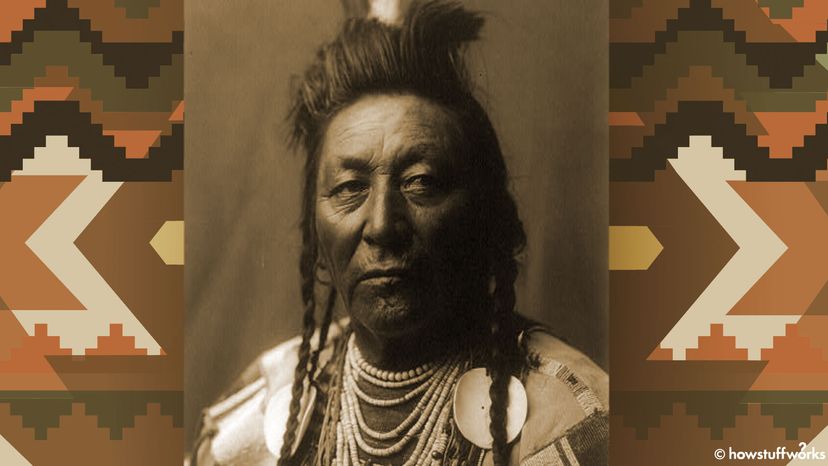 For the Native American tribes of the Great Plains, the "coup stick" held special significance. In French, the language spoken by the first European trappers to interact with the Plains Indians, coup means "a strike" or "a blow." In battle, young Native American warriors would attempt to "count coup" — to touch or strike the enemy with their coup stick and ride away safely — an act of supreme bravery.
Chief Plenty Coups was certainly brave. As a child, he was called "Buffalo Bull Facing the Wind," but he earned the name Plenty Coups for his valor in the many battles between his people, the Crow (or Apsaalooke), and their longstanding enemies, the Cheyenne, the Sioux and the Blackfeet. (Some say his name was given to him as a young man by his grandfather, who proclaimed he would have many achievements. "Plenty Coups" is the English translation of his new name, which meant "many achievements.") For his valor, Plenty Coups was named chief of the Mountain Crow (one of three Crow clans) at just 28 years old.
But Plenty Coups was much more than a warrior. When faced with an entirely new type of enemy, namely the U.S. Army and a wave of white settlers, he could have gone to battle like the Sioux and other tribes and fought the theft of Native lands with hatchets and arrows. But Plenty Coups chose another path.
Guided by a powerful vision, Plenty Coups became an ally of the U.S. Army, and he used his status as a trusted ambassador to secure a permanent home for his people on a portion of their ancestral lands in central Montana and Wyoming.