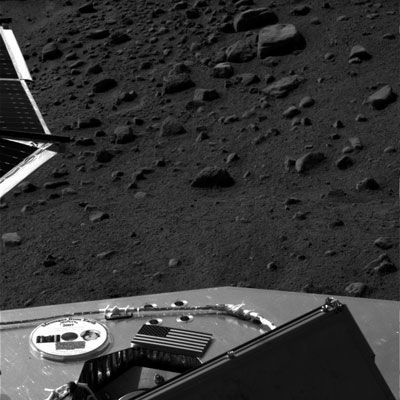 NASA/JPL-Caltech/University of Arizona via Getty Images
The Phoenix Mars Lander touched down safely on the surface of Mars on May 26. The $420 million lander was searching for signs of life in icy regions of the planet.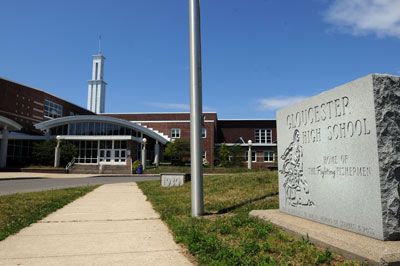 Darren McCollester/Getty Images
Seventeen students at Gloucester High School in Gloucester, Mass., announced they were pregnant in late June. At least half of the girls claimed they made a pact to get pregnant together.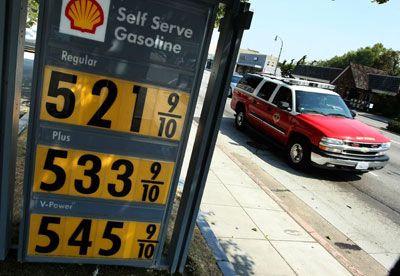 Justin Sullivan/Getty Images
In June, gas prices skyrocketed. At this station in San Mateo, Calif., the prices were even steeper than the national average of $4.10 per gallon.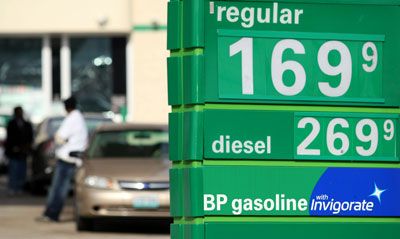 Whitney Curtis/Getty Images
By November, oil had dropped to nearly $50 per barrel, and gas prices followed. In response, OPEC reconsidered its output and distribution of oil.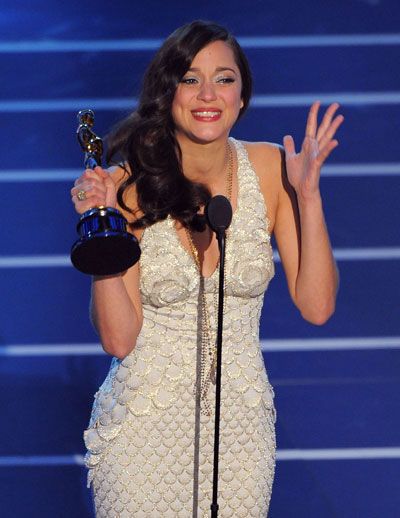 Michael Caulfield/WireImage
On Feb. 24, French actress Marion Cotillard won the Academy Award for Best Actress for the film "La Vie en Rose." She and Sophia Loren are the only two actresses ever to win the award for a foreign-language film.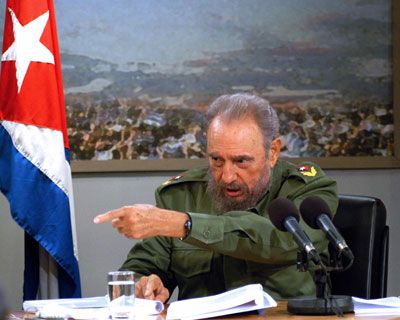 Marcelino Vazquez Hernandez/AFP/Getty Images
On Feb. 19, Cuban president Fidel Castro announced his resignation from the office he'd held since January 1959. He transferred power to his brother, Raul Castro. Pres. George W. Bush expressed hope that Cuba might form a democratic government.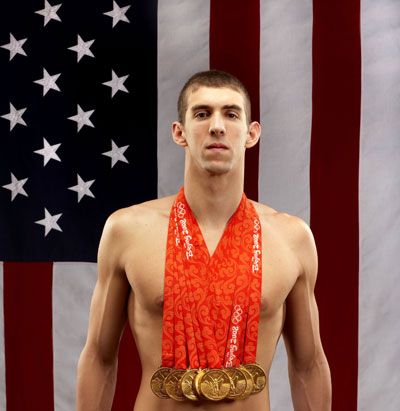 Twenty-three-year-old Michael Phelps won eight gold medals at the 2008 Beijing Summer Olympics, beating Mark Spitz's world record for the most events won in a single Olympiad.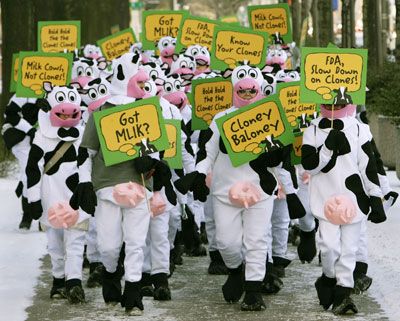 Chip Somodevilla/Getty Images
On Jan. 15, the Food and Drug Administration (FDA) lifted a ban on the sale of meat, milk and other products derived from cloned animals. Protestors marched in Washington, D.C., on Feb. 7, 2007, foreshadowing consumer outcry against the legislation.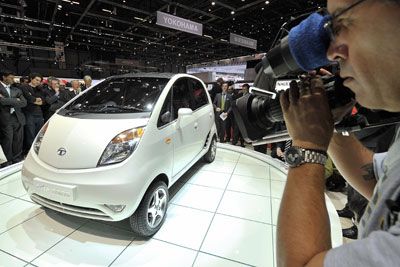 Fabrice Coffrini/AFP/Getty Images
The Tato Nano, on display at the Geneva International Motor Show on March 4, had many U.S. automakers scratching their heads. How could the U.S. auto industry compete with India's $2,000 compact car?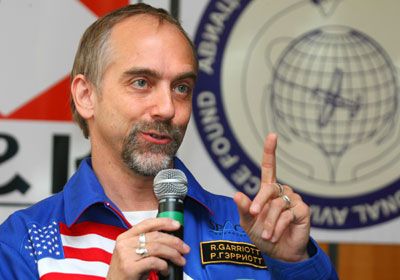 Alexander Nemenov/AFP/Getty Images
Richard Garriott, the sixth civilian space tourist, traveled in a Russian Soyuz space capsule along with cosmonauts Sergei Volkov and Oleg Kononenko in October.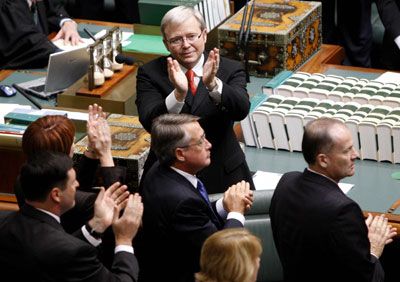 Mark Baker-Pool/Getty Images
On Feb. 13, Australian Prime Minister Kevin Rudd delivered a formal apology to members of the Stolen Generation, Aborigines who were taken from their homes as children as part of a plan to phase out Australia's indigenous race.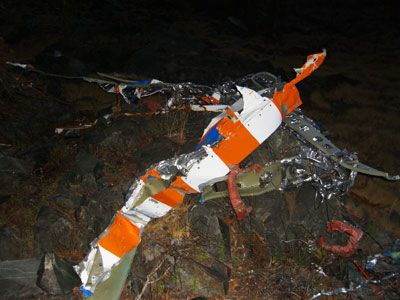 Mono County Sheriff's Search and Rescue via Getty Images
On Oct. 1, the wreckage of Steve Fossett's plane was found in Inyo National Forest in California. The businessman-cum-adventurer had been missing since September 2007.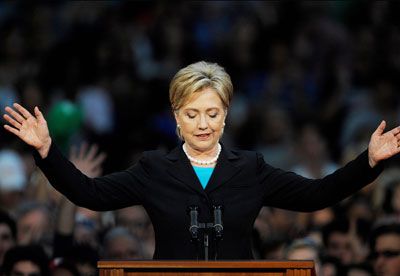 Mandel Ngan/AFP/Getty Images
U.S. Sen. Hillary Clinton was the first woman to make a serious bid for the presidency, but on June 7, she withdrew from the race and announced her official endorsement of Barack Obama.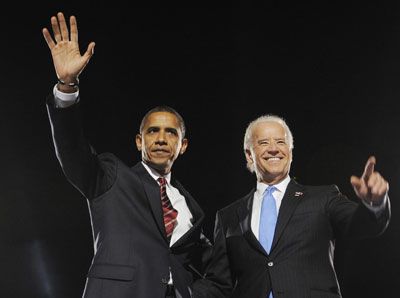 Emmanuel Dunard/AFP/Getty Images
On Nov. 4, Barack Obama made history as the first African-American to be elected U.S. president. Shown here with his running mate Joe Biden, Obama underscored his campaign with the promise of change.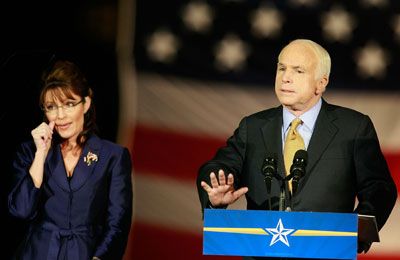 Republican presidential candidate John McCain steered his campaign in a surprising direction when he tapped Alaskan governor Sarah Palin as his running mate. On the eve of Nov. 4, McCain conceded defeat in the election.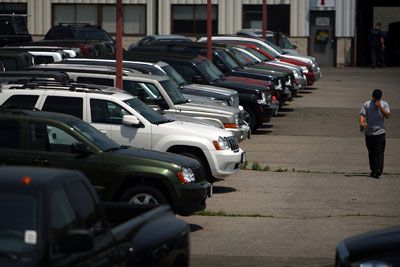 Spencer Platt/Getty Images
As U.S. gas prices continued to climb, many Americans abandoned their trucks and sport utility vehicles (SUVs) for more fuel-efficient cars. As a result, sales of trucks and SUVs dropped 31.7 and 36.4 percent respectively from May 2007.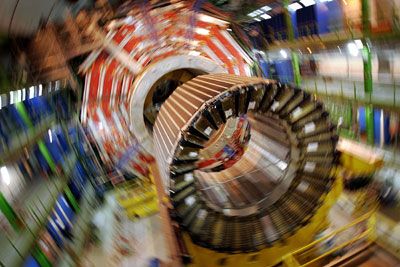 Fabrice Coffrini/AFP/Getty Images
In an international collaboration, scientists built a particle accelerator called the Large Hadron Collider and sought to recreate the conditions that followed the Big Bang. By September, experiments were underway to study the formation of the universe.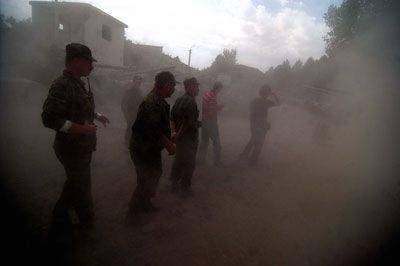 Jonathan Alpeyrie/Getty Images
In August, conflicts arose as the former Soviet republic of Georgia attempted to claim the breakaway region of South Ossetia. Russia responded with a massive military counterstrike, leading to tensions in NATO.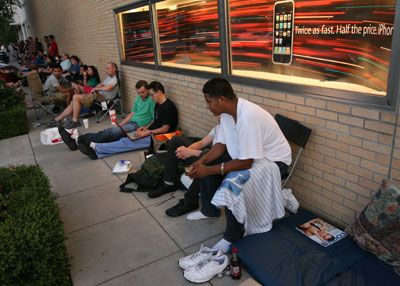 Rick Gershon/Getty Images
The second-generation iPhone was released on July 11. Consumers like this group in Dallas camped out to get their hands on one when stores opened, but in a twist of fate dubbed the iPocalypse, many couldn't activate their new phones.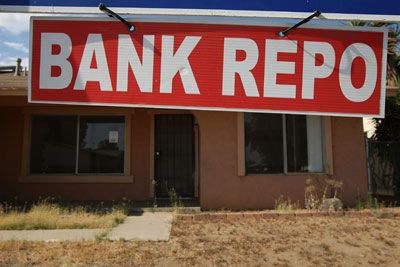 Gauging from the troubles that began in mid-2008, economists predicted that by the end of 2009, 2.8 million U.S. houses will be foreclosed on, given up or sold for less than the mortgage value.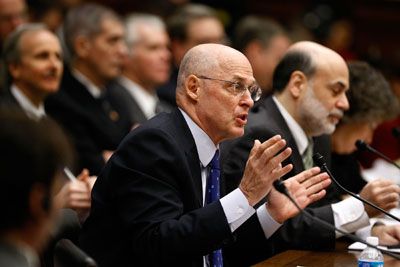 Chip Somodevilla/Getty Images
On Nov. 18, U.S. Treasury Secretary Henry Paulson and Federal Reserve Chairman Ben Bernanke testified before the House Financial Services Committee in Washington, D.C., that the $700 billion bailout should be allocated for banks rather than bad loans.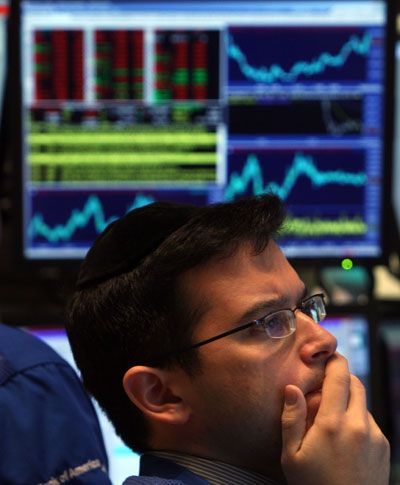 Spencer Platt/Getty Images
On Sept, 29, after Congress voted against the first version of the $700 billion bailout bill, the Dow plunged 778 points in a record point drop. This drop was the first of many wavering days in the market, and international markets followed suit.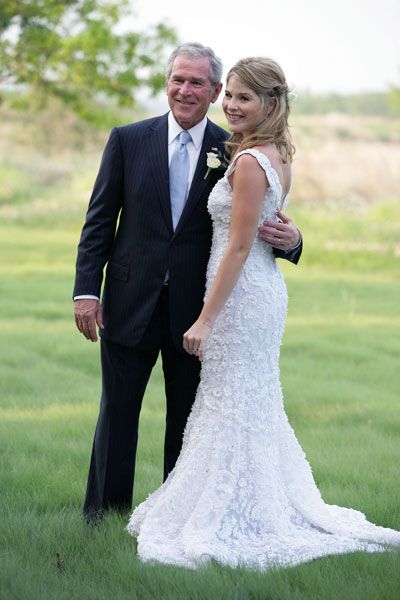 Shealah Craighead/The White House via Getty Images
Pres. George W. Bush's daughter Jenna wed Henry Hager in Crawford, Texas, on May 10. Some maintained that the Bush administration's flailing popularity could be bolstered by a White House wedding, but his daughter opted for a private affair.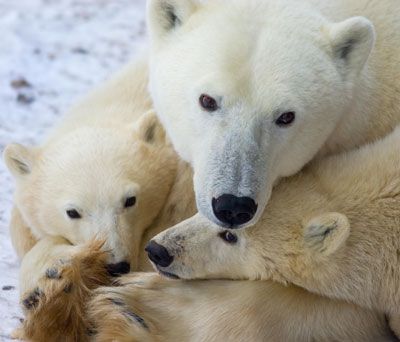 Paul J. Richards/AFP/Getty Images
The long-threatened Arctic polar bear population got a boost from a federal court ruling on April 29 that called for the Bush administration to definitively determine whether the animal should be protected by the Endangered Species Act.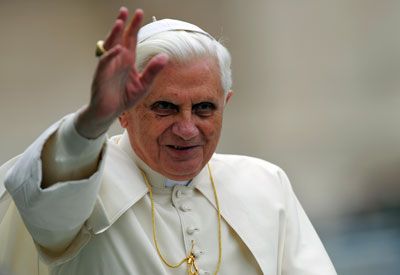 Vincenzo Pinto/AFP/Getty Images
On March 11, the Vatican released a list of seven new deadly sins. The sins for the modern age include polluting, abusing drugs, experimenting on humans, cloning, storing up excessive wealth, stirring up social strife and contributing to poverty.
Iraqi Prime Minister office via Getty Images
In January, the Iraqi parliament voted to adopt a new flag, putting behind them the flag that Kurdish officials said was a symbol of Saddam Hussein's Baath party. On Feb. 5, the new Iraqi flag flew for the first time in the Green Zone of Baghdad.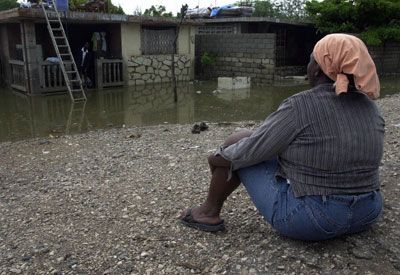 Thony Belizaire/AFP/Getty Images
The U.S. government announced in November that the 2008 hurricane season ranked as one of the most active on record. This woman in Port au Prince, Haiti, lives in a heavily hit area.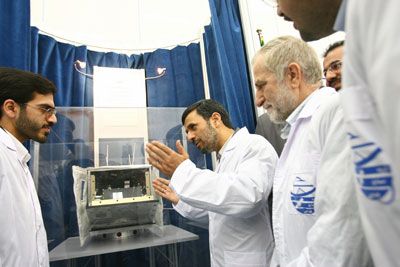 In February, Iranian President Mahmoud Ahmadinejad inaugurated Iran's first space center, which soon after launched the Researcher One rocket. Iran counts itself as one of the world's 11 countries that actively pursue space technology.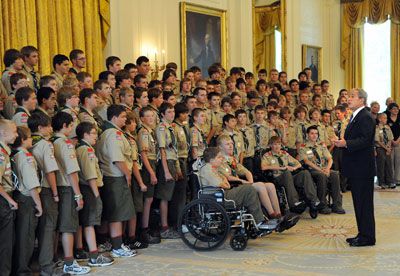 Tim Sloan/AFP/Getty Images
A tornado that ripped through the Little Sioux Scout Ranch in Iowa injured 48 and killed four Boy Scouts and their leaders. The scouts involved in the tragedy met with Pres. Bush on July 12, recounting their experience.
Keith Johnson/Deseret Morning News/Getty Images
Amid allegations of abuse, more than 400 children were removed from a west Texas ranch owned by members of the Fundamentalist Church of Jesus Christ of Latter Day Saints. On April 14, they were transported from the compound to San Angelo Coliseum.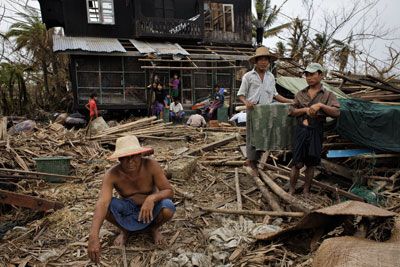 Christian Holst/Getty Images
Cyclone Nargis struck Myanmar on May 2, with winds up to 150 miles (241 kilometers) per hour. The storm destroyed between 80 to 90 percent of the bamboo huts in this village, Kyaun Da Min, and the overall death toll from the storm was 84,537.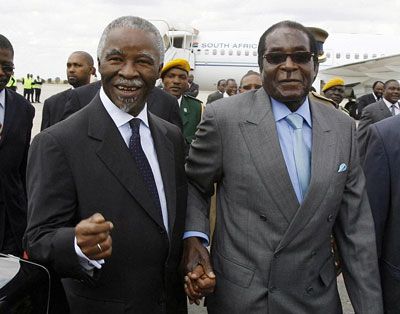 Desmond Kwande/AFP/Getty Images
Social strife compounded in Zimbabwe when the Movement for Democratic Change gained control of the parliament in the March 29 elections. Zimbabwean president Robert Mugabe (R) was urged to sign a power-sharing agreement with the opposition party.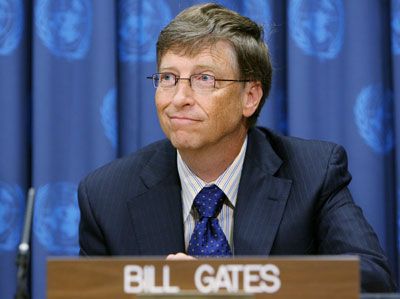 Rick Gershon/Getty Images
Bill Gates' resignation from Microsoft was finalized in July, and he funneled his energies into the Bill & Melinda Gates foundation. On Sept. 25, he attended a press conference for a health reform plan to aid mothers and newborns in poor nations.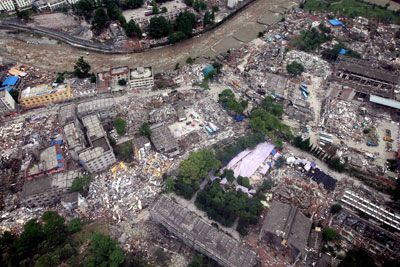 On May 12, a 7.9-magnitude earthquake shook the Sichuan Province of China. The death toll rose to an estimated 87,000. In Yingxiu, crews sifted through rubble to search for survivors and victims.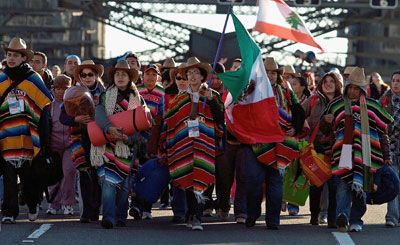 World Youth Day was hosted in Sydney, Australia, from July 15 to 20. Young people the world over gathered to celebrate their faith, and Pope Benedict XVI traveled to Australia for the first time.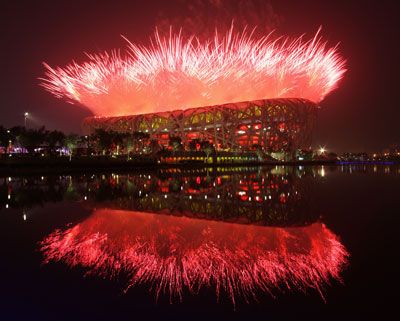 The Aug. 8 opening ceremony of the 2008 Olympic Games in Beijing featured an elaborate fireworks display. The live show was held at the Bird's Nest stadium, and spectators learned later that parts of the televised display had been digitally enhanced.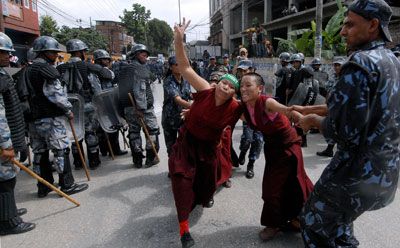 Prakash Mathema/AFP/Getty Images
But the summer Olympic Games weren't all about celebration. In Nepal, police restrained Tibetan activists as the Olympic torch passed through Lhasa. More than 500 Tibetan protestors gathered for an anti-Chinese demonstration.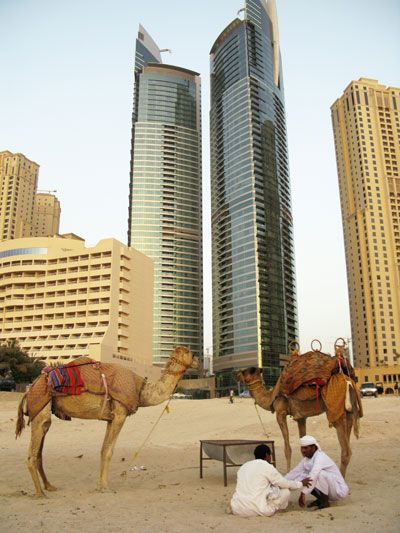 Kaveh Kazemi/Getty Images
On June 25, Dubai unveiled plans for a revolving skyscraper. Dubai says it will build an 80-story, shape-shifting building called the Dynamic Tower. The tower will join Dubai's unique combination of desert sands and skyscrapers in 2010.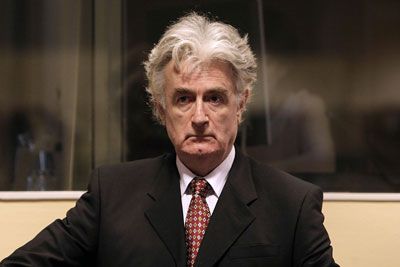 Valerie Kuypers/AFP/Getty Images
In August, one of the world's most wanted war criminals, Radovan Karadzic, went on trial in The Hague. Karadzic had eluded authorities for 13 years and was tried for his crimes in the ethnic cleansing campaign in Bosnia from 1992 to 1995.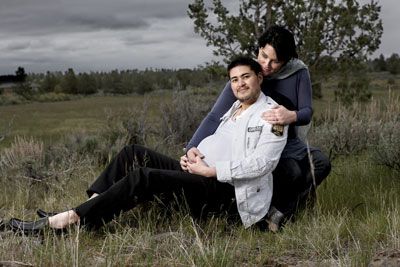 Regine Mahaux/Getty Images for Beatie
Thomas Beatie became the world's first transgendered man to carry and give birth to a baby in July. In November, he and his wife, Nancy, announced that he is pregnant again.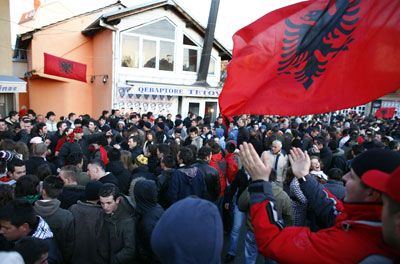 Carsten Koall/Getty Images
On Feb. 17, despite outcry from Serbia and Russia, Kosovo declared itself an independent state. Kosovo Albanians celebrated their independence after being under United Nations occupation since 1999.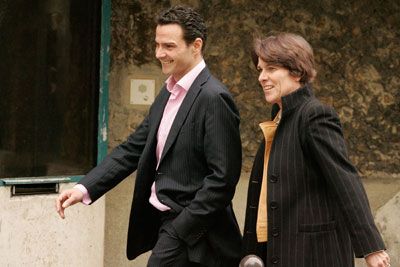 Franck Prevel/Getty Images
Jerome Kerviel was released from Paris' La Sante Prison on March 18. The German trader lost 4.9 billion euros (7.2 billion U.S. dollars) for the French bank Societe Generale in the world's biggest trading loss in history.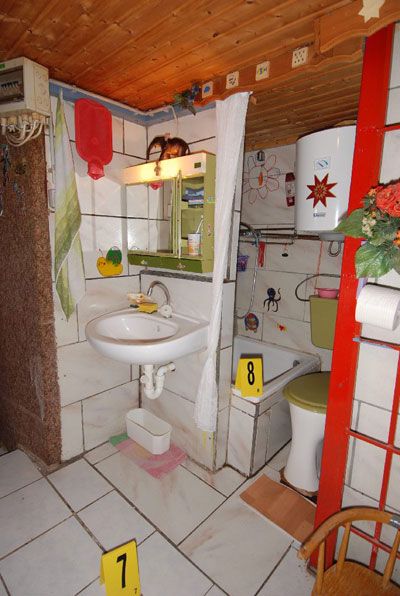 SID Lower Austria for Getty Images
This bathroom is part of the basement complex in which Austrian Josef Fritzl imprisoned his daughter for 24 years. The story was exposed on April 18, when one of the seven children she bore by him was taken to the hospital, gravely ill.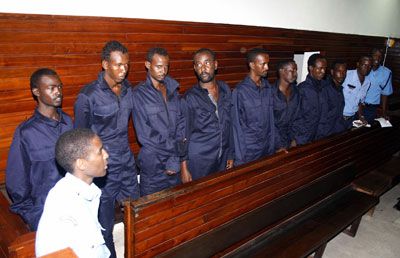 Stringer/AFP/Getty Images
Somali pirates made headlines for a series of ship hijackings this year. Here, eight pirates in a Kenyan court house on Nov. 19 face charges for overtaking a Yemen fishing vessel in the Gulf of Aden and holding its crew hostage.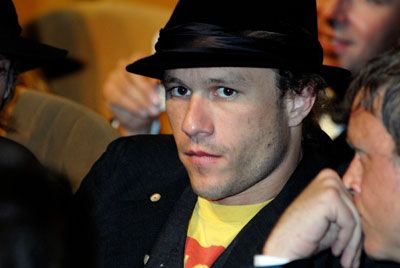 In Memoriam: Australian actor Heath Ledger died on Jan. 22 of an accidental overdose of prescription medications. The 28-year-old earned an Oscar nomination for "Brokeback Mountain" and gave a much lauded performance as the Joker in "The Dark Knight."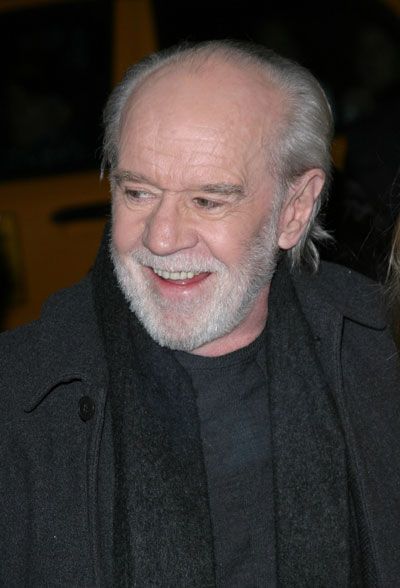 In Memoriam: Comedian George Carlin died at age 71 on June 22. He had been chosen for the 2008 Mark Twain Prize, awarded by the John F. Kennedy Center for the Performing Arts. One of his most famous acts is "Seven Words You Can Never Say on Television."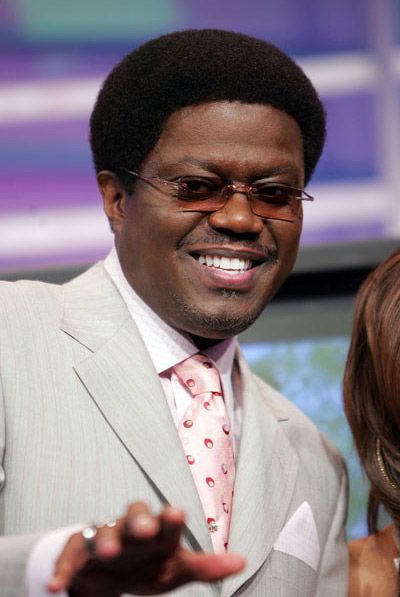 In Memoriam: Bernie Mac, a 50-year-old comedian, died on Aug. 9 from complications from pneumonia. He won a Peabody Award for the sitcom "The Bernie Mac Show" and was noted for roles in films such as "The Original Kings of Comedy" and "Ocean's Eleven."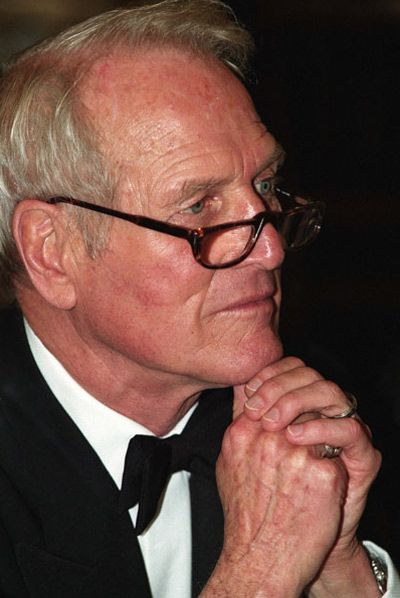 In Memoriam: On Sept. 26, after a struggle with cancer, 83-year-old actor Paul Newman died at his home in Westport, Conn. The philanthropic Oscar winner was known for such films as "Cool Hand Luke" and "Butch Cassidy and the Sundance Kid."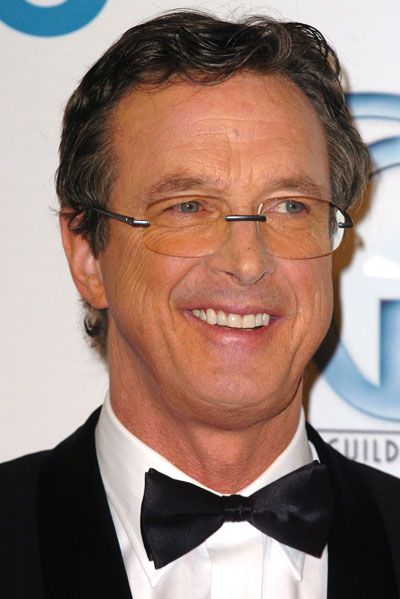 In Memoriam: On Nov. 4, author Michael Crichton died at age 66 from lymphoma. He was noted for science-fiction works like "Jurassic Park" and "The Andromeda Strain."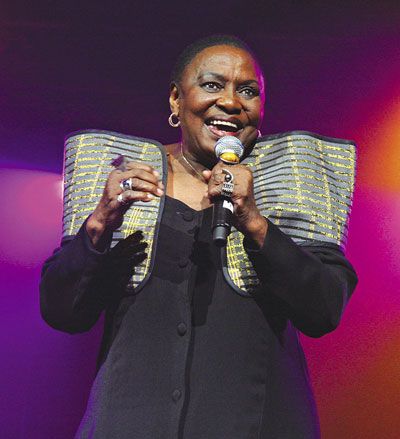 In Memoriam: Miriam Makeba, singer and activist, died on Nov. 10 at the age of 76. She was called Mama Africa and the Empress of African Song. Her legacy included music as well as activism, having opposed South African apartheid from the 1960s to '90s.