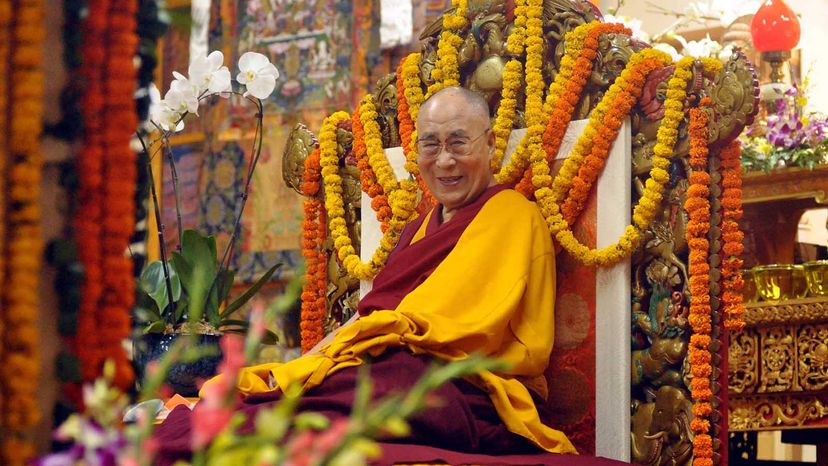 His Holiness the Dalai Lama is the spiritual leader of Tibetan Buddhism and former political ruler of the Tibetan people. He's believed to be the 14th reincarnation of the Bodhisattva of Compassion, an enlightened being that has chosen to be reborn so he can serve mankind. Plucked from a small farming village at just 2 years old, the Dalai Lama has spent his life spreading his message of compassion and seeking freedom for his homeland of Tibet.
The Dalai Lama is a political refugee, forced to flee Tibet in 1959 when the Chinese government violently suppressed a Tibetan uprising. Since then, he has lived in exile in Dharamsala, India, and acted as the head of the Tibetan government in exile until 2011, when he handed over all political duties to a democratically elected Tibetan cabinet and parliament.
For Buddhists and non-Buddhists alike, the Dalai Lama is an inspirational figure whose message of peace, kindness and compassion is a guidepost to daily life. He has written or coauthored more than 110 books, each filled with practical wisdom about finding joy, peace and meaning in an often dark and confusing world.
To help us choose five essential quotes from the Dalai Lama's ocean of writings and speeches, we reached out to Travis Hellstrom, editor of "The Dalai Lama Book of Quotes: A Collection of Speeches, Quotations, Essays & Advice from His Holiness" and "Questions for the Dalai Lama: Answers on Love, Success, Happiness, & the Meaning of Life."