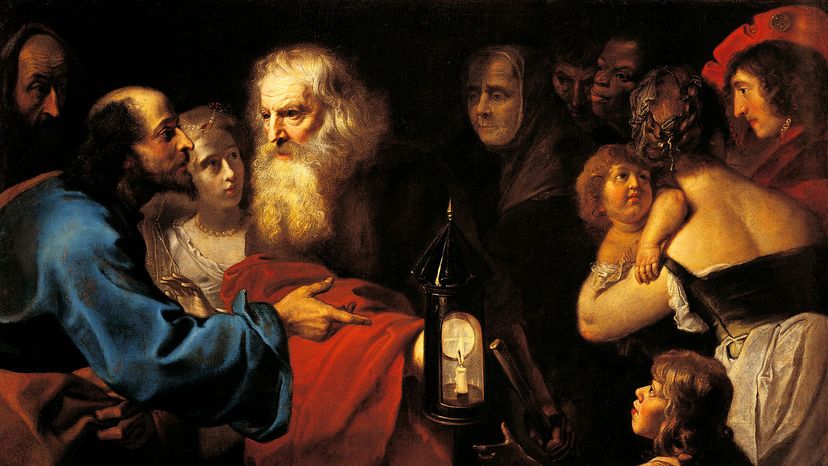 Diogenes of Sinope (404 to 323 B.C.E.) was arguably the funniest figure ever to be considered a serious philosopher. Plato called Diogenes a "Socrates gone mad" and his nickname among his fellow Athenians was "the Dog." That's because Diogenes slept in a large ceramic jar in the marketplace, ate discarded scraps of food and barked hilarious takedowns at passersby.
He practiced a theatrical version of Cynic philosophy, which itself was pretty radical for its time, explains Julie Ann Piering, a philosophy professor at Northern Arizona University. Compare Diogenes to Socrates, who also hung out in the marketplace and engaged Athenians in pointed dialogues.
"But Socrates never said to give up all of your possessions," says Piering. "He just said not to care about money or status or power more than you care about the state of your soul. It's Diogenes who took the radicalized version of that."
Diogenes and his Cynic followers were beggars. They dressed in rough blankets, slept under porticos, and did every "shameful" human act in public. But the Cynics lived this way to make a point — that there is nothing shameful about being human. Human nature and reason, to Cynics, were the only requirements for a happy life. Everything else was nonsense.
Diogenes left no writing of his own and just about everything we know about him was written centuries later by another guy named Diogenes. In "Lives of Eminent Philosophers," the Greek historian Diogenes Laertius recorded the greatest comedic hits of Diogenes, including some truly sick burns directed at figures like Alexander the Great and Plato.
If you search the internet for Diogenes quotes, by the way, you'll find a lot of lines that were lifted from Diogenes Laertius and reworded as first-person quotes from Diogenes. For our purposes, we're going to quote directly from "Lives of Eminent Philosophers" even if the quotes or anecdotes about Diogenes are written in the third person.
Here are five of the most memorable moments from the life of Diogenes of Sinope: