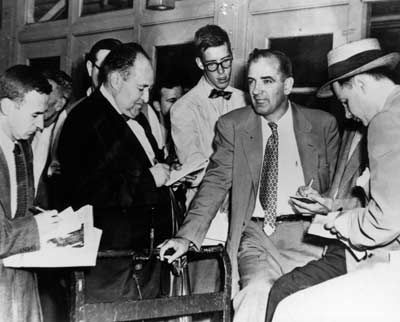 American politician and inquisitor Joseph McCarthy became famous for his 1950s investigations into supposed communist subversion.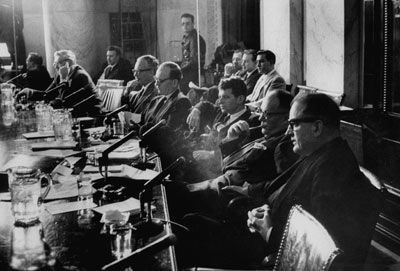 McCarthy won a seat in the United States Senate in 1946, after the end of World War II. This era was the beginning of the Cold War and a new "Red Scare".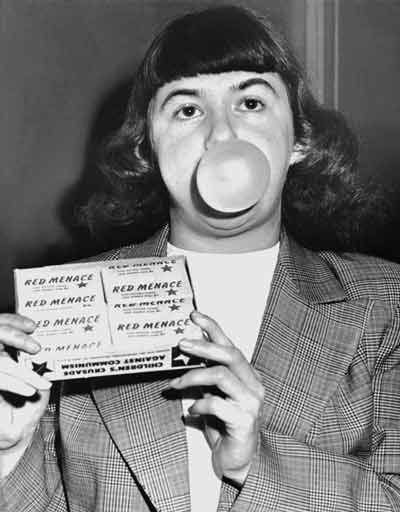 Concerns about communism were running high after World War II. This woman poses with a box of anti-Communist chewing gum labelled "Red Menace" in 1951. The anti-Communism witch hunt instigated by Joseph McCarthy fed off these fears.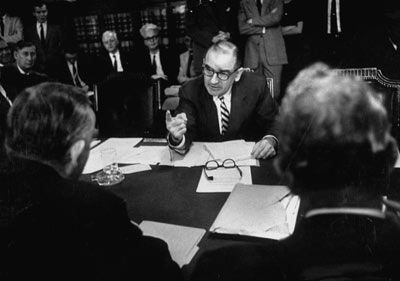 McCarthy was known for tough, intimidating interview tactics -- like those on display in this photo at a Senate Judiciary Committee hearing.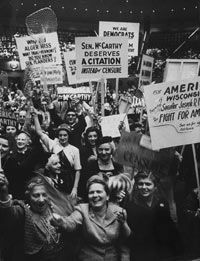 At one time, McCarthy was quite popular among the public, as this rally of McCarthy supporters demonstrates.
Here, Senator McCarthy listens to Louis Budnez at a Senate Foreign Relations Subcommittee hearing. Budnez, a former Communist Party member, was a key witness against alleged Communist leaders.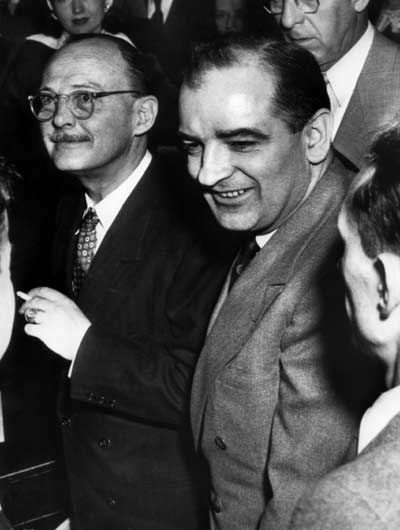 Owen Lattimore, shown here with Senator McCarthy, was an American scholar versed in Asian culture. Ex-Communist Louis Budnez called Lattimore a member of a Communist spy cell in testimony before the House Un-American Activities Committee in Washington on April 20, 1950.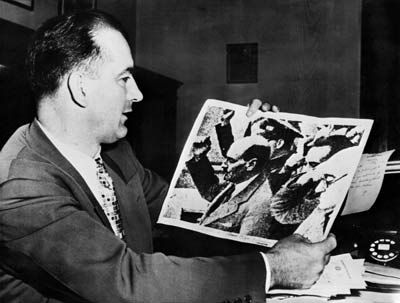 McCarthy's communist hunt wasn't limited to the United States. He went so far as to accuse British Prime Minister Clement Attlee of leftist sympathies. McCarthy released a photo of the statesman making a communist salute during the Spanish Civil War. The incident was a low point in American-British relations, but it raised the perception of McCarthy's power and influence.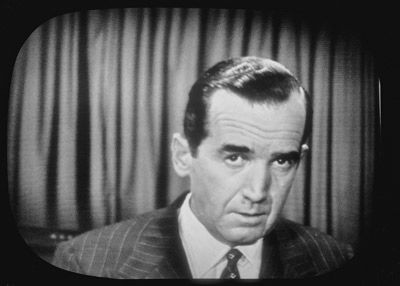 American journalist Edward R. Murrow delivered an investigative report critical of Senator McCarthy on the news show "See It Now," broadcast on March 9, 1954. The conflict between Murrow and McCarthy was the center of the 2005 film "Good Night, and Good Luck."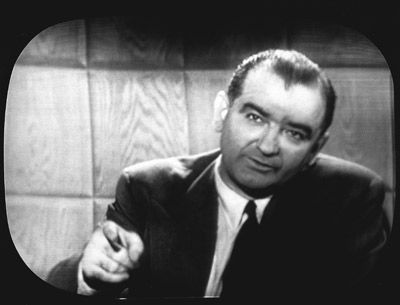 Later, on April 6, 1954, Senator McCarthy had an opportunity to argue his side as a guest on Edward R. Murrow's 'See It Now' news program, but he was already on the road to political exile.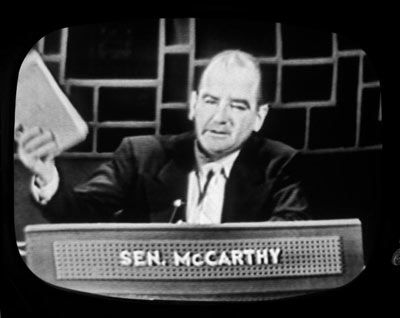 Here Joseph McCarthy waves a document on the premiere broadcast of the TV show 'Face the Nation,' on Nov. 7, 1954. Murrow's reporting, along with a live broadcast of the Army-McCarthy hearings earlier in the summer of 1954, helped turn public opinion against the senator.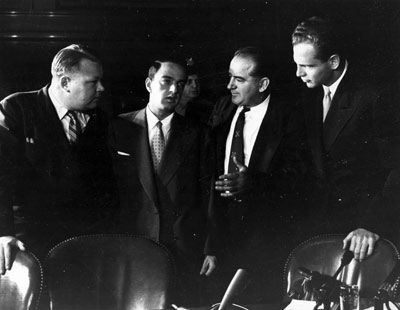 At the center of the complicated Army-McCarthy hearings were David Schine, Roy Cohn, Senator McCarthy and Frank Carr.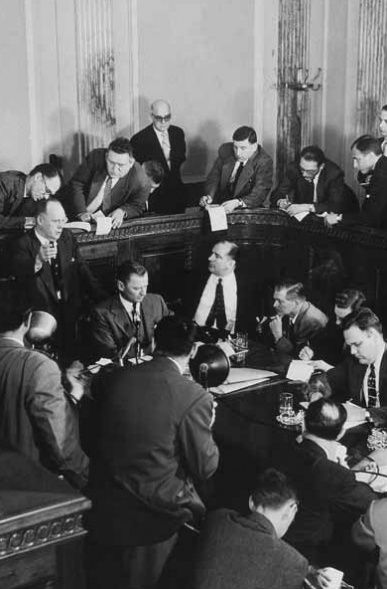 The U.S. Senate subcommittee met to examine charges and counter-charges during the Army-McCarthy investigations. Daily reporting on the hearings helped sway popular opinion against McCarthy.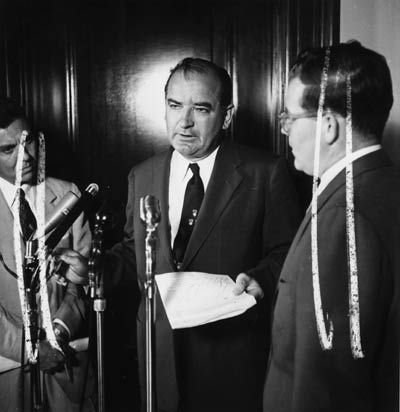 On December 2, 1954, the Senate voted to censure McCarthy for breaching senatorial ethics and tarnishing the dignity of the institution.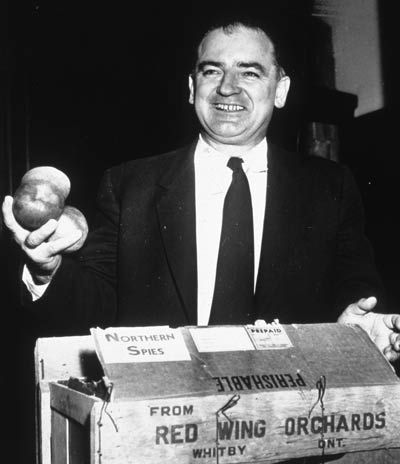 McCarthy continued to serve in the Senate until his death in 1957, though his influence was greatly diminished.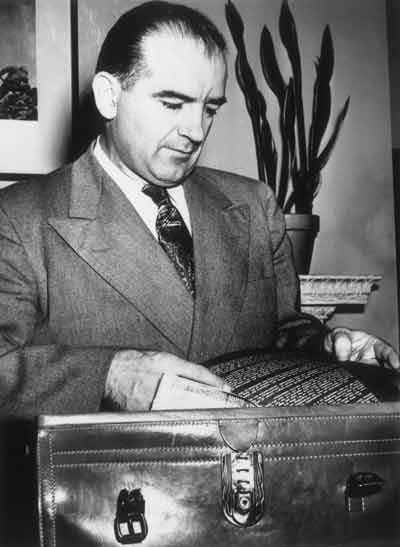 McCarthy's legacy, as with many influential politicians, is still being debated. Read more about the hysteria of the Red Scare and the life of Joseph McCarthy in How McCarthyism Worked.