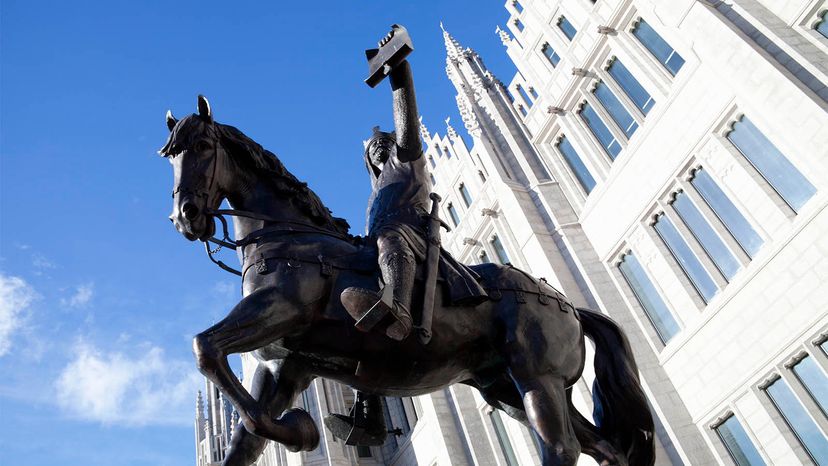 One of the most famous — fine, infamous — episodes in the biography of Robert the Bruce occurred Feb. 10, 1306, when Robert arranged a meeting with his longtime political rival, John "the Red" Comyn, inside a church. The two men openly despised each other, says Michael Brown, a professor of Scottish history at the University of St. Andrews in Scotland. The last time they'd met, Comyn had to be pulled off Robert's throat.
The meeting took place at a moment of high political tension in Scotland following the failure of William Wallace's armed uprising against the English King Edward I, who refused to allow Scotland to crown its own monarch. But that didn't stop people like Robert and Comyn, both leaders of powerful Scottish clans, from hatching schemes and hastily forming alliances to claim the Scottish throne for themselves.
"There's an awful lot of plotting going on in Scotland in 1305 and 1306," says Brown, author of "The Wars of Scotland: 1214-1371."
No one knows exactly what went down inside that church in the town of Dumfries or what kind of deal Robert proposed to his bitter rival, but the negotiations quickly broke down.
"It gets out of hand, the two men draw swords and Robert the Bruce's men are quicker or perhaps better prepared," says Brown. "Comyn and his uncle are cut down."
Whether it was a planned assassination or a crime of passion, Robert murdered Comyn at the church altar, simultaneously breaking the laws of God and man, and turning him into both an outlaw and an outcast.
While that's a wild story, what's even more amazing is that Robert the Bruce, this brazenly ambitious character, mounted a comeback in which he not only became king of Scotland, but won Scottish independence from the hated English. While Robert the Bruce isn't as "pure" a Scottish hero as Wallace, who was immortalized by Mel Gibson in the movie "Braveheart," he's still a legendary figure of Scottish national pride.