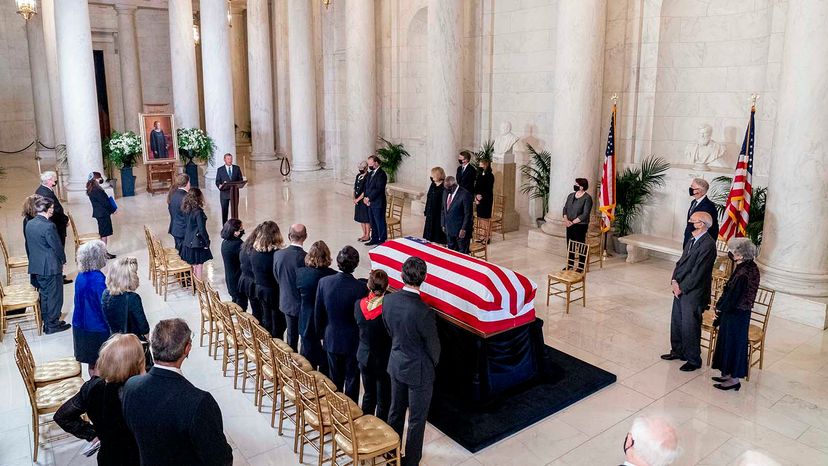 The state of American politics is such these days that the only respite we get from all the bickering and paralyzing partisanship may be in death. There, it seems, is one time and place where we all, or most of us, can come together. Often it is over the death of a beloved or revered figure who sometimes gets to lie in state in the Capitol Rotunda.
Now the distinctive honor will go to Associate Justice Ruth Bader Ginsburg, who died Sept. 18, 2020, at the age of 87 due to complications of metastatic pancreatic cancer. She served on the Supreme Court for more than 27 years. Ginsburg will become the very first woman in history to lie in state in the U.S. Capitol on Friday. Ginsburg's body will lie in repose at the Supreme Court Wednesday and Thursday so the public can pay their respects.
The last public servant to lie in state at the Capitol was civil rights icon John Lewis, who served in the United States House of Representatives for Georgia's 5th congressional district for 33 years. He died July 17, 2020 from pancreatic cancer. Before Lewis, Maryland Democrat Rep. Elijah Cummings became the first African American lawmaker to lie in state in the U.S. Capitol, according to historians, though he lay in Statuary Hall, not in the Rotunda.
Befitting these men's — and now finally woman's — lifetime of service, their deaths bring us together in rare, somber and ritual appreciation, but when did this tradition of having eminent Americans lie in state begin and who decides which Americans receive the honor?