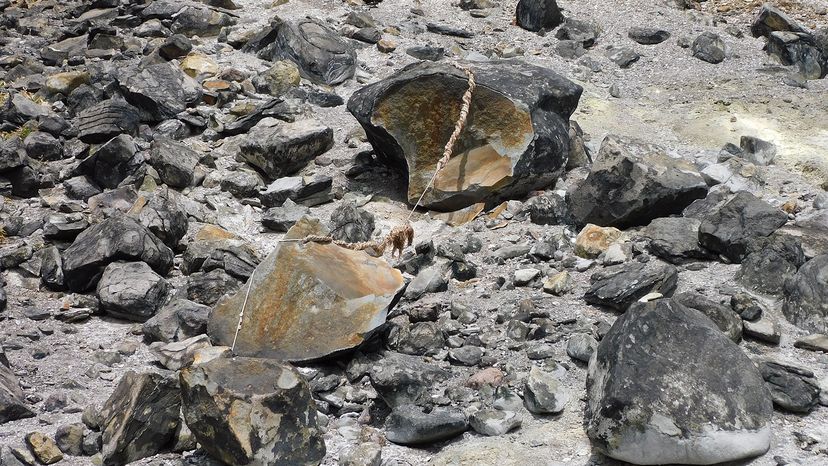 In early March 2022, all hell broke loose on the internet when a Japanese-language tweet went viral. The tweet from user @Lily0727K featured a picture of a sizable dark stone at a sightseeing spot in Japan that had fractured into two pieces — along with the following translated text via Google:
"I came alone to the killing stone, where the legend of the nine-tailed fox remains."
After some additional details, the tweet ominously concludes: "If it's a manga [Japanese comic book or graphic novel], it's a pattern that the seal is broken and it's possessed by the nine-tailed fox, and I feel like I've seen something that shouldn't be seen."
The "nine-tailed fox" is a reference to the devious fox spirit, known in Japan as Tamamo-no-Mae. As news outlets reported at the time, Tamamo-no-Mae had allegedly been trapped for centuries in a volcanic rock on the plains of Mount Nasu in Japan. The stone was called Sesshō seki, or the "killing stone" in English.
With the stone split in half, internet denizens and scholars began to speculate about what might happen now that the spirit of Tamamo-no-Mae was potentially let loose in the Japanese countryside, free to terrorize unsuspecting citizens.
But it seems there's more to this story than the media initially reported.
"I was a bit dismayed at how so many Western media sites got the facts wrong and didn't seem to look beyond Twitter for the actual story behind the superstition," says Matthew Meyer, a folklorist based in Japan who runs yokai.com, which is an illustrated database of Japanese ghosts and monsters.
As it turns out: An evil spirit probably didn't escape from the stone after all.
"Tamamo-no-Mae was never 'trapped' in the stone. She was the stone," Meyer says.