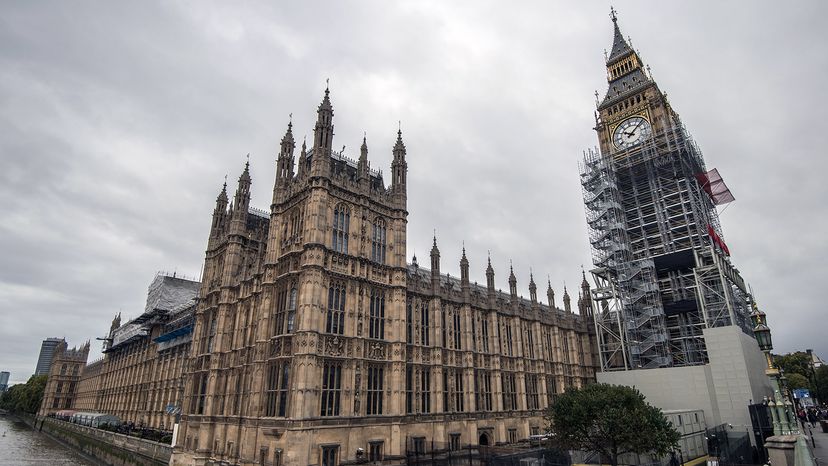 It could be London's most recognizable structure: Big Ben is housed in Elizabeth Tower, which rises above the Palace of Westminster along the River Thames. The first chimes of the Big Ben clock were heard in 1859, but like most old English architecture, the tower has a much longer and more complex history.
The first clock tower on the Houses of Parliament grounds was built in the 13th century, and second replaced it less than 100 years later, though it was dismantled in 1707. For the next century or so, there was no clock tower on the site.
But when the Great Fire of 1834 destroyed the Palace of Westminster, architect Sir Charles Barry's design was chosen to design the new palace, and he incorporated a clock tower, the foundation stone for which was laid in 1843.
This is the Big Ben we know today, sort of. What most people refer to as Big Ben is actually Elizabeth Tower. Originally it was just called the Clock Tower, but it was renamed in 2012 in honor of Queen Elizabeth's Diamond Jubilee.
Today Elizabeth Tower includes its four-face clock and bell. However, the Big Ben name is actually specific to the bell that has chimed more or less regularly since the mid-19th century. Correctness aside, even those in the know, like House of Commons clock mechanic Ian Westworth, defer to calling it all by the common moniker.
"Officially, only the Great Bell is known as Big Ben," Westworth explains via email. "The clock is the Great Clock, and the tower is the Elizabeth Tower. In practice though, we call everything Big Ben." It's all part of the Palace of Westminster, which is a UNESCO World Heritage Site.