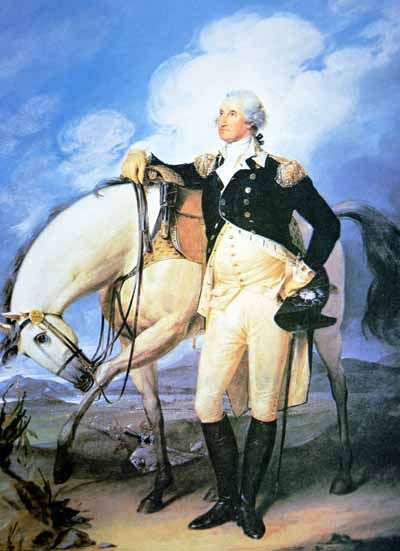 After John Trumbull/Getty Images
The stories about a young George Washington cutting down a cherry tree aren't true, but you can believe the ones that describe his military prowess. An anecdote that sounds too strange to be true (but is) is that Washington refused to shake hands.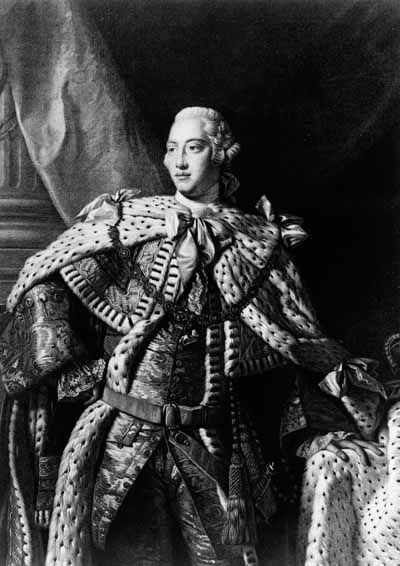 King George III poses regally, swathed in ermine. During his reign, the American colonies attained their independence from Britain.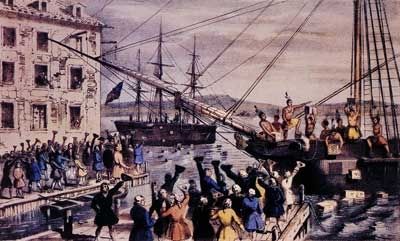 Events like the Boston Tea Party on Dec. 16, 1773 were major influences in Americans' attitudes toward British rule. This minor rebellion and the subsequent British crackdown helped cement opposition to colonial rule for many citizens.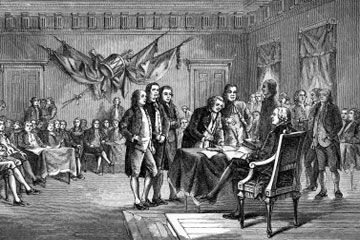 iStockphoto.com/andipantz
A number of aspects of the American Revolution were unique or unusual. Yet it was the creation of a new, democratic state through documents like the Declaration of Independence that made it a radical effort.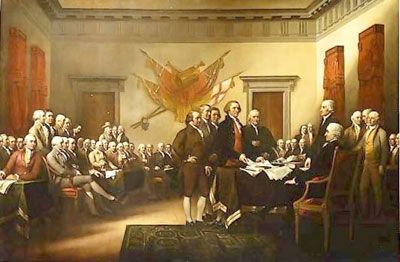 The Declaration of Independence was signed on July 4, 1776, and proclaimed the independence of the 13 colonies from British rule.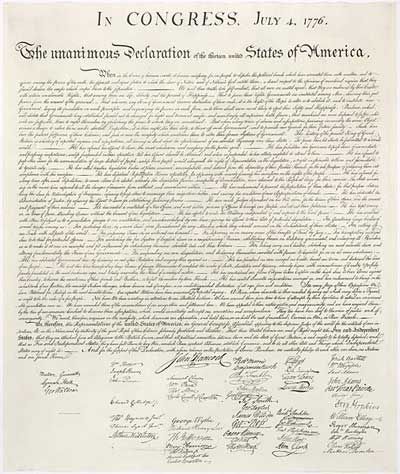 The original Declaration document has been lost, but copied manuscripts like this one and published broadsides were created for wide public distribution.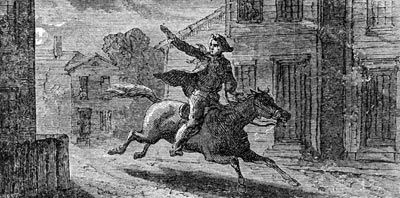 Time & Life Pictures/Getty Images
Paul Revere crafted some pretty stunning silver tea kettles, but he's more famous for his midnight ride. But despite what Henry Wadsworth Longfellow would have us believe, Revere wasn't exactly a lone wolf. He was accompanied by William Dawes and Samuel Prescott. You can read more in What happened to the other two men on Paul Revere's ride?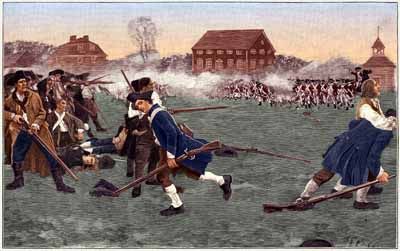 Stock Montage/Getty Images
"The Fight on Lexington Common" captures a moment from the first military engagement of the American Revolutionary War. On April 19, 1775, American soldiers fire at British Redcoats in Lexington, Mass.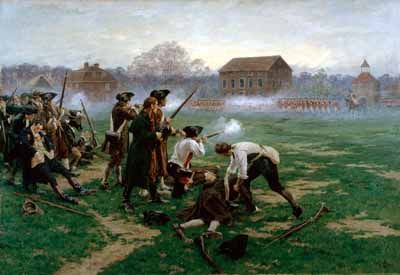 William Barnes Wollen/Getty Images
Yet another artist's perspective of the 1775 Battle of Lexington. You can find this painting in London's National Army Museum.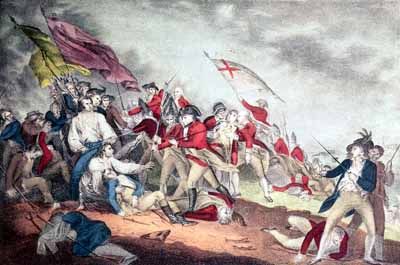 Currier and Ives/Getty Images
This Currier and Ives colored lithograph depicts the Battle of Bunker Hill on June 17, 1775. Nearly 1,000 casualties were incurred by British soldiers, and at last, the bloodied British had to admit defeat.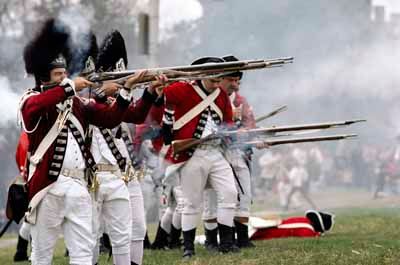 In Charlestown, Mass., British Redcoat reenactors bring the Battle of Bunker Hill to life. If they stay true to the time line of the skirmish, about half of them will be down for the count at the end.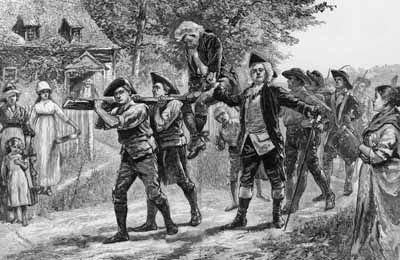 Mansell/Time & Life Pictures/Getty Images
This Charles S. Reinhart engraving depicts American patriots marching into town with a loyalist they've captured. While the image no doubt inspired Revolutionary fervor, it also fired up anti-Revolutionary sentiment abroad when it ran in a British illustrated newspaper called "The Pictorial World."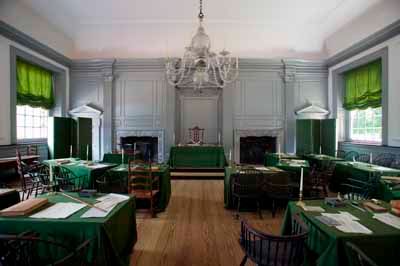 VisionsofAmerica/Joe Sohm/Getty Images
What's so special about this emerald-hued room? If you look past the fantastic panel molding and polished hardwood floors, you'll see history unfolding. This is where the Declaration of Independence and the U.S. Constitution were signed.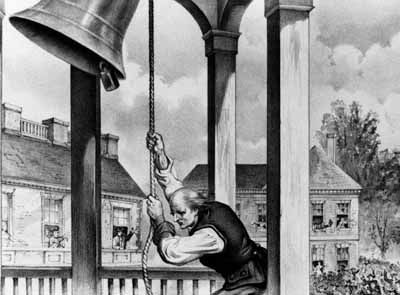 A Currier and Ives print shows Philadelphia's Liberty Bell being rung after the first public reading of the Declaration of Independence. Patriots congregating in the square and hanging from windows tip their tricornered hats and cheer.
Joseph Wright of Derby/Getty Images
Benjamin Franklin's contributions to the American Revolution cannot go unmentioned. Dispatched as a diplomat to Europe, he established a close relationship with France, who would later come to America's aid during the war. Among other things, Franklin was a member of the Continental Congress in 1775 and was Thomas Jefferson's editor for the Declaration of Independence.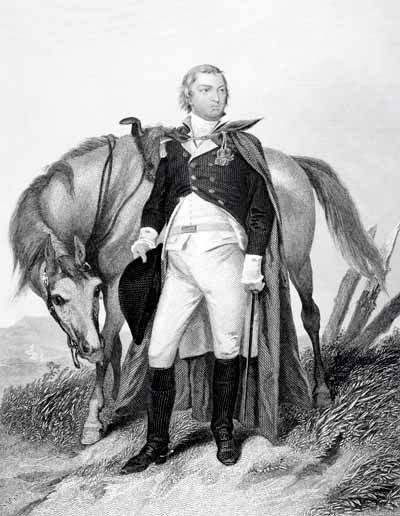 After Alonzo Chappel/Getty Images
A formal portrait of Nathanael Greene, the well-liked and immensely successful American Revolutionary War quartermaster general, who emerged from his Quaker father's blacksmithing business to become George Washington's go-to military strategist.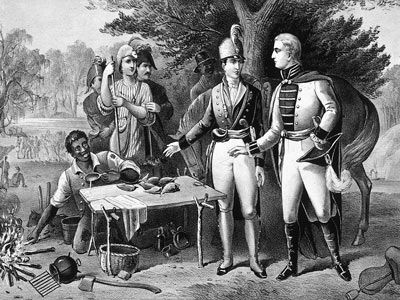 Francis Marion, alternately known as the Swamp Fox, employed guerilla warfare tactics in the South Carolina low country to outmaneuver the British.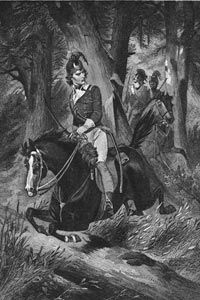 Mel Gibson's character in "The Patriot" was loosely based on Swamp Fox lore.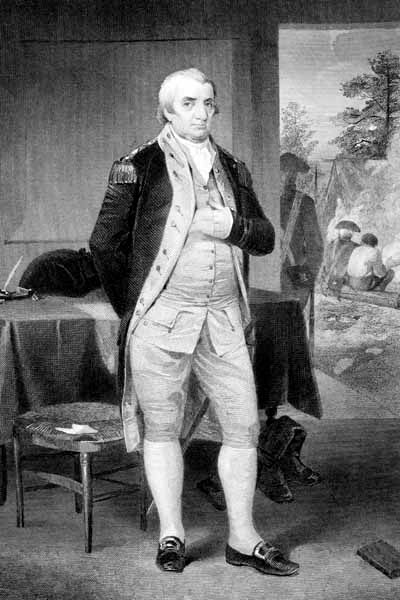 After Alonzo Chappel/Getty Images
Another major player on the battlefields of the American Revolutionary War, South Carolinian Charles Cotesworth Pinckney organized militias in the Southern states and later became the U.S. ambassador to France. Pinckney was an ardent Federalist until his death.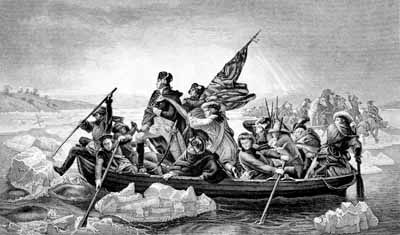 After Emanuel Gottlieb Leutze/Getty Images
In this engraving of Emanuel Leutze's patriotic painting, Gen. George Washington and his troops cross the Delaware River on Dec. 26, 1776. Leutze painted the scene nearly a century after it transpired, and the enormous painting is 12 feet high and 21 feet long, according to the Metropolitan Museum of Art.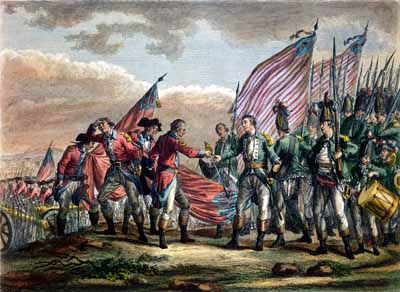 British General John Burgoyne surrenders at the Battle of Saratoga in October 1777. He attempted to infiltrate the American colonies by entering from Canada. Burgoyne's resignation sullied his political name upon his return home, but he became fairly successful as a playwright.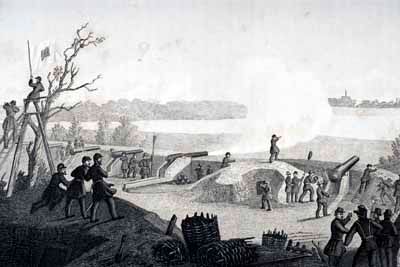 After Francis Schell/Getty Images
The Siege of Yorktown in 1781 (not to be confused with the Battle of Yorktown) was a sweeping victory for the American troops. Together, Gen. George Washington and French General Comte de Rochambeau defeated British General Lord Cornwallis. This would be the beginning of the end for the British.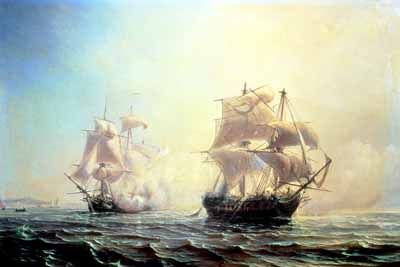 Jean Antoine Theodore Gudin/Getty Images
In 1793, the French frigate L'Embuscade encounters the Boston in the Port of New York. When the French agreed to aid the American colonists in their cause, naval warfare defenses were greatly strengthened.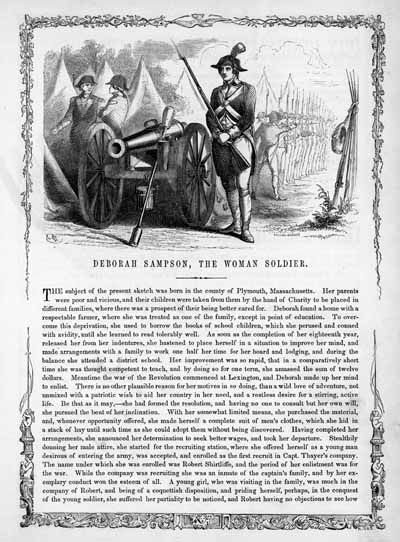 Kean Collection/Getty Images
This engraving shows the female Revolutionary War solider Deborah Sampson. A Plympton, Mass., native, Sampson donned a man's disguise and adopted the name Robert Shurtliff while she served in the army.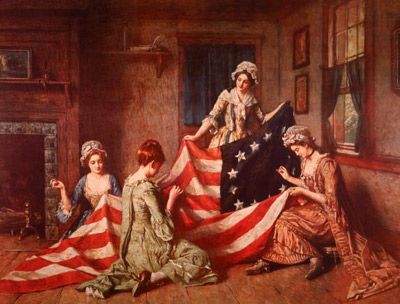 While she didn't serve in the army, Betsy Ross became famous for sewing together the first American flag in Philadelphia -- at least, that's the story that's been passed down. Who could have been the real inventor of the flag? Read more in Did Betsy Ross really make the first American flag?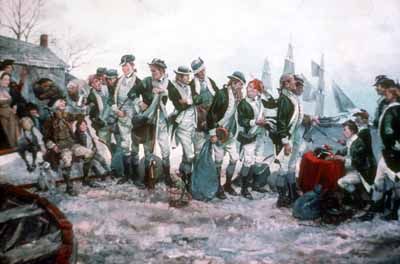 On April 1, 1783, as the American Revolutionary War draws to a close, soldiers line up to be mustered out, or discharged, from the army. To learn about the beginnings of the revolution, check out How the Boston Tea Party Worked.