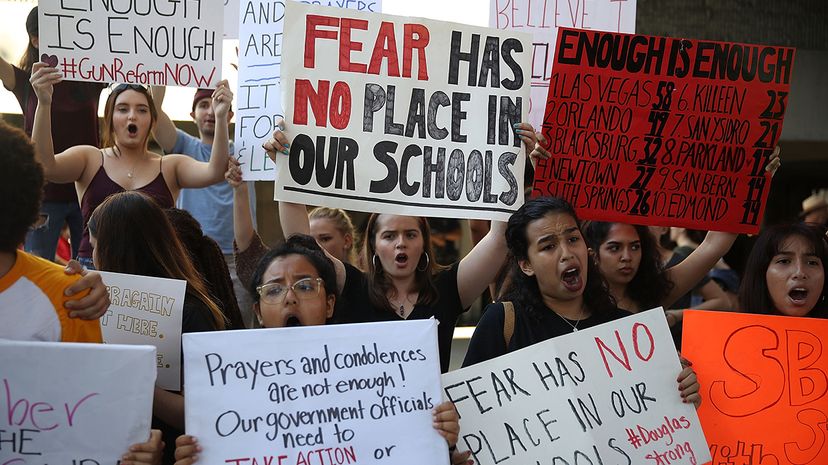 Some of the most meaningful social changes in history have been sparked by the actions of the young. Chinese students in Tiananmen Square in 1989, demanding democratic reforms and greater freedoms. Children coal miners marching from Philadelphia to New York in 1903 to protest child labor.
And in 2018 it's high school students across the United States — Florida in particular — looking for an answer to gun violence in their schools.
After the killing of 17 of their fellow students at Marjory Stoneman Douglas High School in Parkland, Florida on Feb. 14, 2018, young activists at the school are raising their voices, and they're being heard all over the world. Already, students have organized two big nationwide protests (the National School Walkout on March 14, 2018 and a like-named National School Walkout on April 20, 2018) and the March for Our Lives in Washington, D.C. (and, perhaps, other places nationwide) on March 24, 2018. Other events are being planned. Officially, #neveragain has become a movement.
It's not the first time young people have led the way to social change.
"[G]reat forward movement in our society around issues of race, gender and sexuality have been driven by the activism of youth. Think, for example, about the current efforts of trans youth, whose activism is pushing schools to look at their policies surrounding issues related to gender identification and access to bathroom and locker rooms. Similarly, the push for democracy in many countries, as seen in the Arab Spring, came from the young," Nancy Deutsch, a professor at the University of Virginia and the director of the Curry School of Education's Youth-Nex Center to Promote Effective Youth Development at UVA, told the school's news service. "Nationally, from the Black Panthers to the Young Americans for Freedom, youth activists have long shaped our national conversations, both ideologically and politically. And today more than ever, with the rise and impact of social media, the power of youth to make their voices heard and shape political debates is great."
Social change usually does not come quickly. Sometimes, failure precedes victory. Case in point: On Tuesday, Feb. 20, 2018, the Florida legislature declined to take a vote on a proposed ban on assault rifles and high-capacity magazines, dealing an early setback to Parkland's high-school activists. Many students were on busses to the state capitol in Tallahassee as the motion to consider the ban was being voted down.
Still, history shows that, even with setbacks, answers to some of society's biggest problems begin at the grassroots, and often are affected by some of its youngest members.
Here are five examples of how young activists have enacted change throughout the world, fighting for the rights to their future.