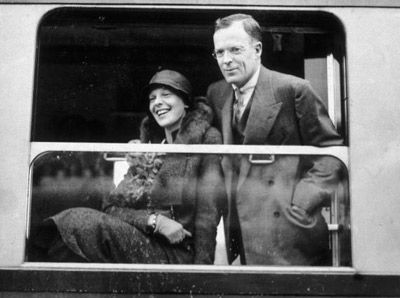 George Putnam was Amelia Earhart's publisher and publicist before he became her husband. The two fell in love while Putnam was still married to his first wife. Earhart approached marriage with as bold an attitude as she did her aviation career. The New York Times remarked on her wedding vows in 1931 that "Miss Earhart did not promise to 'obey' her husband, as the word is not included in the civil ceremony."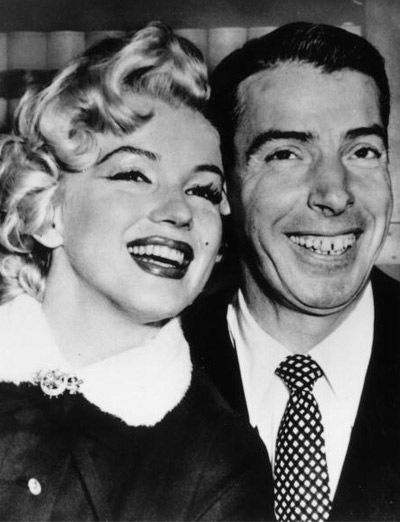 When Joe DiMaggio and Marilyn Monroe were married in 1954, they were an A-list celebrity couple. But the retired baseball player didn't like the publicity his wife garnered for the suggestive pose she struck while filming "The Seven Year Itch." According to reports, DiMaggio abused Monroe physically and emotionally, and when she filed for divorce nine months after the wedding, DiMaggio didn't show up in court.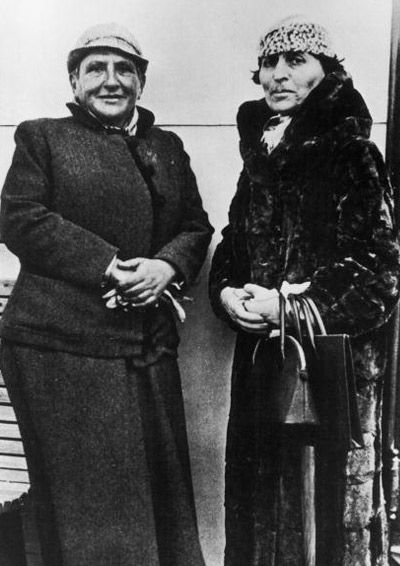 Gertrude Stein (left) and Alice B. Toklas were two American expatriates who met in Paris. They lived together in 27 Rue de Fleurus as a married couple for 39 years. Stein, a poet, memoirist and contributor to the modern and post-modern movements, spent her days writing while Toklas typed her manuscripts and kept the house in order.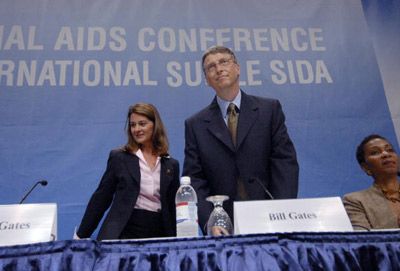 Microsoft business brought Bill and Melinda Gates together. They have three children and run the Bill & Melinda Gates Foundation, a charitable organization that, according to the Gateses, seeks to help people live "a healthy, productive life."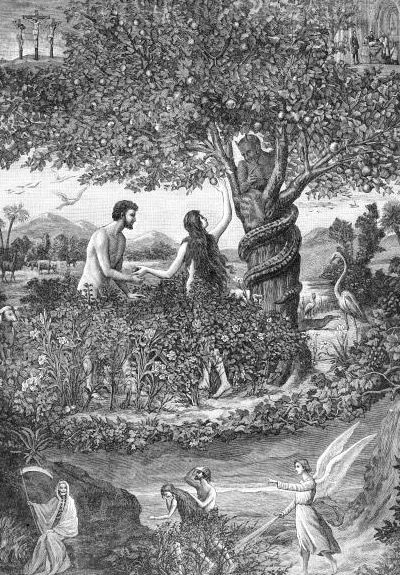 This late 19th-century lithograph depicts the garden of Eden, inhabited by the biblical couple Adam and Eve, who members of certain faiths believe were the first man and woman.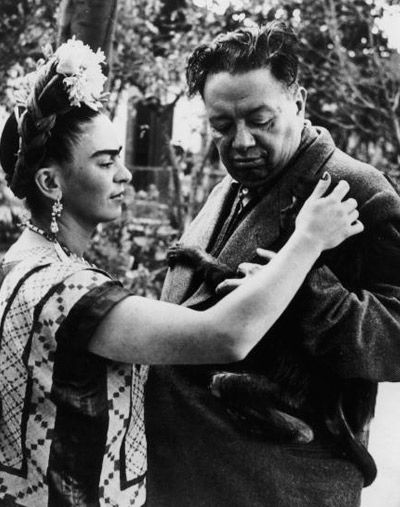 Mexican artists Diego Rivera and Frida Kahlo were both well-recognized artists in their time, but Rivera predicted that his wife's reputation would be far greater than his in generations to come. Though art historians surmise that Rivera and Kahlo were very much in love, they both engaged in extramarital affairs, which ultimately contributed to their divorce in 1940. A year later, the couple reunited.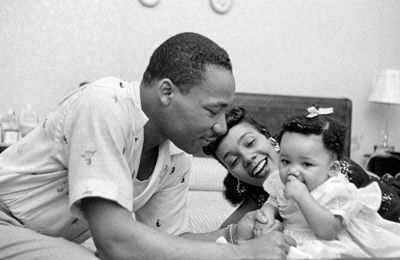 The Rev. Martin Luther King Jr. and his wife, Coretta Scott King, pose with their daughter Yolanda at home in Montgomery, Ala., in 1956. King was a champion of the civil rights movement, and his wife, a trained singer, supported his activism.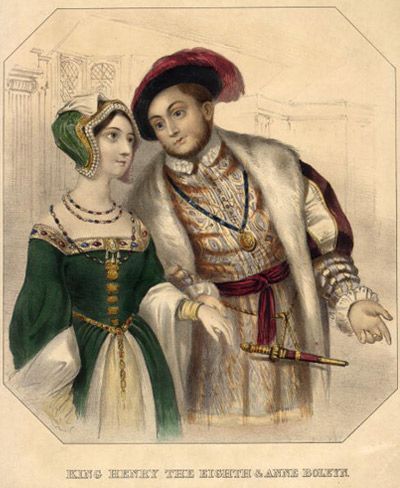 Anne Boleyn caught King Henry VIII's attention when she was a lady-in-waiting to his queen, Catherine of Aragon. Anne became Henry's second wife, and the scandal of his divorce from Catherine shocked the court. In 1536, Henry had Anne beheaded on the charge of adultery, though many scholars assert he was just getting rid of her so he could pursue Jane Seymour.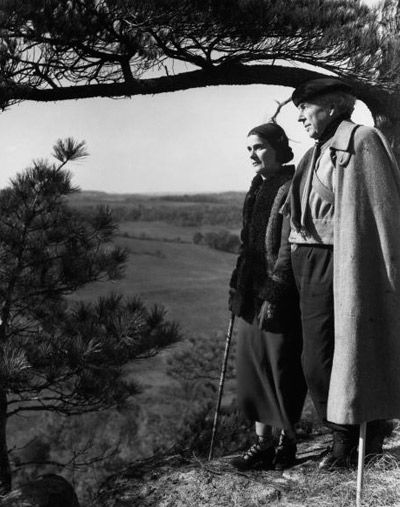 Frank Lloyd Wright and his wife Olgivanna pose at Taliesin East in 1937. Thirty years his junior, Olgivanna was Wright's third wife. She was a dancer from Montenegro, and she bore the architect (who was as famous for his designs as he was for his affairs) a daughter named Iovanna.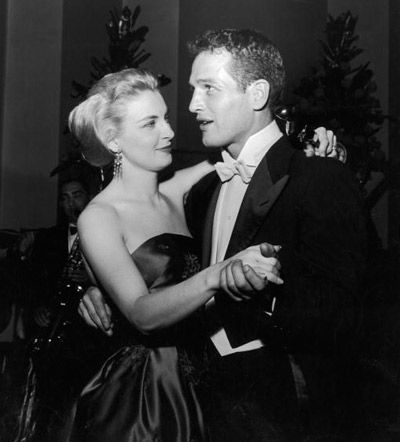 Joanne Woodward became Paul Newman's second wife in 1958. The two award-winning actors had one of the most enduring relationships in Hollywood. As fellow actor Warren Beatty described their lasting union, "They were just sensible, nice, intelligent people." As for his own rationale on marriage, Newman once quipped, "Why fool around with hamburger when you have steak at home?"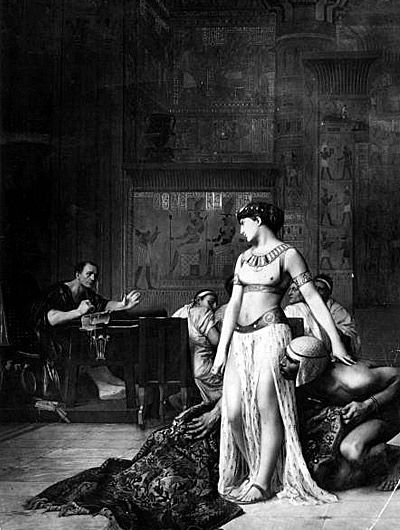 In this painting, Cleopatra emerges from a rolled-up carpet to present herself to Julius Caesar. Caesar became Cleopatra's co-conspirator to help her regain the Egyptian throne after Ptolemy took possession of it. The couple had a son named Caesarion and lived in Rome until Caesar's assassination. When Cleopatra returned to Egypt, the second great love story of her life began with Mark Antony.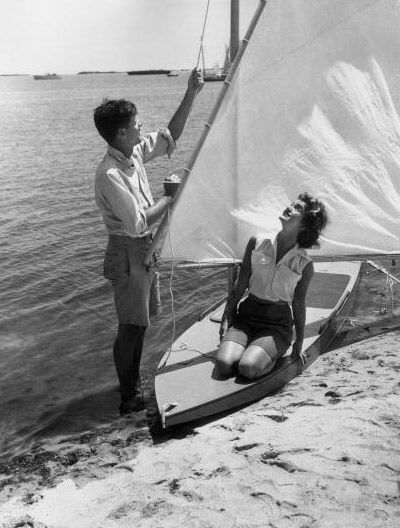 President John F. Kennedy and Jacqueline Bouvier Kennedy reigned over so-called Camelot during his term. The facetious name nodded at the golden years of the nation, during which anything seemed possible with the youthful, handsome president at the helm and his young family by his side.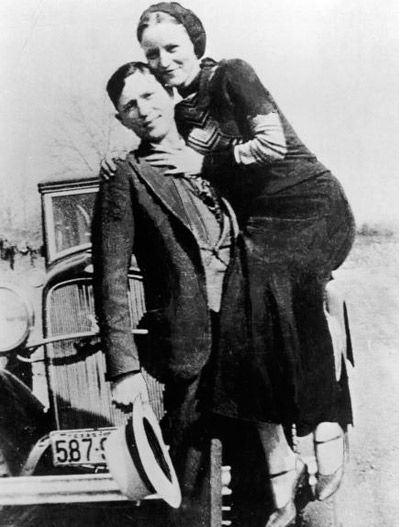 The couple that steals together stays together, at least in the case of Clyde Barrow and Bonnie Parker, who are best remembered as the dangerous duo Bonnie and Clyde. Wanted on charges of murder, kidnapping, robbery and auto theft, the couple was gunned down in Louisiana on May 23, 1934.
Even renowned chemists will leave the lab behind for a romantic honeymoon. Pierre and Marie Curie met at the Sorbonne in Paris, and they achieved fame in the science world for their studies of radioactivity, which later earned them a Nobel Prize. When Pierre was killed in 1906, Marie was appointed to his position at the Sorbonne, where he had been a professor of physics.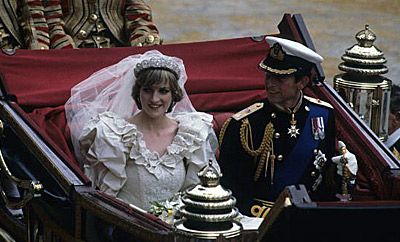 On July 29, 1981, Prince Charles and Lady Diana Spencer were married in front of 3,500 wedding guests and an international television audience of 750 million, which, according to the BBC, makes the wedding the "most popular program ever broadcast." The couple bore an heir to the throne less than a year after the wedding, and though they formally separated in 1996, their image as a couple endures due to their vast celebrity and humanitarian efforts. Prince Diana died in 1997 in a tragic car crash.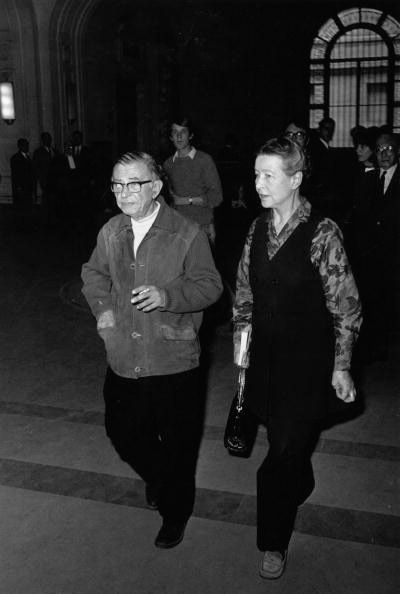 Jean-Paul Sartre and Simone de Beauvoir met in 1929 when they were philosophy students. They shared an open relationship for much of their adult lives, acting as lovers and editors for each other's greatest works. These included Sartre's existentialist novels and plays and de Beauvoir's feminist treatises, most notably "The Second Sex." As Sartre described the relationship, "What we have is an essential love; but it is a good idea for us also to experience contingent love affairs." In her later years, de Beauvoir commented that her relationship with Sartre was her "greatest achievement."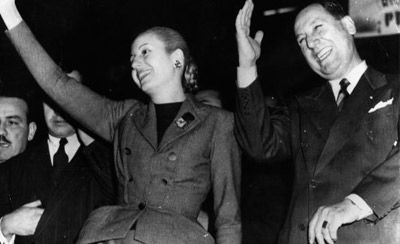 As far as power couples go, perhaps no duo had greater command over the public than Argentinian President Juan Peron and First Lady Eva Peron. Their signature wave was a welcome sight to the descomisados, or "shirtless ones," working-class Argentinians to whom the Peron administration promised higher wages and better housing. Beloved by the public, the first lady was dubbed and memorialized as "Evita."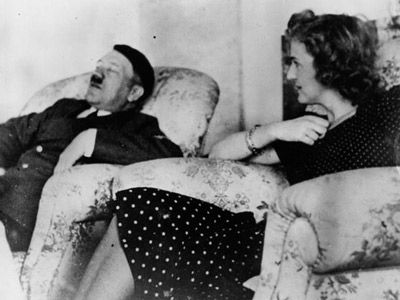 In a rare moment of repose, Adolf Hitler naps while his long-time mistress, Eva Braun, looks on. Hitler and Braun married the day before committing suicide together, just prior to the collapse of the Third Reich.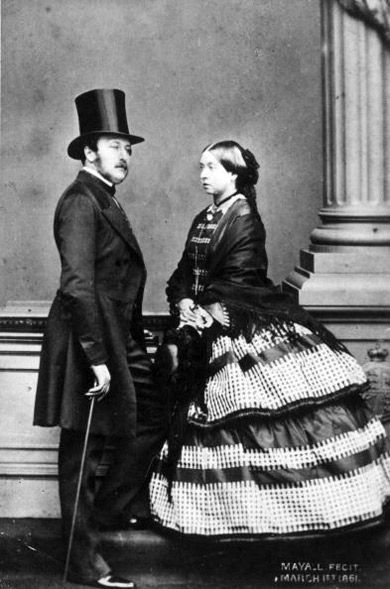 The German Prince Consort Albert and Queen Victoria gave birth to nine children and the concept of Victorianism, a term that biographer Gillian Gill says connotes ideals of "faith, thrift, discipline ... marital fidelity, parental control social cohesion." The couple drastically altered public ideas about British royalty by cleaning up the scandalous image of the court and replacing it with a homespun one of a couple very much in love, nurturing a large and closely knit family.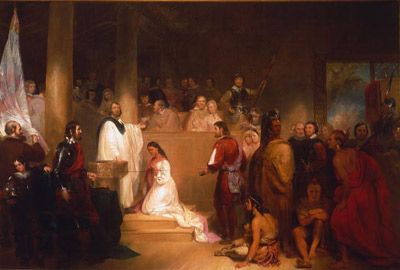 Despite the romantic accounts of Pocahontas saving John Smith's life (which historians believe are probably not true), the real love of her life was the English colonist John Rolfe. Their marriage in 1614 forged a diplomatic peace between the foreign settlers and the indigenous people of the Virginia colony. This historical painting shows Pocahontas' baptism, after which she became known as Rebecca. Though Pocahontas died just three years after marrying Rolfe, during their union, they had a son and worked in tandem to garner interest and financial support for the American colonies.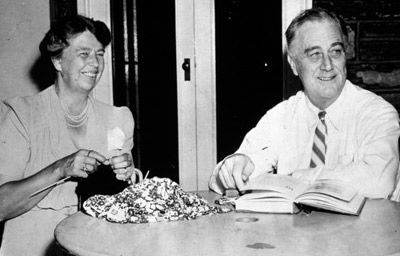 Franklin Delano and Eleanor Roosevelt resided in the White House during some of the most financially tumultuous years in U.S. history. Though Eleanor was his distant cousin, Roosevelt was determined to make her his wife. When she discovered that Roosevelt was having an affair with her social secretary, Lucy Mercer, Eleanor proposed divorce. Roosevelt declined, and though the two remained together, this event caused an awakening in Eleanor's personal life, inspiring her to become more involved in politics and to seek more meaningful friendships.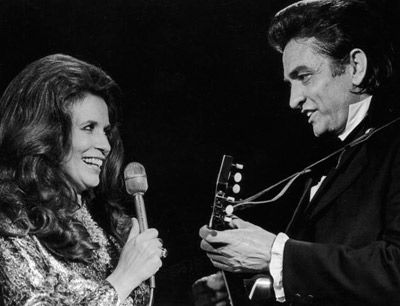 Johnny and June Carter Cash met in 1961 when she began touring with him. Carter Cash came from a family of country singers, and she dabbled in singing, songwriting and acting. The couple married in 1968 after Cash proposed to her onstage at a concert in London, Ontario. Their marriage of 31 years was a collaboration of love and talent, and between them, they earned several Grammy Awards. Carter Cash notably helped her husband overcome an addiction to amphetamines, and when she passed away in 2003, Cash died just four months later.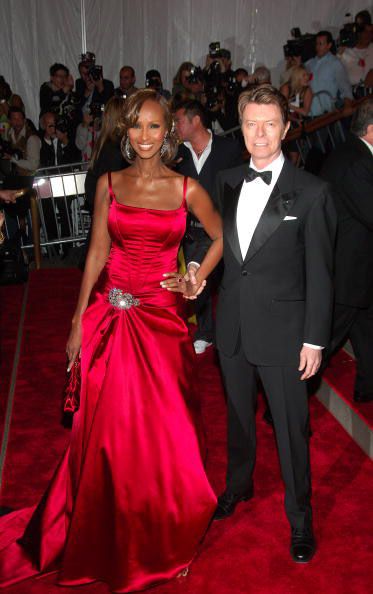 Rock star David Bowie and Somalian supermodel Iman were married in 1992, and despite the constant glare of the paparazzi's flashbulbs, the couple has enjoyed a lasting marriage. While Iman is known as a pioneer among black models in the fashion industry and recognized for designing the first line of cosmetics for women of color, Bowie was renowned for his rock 'n' roll legacy, which includes contributions to the glitter rock genre as well as a Lifetime Achievement Grammy Award and countless hit singles. Bowie died in 2016.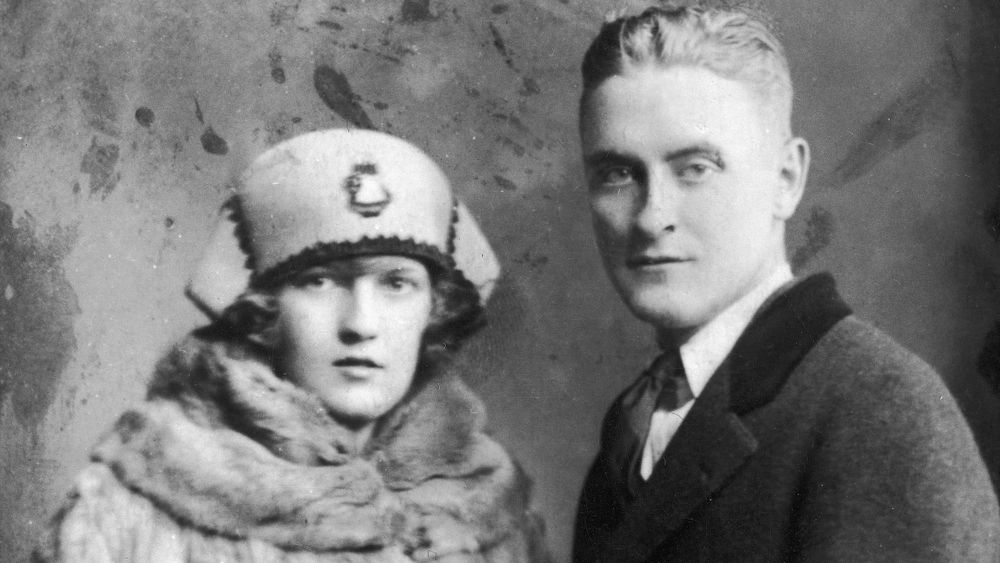 Best known for the "The Great Gatsby," Francis Scott Key Fitzgerald married his love and muse Zelda Sayre after the publication of his first novel, "This Side of Paradise." The couple welcomed their daughter Frances "Scottie" Fitzgerald in 1921. Towards the end of the decade, Zelda suffered from mental illness, which caused her to frequent mental health clinics and hospitals until she died. Fitzgerald's masterpiece "The Great Gatsby" didn't become renowned until the middle of the century, after he died.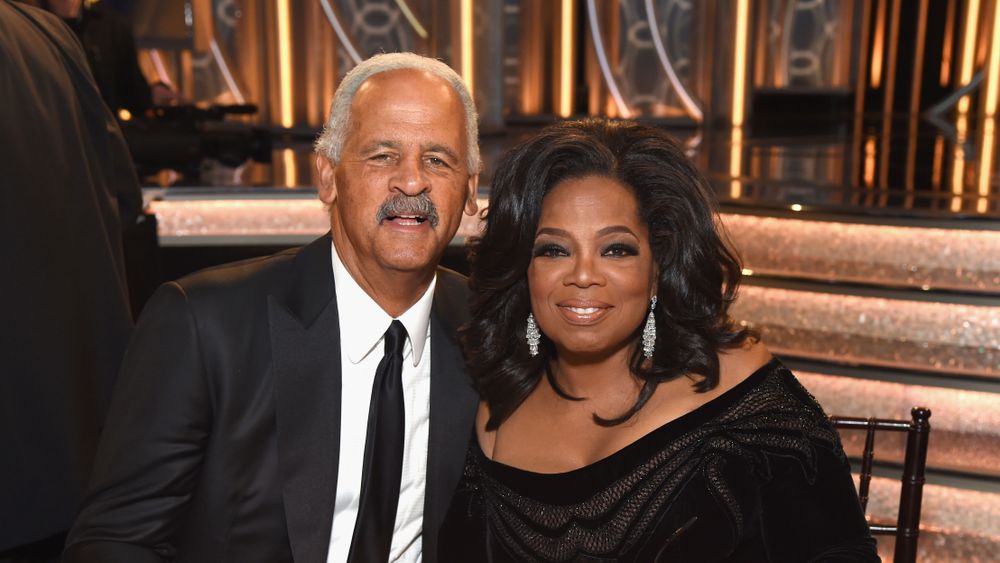 Oprah Winfrey met Stedman Graham in the mid-1980s, and they've been together ever since. The couple was engaged in 1992, but they never married. In September 2017, Winfrey told Vogue that both she and Stedman are traditional, and that if they'd gotten married, then their relationship wouldn't have worked. The pair have been historically tight-lipped about their relationship.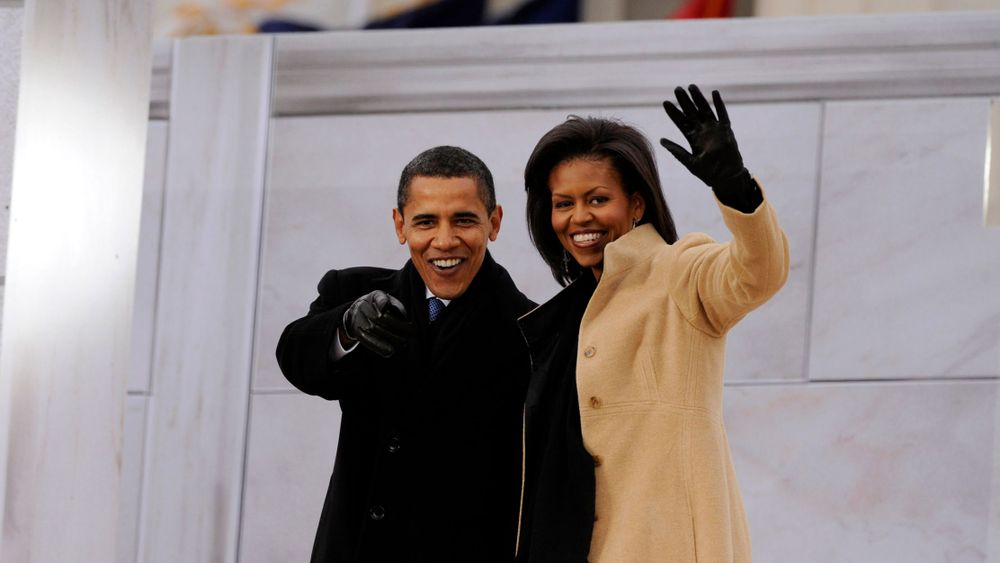 In 1989, Barack Obama met Michelle Robinson at the law firm Sidley Austin LLP where they both worked, and three years later they got married. By the time he was elected to the Senate in 2004, the couple had two children, Malia and Sasha. The family's life would later change when Barack became the first black president of the United States. Obama left office after completing two terms in 2016, with very high approval ratings. On Oct. 3, 2017, the couple celebrated their 25th wedding anniversary.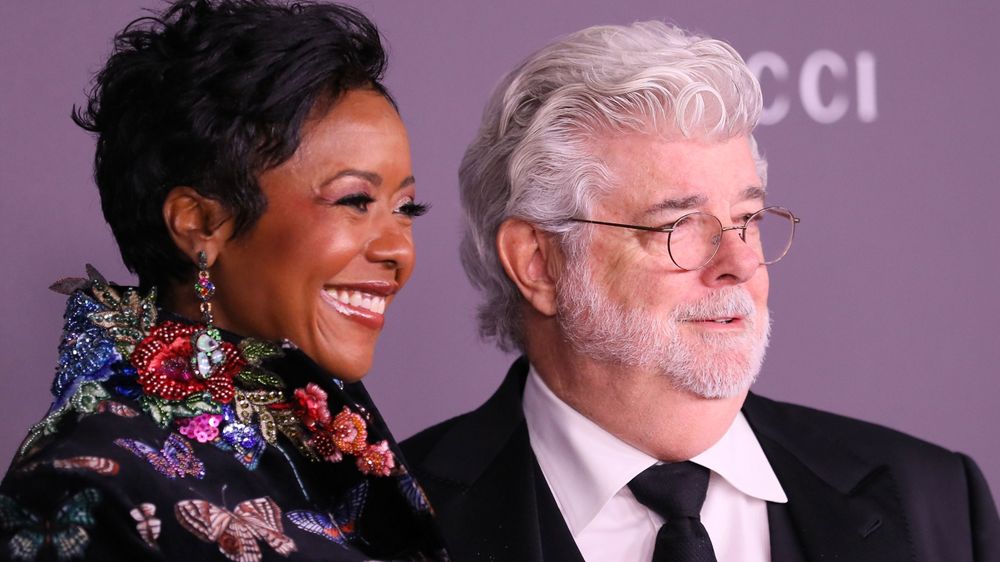 George Lucas, the famed "Star Wars" director, met his future wife Mellody Hobson, president of Ariel Investments, at a business conference. They married in late 2013 and have a daughter together.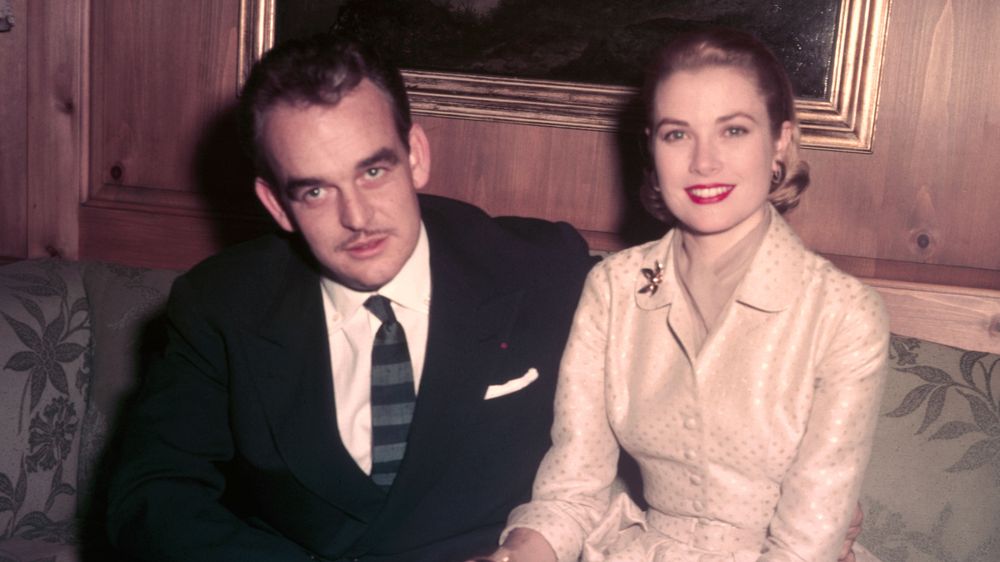 Grace Kelly was a famous American actress of the 1950s. She won an Academy Award for her role in "The Country Girl." In 1955, Kelly met Prince Rainier III of Monaco at a photoshoot and married him in 1956. The royal couple had three children together, including a son, Prince Albert, which prevented Monaco from being annexed into France. Princess Grace was killed in a tragic car accident on Sept. 13, 1982.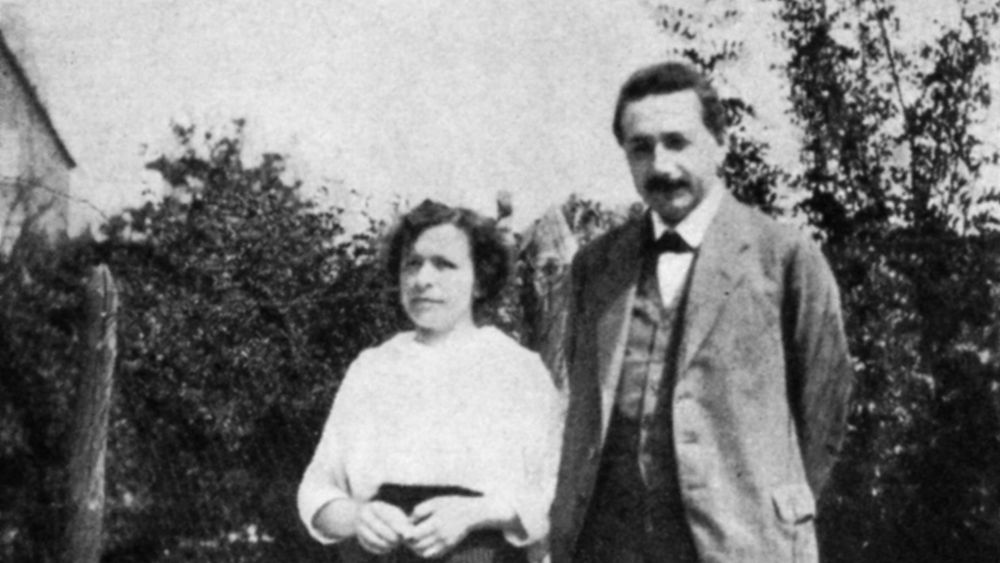 Albert Einstein met his first wife, Milena Maric, while attending school in Zurich. Despite his parents objections to the relationship, Einstein and Maric married on Jan. 6, 1903, but their marriage would not be a happy one. Einstein had an affair with his cousin while he was married to Maric. In their divorce settlement, Einstein agreed to give Maric any prize money in the event that he won the Nobel Prize.
Ulysses S Grant, the 18th U.S. president, met his wife Julia after graduating from West Point. Before they could marry, he was sent to fight in the Mexican-American War. During the conflict, Grant oversaw the movement of supplies. After a four-year engagement, the couple married in 1848 and had four children, but that wasn't the only time their lives were affected by war. Grant fought in the Civil War before becoming present.