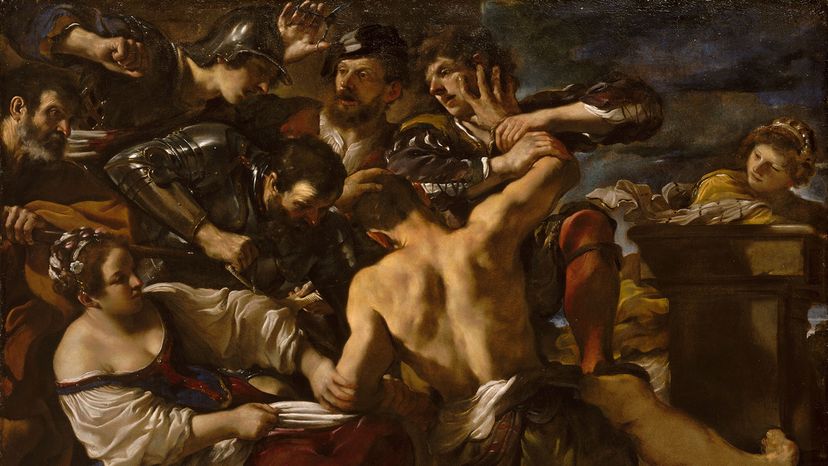 In the Hebrew Bible (known to Christians as the Old Testament), the Philistines are the consummate enemy of the Israelites — an uncircumcised barbaric tribe intent on destroying God's chosen people. The giant Goliath was a Philistine and so was the evil temptress Delilah who cut mighty Samson's hair.
For centuries, the word "philistine" has even been shorthand for people who are uncouth and uncultured, as in, "The school board members who want to cut funding for art and music programs are a bunch of philistines." The term was first coined by a 17th-century German university chaplain who defended a brawl between his Christian students and the townspeople by branding the uneducated locals as no better than "Philistines."
But do the Philistines deserve their bad biblical reputation? Who were these people who ruled the coastal plain near the Gaza Strip in modern-day Israel for six centuries, and for whom the land of Palestine derives its name?
We spoke with Aren Maeir, an archaeologist at Bar-Ilan University in Israel and director of the decades-long excavations at the ancient Philistine city of Gath. As Maeir explains, the biblical accounts are heavily biased against the Philistines, whom the authors of the Hebrew Bible needed to cast as Israel's arch enemy and the "ultimate other" in order to contrast with the chosen status of the Israelites.
The archaeological record, however, tells a very different story about the Philistines, a highly cultured people who were frequent adversaries of the Israelites, but who also freely intermingled with them over centuries of cultural exchange.