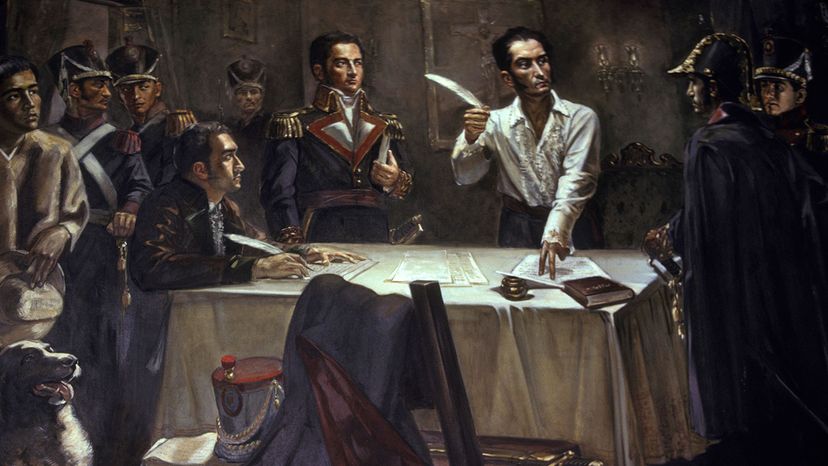 The most stunning victory in Simón Bolívar's long struggle for Latin American independence came in 1819, when the man known as "El Libertador" ("The Liberator") led a ragtag squadron over the impassable Andes to wage an audacious surprise attack on the superior Spanish forces.
As the journalist and author Marie Arana writes in her biography, "Bolívar: American Liberator," the impulsive and ingenious Bolívar kept his plan secret from his men, who likely would have deserted rather than trudge through miles of flooded swampland and over 13,000-foot (3.9-kilometer) peaks in the middle of the South American winter.
But they stayed with him, buoyed by the warmth and charisma of Bolívar's outsized personality, even as malaria and yellow fever sickened hundreds in the sodden lowlands, and the icy Andean wind ripped through their threadbare clothing and killed nearly every horse and mule in the party.
Bolívar suffered right alongside his men but seemed much stronger than his spindly 130-pound (58-kilogram) frame. When what remained of his men descended half-naked and starving on the Colombian side of the Andes, they met absolutely no Spanish resistance, because no sane Spanish general would ever have believed such a sneak attack was possible.
"That was as audacious a military maneuver as Hannibal crossing the Alps," says Richard Slatta, emeritus professor of history at North Carolina State University and co-author of "Simón Bolívar's Quest for Glory."
Within days, Bolívar had rallied reinforcements from the Colombian countryside and given his loyal troops time to rest and refuel for the coming fight. On July 25, Bolívar and his patriots charged uphill against the well-armed and brightly uniformed Spanish at the Battle of Pantano de Vargas. The rebels' secret weapon were the llaneros, roughneck South American herders akin to American cowboys, who fell on the Spanish with their machetes and spears.
Next came the decisive Battle of Boyocá, easily won by Bolívar and his reinvigorated fighting force. The Spanish generals, spooked by the patriots' guerilla tactics and promises of a "war to the death," began to lose their nerve and their iron grip on the Latin American colonies. It would all be lost in a matter of years.
While Bolívar didn't act alone, he was clearly the catalyst and "cult of personality" behind the 19th-century liberation movement that won independence for six Latin American nations: Venezuela, Colombia, Ecuador, Panama, Peru and Bolivia, a country named for the Liberator himself.
"In the age of revolution, Bolívar is the most critical figure in the hemispheric story," says Lester Langley, emeritus professor of history at the University of Georgia and author of "Simón Bolívar: Venezuelan Rebel, American Revolutionary."