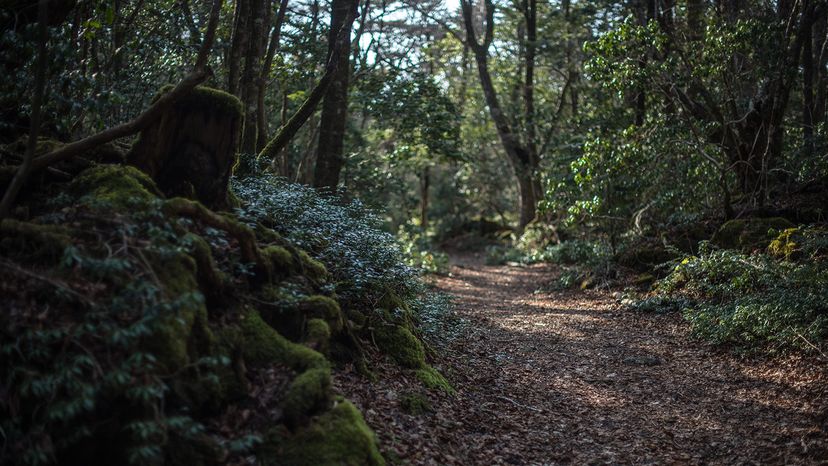 Warning: the following article includes frank discussions of suicide. If you or somebody you love is struggling with depression or suicidal thoughts, please call the National Suicide Prevention Lifeline at 988.
In the year 864, Mount Fuji experienced a violent, six-month eruption that buried entire villages and left behind a massive field of hardened lava. Over the past 1,000 years, a tangled forest grew on that lava field or forest floor, in the shadow of the snow-capped volcano. Its official name is Aokigahara, but most Japanese call it jukai, which means "sea of trees."
Aokigahara is a popular hiking destination just a couple of hours from Tokyo in the rural Yamanashi prefecture. But not everybody comes here for the fresh air and sweeping views. For decades, Aokigahara has served as a darker kind of destination. For lost souls who see no other way out, Aokigahara is known as the suicide forest.
According to the Yamanashi government, there were more than 100 suicides committed in Aokigahara forest between 2013 and 2015 alone, CNN reported. The victims, whose remains are found deep in the sea of trees, often travel from far away to join countless others who have ended their lives in these mist-shrouded woods. The Japanese government no longer gives statistics on suicides in Aokigahara in an effort to deter people from coming there to do it.
But how did this scenic and serene forest at the base of Mount Fuji become so intimately associated with suicide? We reached out to Lindsay Nelson, a political science professor at Meiji University in Tokyo, who writes about Japanese horror films, including a chapter on the suicide forest in her book, "Circulating Fear: Japanese Horror, Fractured Realities, and New Media."