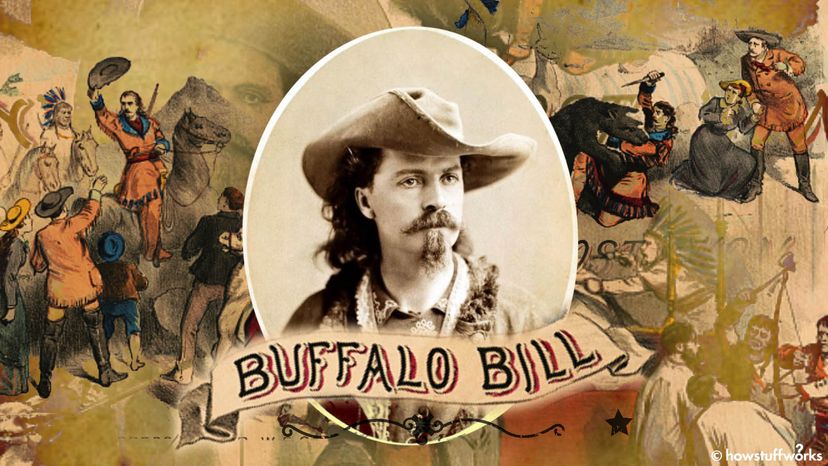 As the world pivoted from the 19th to the 20th century, few men alive, certainly no American alive, was better known than William Frederick Cody. He was a frontiersman and soldier turned entertainer and entrepreneur who thrilled crowds all over the globe by giving adoring patrons an authentic — well, mostly authentic — taste of the American West.
"Buffalo Bill" and his Wild West show played before rapt throngs of people (more than 3 million in 1893 alone) for more than 20 years, offering the paying public an up-close look at real honest-to-goodness cowboys and Indians. Sharpshooting exhibitions, trick riding and recreations of buffalo hunts (with real buffalo) and stagecoach holdups were all regular parts of the program. The show was so ambitious that it took hundreds of people to stage it. To move the show from one place to another, two trains — totaling 50 or more cars — were required.
The Wild West show — officially, "Buffalo Bill's Wild West" — was so popular that it went international, first touring England for almost a year in 1887. Cody and his band of showmen (and women) spent large chunks of the decade after that playing in front of sold-out venues in several other spots in Europe.
Of course, the show, strictly speaking, wasn't the real thing. It's difficult to shoot a glass ball out of the air with a pistol, hold up a stagecoach with guns blazing, fight with Indians you're paying to be there, or slaughter buffalo with a rifle in front of a crowd of meek city folks and foreigners.
Still, Buffalo Bill sure was the real deal. Well. Mostly.
"I think the key reason why he was so successful is they never billed the show as a circus," says Jeremy Johnston, the historian for the Buffalo Bill Center of the West in Buffalo Bill's namesake town of Cody, Wyoming. "It was always billed as an historical exposition, or an historical reenactment, this unusual combination of drama and authenticity.
"For people watching the show, you're watching Buffalo Bill and many other performers who were actually in the American West and actually fought in the Indian Wars. You're seeing these individuals who were there at the events reenacting what they did. It just really had to leave quite the impression."