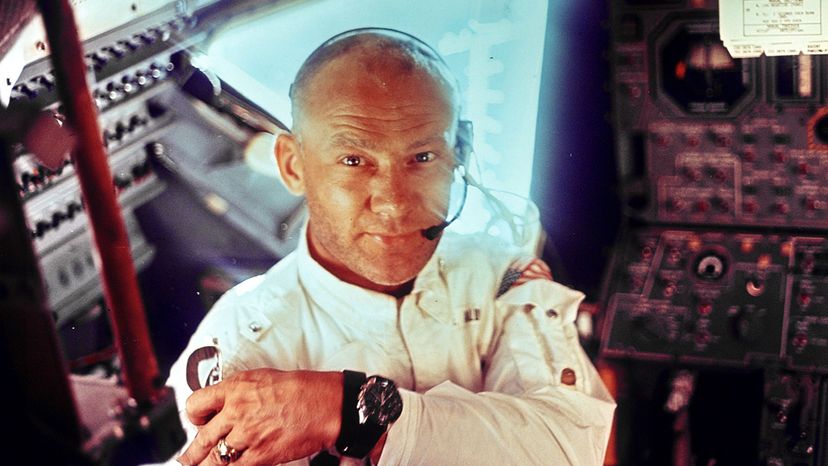 Buzz Aldrin may forever be remembered as the "silver medalist" of the Apollo 11 mission when he became the second human being to step foot on the moon. But to dismiss Aldrin as history's most famous second-place finisher is to ignore his genius, his bravery and his tireless advocacy for manned space exploration.
Space historian and author Rod Pyle has met and interviewed Aldrin a number of times and never ceases to be amazed by the 89-year-old astronaut's active engagement with the future of spaceflight, from grooming the next generation of astronauts to designing the technology to shuttle humans to Mars.
"At almost 90, he stands ramrod straight and he's full of energy and ideas," says Pyle. "Buzz thinks more clearly about this stuff than people my age times three."
Born Edwin Eugene Aldrin Jr. in Montclair, New Jersey, Aldrin earned his famous nickname from his little sister Fay Ann who called him "buzzer" instead of brother (he legally changed it to "Buzz" in the early '80s). In a bit of poetic foreshadowing, Aldrin's mother's name was Marion Moon.
Aldrin was a straight-A student and a stellar athlete, graduating one year early from high school. His father, a colonel in the Air Force and himself an aviation pioneer, had high expectations for Buzz and secured him a spot at the Naval Academy in Annapolis, Maryland. But Aldrin wanted to go to West Point, says Pyle, because "that's where the flying was happening."
After graduating third in his class from West Point with a degree in mechanical engineering, Aldrin enlisted in the Air Force and shipped off to the Korean War, where he flew 66 combat missions, recorded two MIG-15 kills and earned the Distinguished Flying Cross.
Aldrin learned about the fledgling astronaut program from Ed White, who he met during a tour of duty flying F100s in Germany. Buzz wanted in, but NASA was exclusively recruiting test pilots, not combat pilots, and the space organization rejected Aldrin's first application.