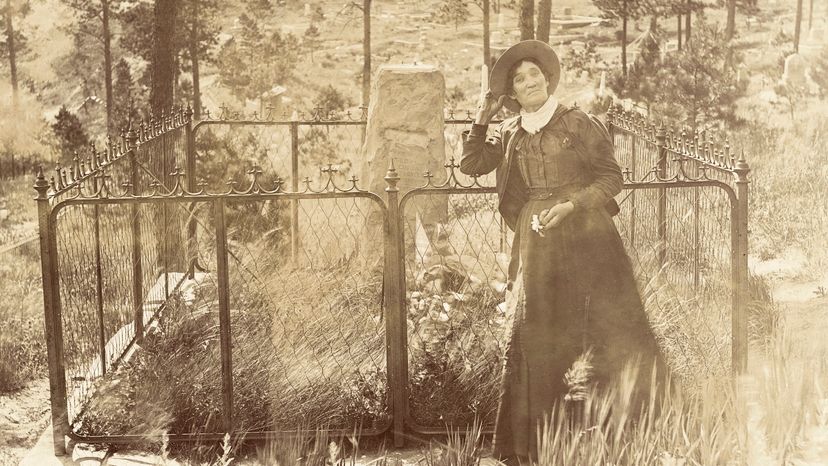 With a reputation for being one of the most adventurous and foul-mouthed women in the Old West, Calamity Jane has fascinated American history buffs for over 170 years. She was known to be a sharp-shooter, a whiskey lover and an early adopter of men's fashion at a time when women were largely confined to strict codes of dress and conduct. But who was Calamity Jane and where did she come from?
"Martha Jane Canary, aka Calamity Jane, was born in Princeton, Missouri," says Carolyn Weber, executive director of Deadwood History, Inc. "The family then went on to Montana — her parents were negligent with her and her siblings' care and they were a very poor family."
Canary had five younger siblings and when the family moved from Missouri to Virginia City, Montana, in 1865, she spent most of the five-month wagon train trip hunting with the men in the caravan. By the time the group reached their destination, Canary had earned a reputation for being an expert markswoman and a strong leader.
Canary's life changed drastically once her family settled in Montana, however. "Her mother died when she was 9 or 10 years old," Weber says. "The family then went to Utah. Martha's father died, perhaps in 1867, but not confirmed, and Martha then went to Wyoming. She came to Deadwood from Cheyenne."
Orphaned by age 12 and now tasked with heading a household, Canary was desperate to make a living and support her siblings. While in Wyoming, she took on a variety of jobs, including dishwasher, waitress, nurse and — according to some — prostitute. In 1870, she became a scout at Fort Russell, joining General George Armstrong Custer. Canary later said she was "the most reckless and daring rider and one of the best shots in the West."