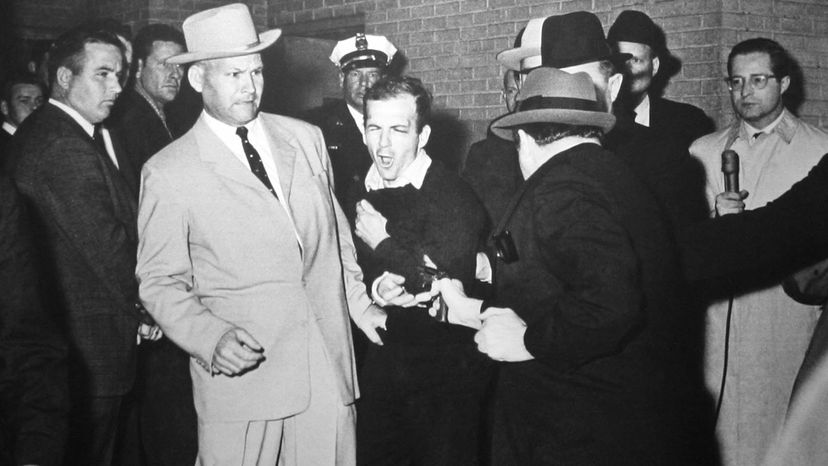 If not for the events of Nov. 22, 1963, Jack Ruby may have lived out the rest of his life as he did most of the first 50-plus years of it: as a nobody, an outsider looking in, a small-time crook desperately seeking to belong. As it happened, though that day in Dallas changed a lot of lives, many of them inalterably. Ruby's was one of them.
Two days after that sunny November afternoon when Lee Harvey Oswald assassinated President John F. Kennedy, Ruby — a man most often described now as a "Dallas nightclub owner" — stepped from a pack of reporters and cameramen in the basement of the city's police headquarters, thrust a revolver into the handcuffed Oswald's stomach as officials were preparing to transfer him to a higher-security jail and, as witnessed on live television, pulled the trigger.
Ruby initially found a measure of fame with his infamous act. He became, to some, the assassin's assassin, an avenger of the fallen U.S. president. When news first broke that Oswald had been killed, cheers broke out on the streets of Dallas. In the weeks after, Ruby received hundreds of letters of support.
To others, though, Ruby was labeled, almost as quickly, as something else entirely; a confused loser, a lost soul, a fool, and a mere pawn in a burgeoning murder conspiracy.
To this day, Ruby's motivations for shooting Oswald are unclear. But the simple act of pulling that trigger has, for almost six decades now, fueled theories surrounding the Kennedy assassination.
"Were it not for Jack Ruby, I don't think the Kennedy assassination would be the lingering mystery that it has become for so many people around the world. Without Ruby, Lee Harvey Oswald would have gone to trial, in 1964, and so much more information, likely, would have come out about Oswald's background and his motivations," says Stephen Fagin, the curator of the Sixth Floor Museum at Dealey Plaza, located in the former Texas School Book Depository building, from which Oswald, according to many, fired the shots that killed Kennedy. "Ruby kind of closed the book on Oswald's story, and therefore ushered in decades of skepticism and questions about the assassination.
"Ruby is, for some people, the Rosetta Stone that you can use to unwrap the entire Kennedy conspiracy theory. But for others, he's just a guy who took matters into his own hands because he loved Kennedy and wanted to spare Jackie [the president's wife] the pain of possibly coming back to Dallas to testify in a trial. Crucial figure, but at the same time, largely a footnote in the story."