Biden as Vice President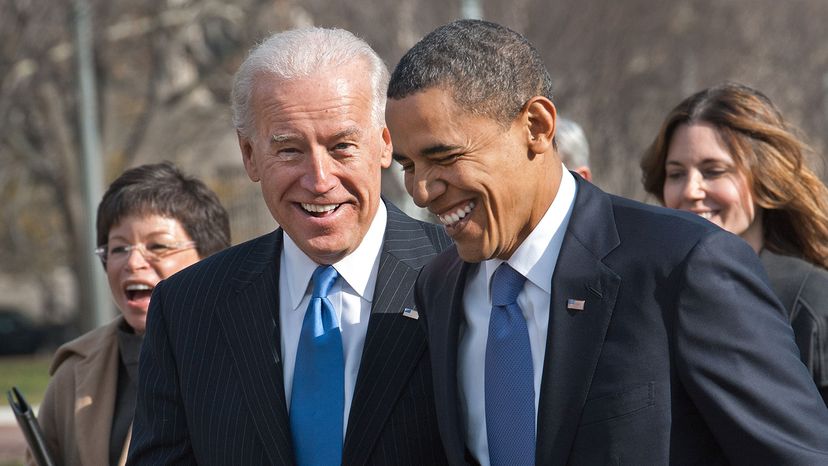 At 3 a.m. on Aug. 23, 2008, the Obama campaign sent out text messages and emails to supporters letting them know he'd chosen Joe Biden to be his running mate. At the Democratic Convention five days later, Biden accepted [source: Reuters].
While Biden and Obama initially differed in personality and temperament, their relationship grew into a budding "bromance" culminating in Obama's surprise 2016 decision to award Biden the Presidential Medal of Freedom, the nation's highest civilian honor [sources: New York Times, CNN].
During his eight years as vice president, Biden served in a number of high-profile capacities at President Obama's request. When the two men took office, the U.S. was mired in the Great Recession. Obama tapped Biden to oversee the $840 billion recovery package included in the American Recovery and Investment Act. Biden also used his bipartisan Senate connections to help pass the Dodd-Frank Act to tighten regulation of the financial sector [source: Obama White House].
Biden also played a key role in preventing the U.S. from careening over the so-called " fiscal cliff" in 2013. He entered tense negotiations with Republican Senator Mitch McConnell that resulted in critical compromises acceptable to both parties [source: Biography].
With his extensive foreign policy experience, Biden represented the Obama administration in state visits to more than 50 countries, including high-profile meetings and negotiations with China's President Xi Jinping, and the successful release of political prisoners held in Ukraine and Azerbaijan [source: Obama White House]. In the Middle East, Biden played a key leadership role in framing White House policy on Iraq and Afghanistan, and was influential in the Obama administration's anti-terrorism efforts, including the increased use of airstrikes conducted by unmanned drones [source: Council on Foreign Relations].
Biden was an early advocate for stronger laws protecting women from domestic violence; he wrote and helped pass the original "Violence Against Women Act" (VAWA) in 1994 [source: Law]. As vice president, Biden helped push the third reauthorization of the VAWA through a divided Congress, and he was charged with appointing the first White House adviser on Violence Against Women. Biden also took charge of the administration's response to a growing epidemic of campus sexual violence [source: Obama White House].
One of Biden's final duties as vice president was a personal one; to oversee the "Cancer Moonshot" mission launched by President Obama in 2016, "to make a decade's worth of advances in cancer prevention, diagnosis and treatment, in five years," according to the Obama White House website. Biden lost his son Beau to brain cancer in 2015 and dedicated his last year in office to create a national task force on cancer research, to strengthen international cooperation toward finding a cure, and to push for the 21st Century CURES Act, which allocated $1.8 billion toward cancer research funding and another $1 billion to combat the opioid crisis.