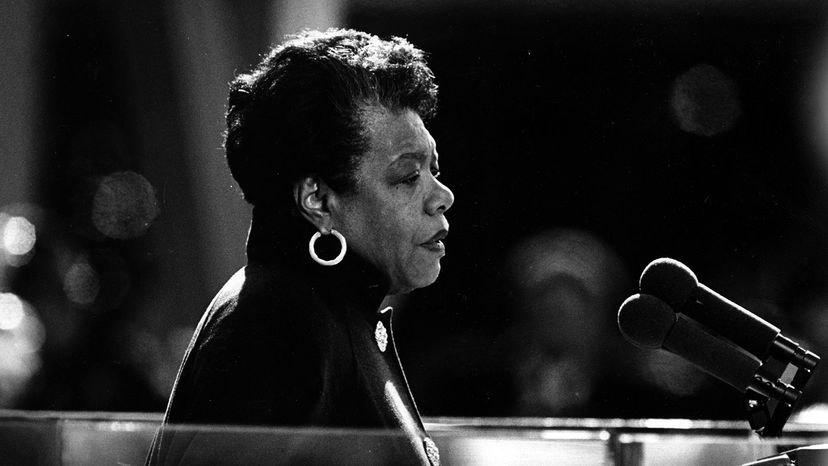 Writer, activist, entertainer and teacher Maya Angelou was a beloved figure and household name, a rarity for a female African American artist who confronted controversial topics in public. She spoke about race, violence, gender and Black history in her autobiographies, poems and speeches.
Angelou is perhaps best-known for her 1969 memoir "I Know Why the Caged Bird Sings," which recounts her childhood in Stamps, Arkansas, and in San Francisco. Dealing with themes of racism, identity and sexual violence, the book won the hearts of literary critics and everyday readers alike and has been reprinted numerous times. Yet, it is often banned from schools for its depictions of rape and supposed "anti-white messaging."
The success of that first memoir spurred Angelou to write six more autobiographies, in addition to three books of essays, several books of poetry, plays, screenplays and even two cookbooks. She earned dozens of honorary degrees; a Presidential Medal of Freedom; and a legacy that has endured via class curricula, contemporary Black feminist writers and even internet memes. Angelou's words are so resonant that you can't throw a stone in U.S. media without hitting one of the late author's quotes.
Dr. Linda Wagner-Martin, author of the books "Maya Angelou: Adventurous Spirit" and "The Life of the Author: Maya Angelou," notes that Judge Ketanji Brown Jackson quoted Angelou at the White House after her recent Supreme Court confirmation. "I am the dream and the hope of the slave," said Jackson, referencing a line in Angelou's poem "Still I Rise."
"Maya Angelou reminds us all of our better selves," says Wagner-Martin. Let's delve deeper into the life of this renowned author, using five of the best Maya Angelou quotes.