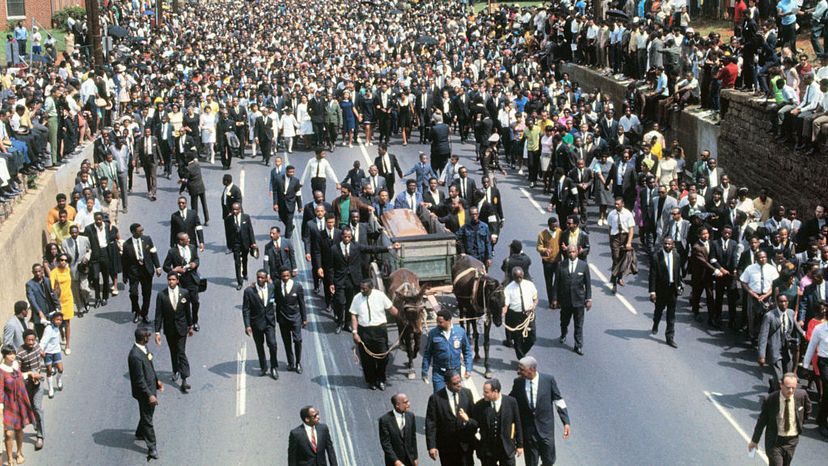 His birthday is a national holiday in the U.S. His leadership in the struggle for civil rights and his nonviolent stance have made him an international icon of social justice. But that wasn't always the case. More than 50 years ago, Martin Luther King was assassinated on April 4, 1968, but historians tell us that it wasn't King's work while he was alive nor even his tragic death that changed his reputation in the minds of most Americans.
Jeanne Theoharis teaches political science at Brooklyn College and is the author, most recently, of "A More Beautiful and Terrible History: The Uses and Misuses of Civil Rights History." Her book is an attempt to get beyond the myths that have arisen about the civil rights movement and look at how it was really seen then and what it means for us now.
Many Northerners, for example, believe that King was always a beloved figure and that his crusade against the Jim Crow South was widely celebrated by them. But Theoharis points to a New York Times poll from 1964 — the same year the Civil Rights Act was passed — that showed a majority of white New Yorkers thought the civil rights movement had gone too far. And a national poll in 1966, just two years before King's death, found that only 28 percent of white Americans had a favorable opinion of MLK. (A separate 1966 poll found that 78 percent of blacks rated King's job performance in the "fight for Negro rights" as "excellent.")
"The general public does not support the civil rights movement when it's happening," says Theoharis. "The same criticisms made against Colin Kaepernick and the Black Lives Matter movement today were trotted out against Martin Luther King and Rosa Parks 60 years ago. They were disruptive, they were called extremists, they were accused of moving too fast, going too far. All these things we see today have parallels in the civil rights movement."
Even King's famous "I Have a Dream" speech at the 1963 March for Jobs and Freedom in Washington, D.C., viewed today as the high watermark of the movement and King's short yet impactful career, was delivered under a cloud of fear and tension.
"We think of the March on Washington as the most American event ever," says Theoharis. "At the time it wasn't seen like that. Local and federal law enforcement prepared for it like it was an invasion."
Many Americans also believe that King's work ended with the passage of the 1964 Civil Rights Act and the 1965 Voting Rights Act, and that the acts themselves somehow "cured" the nation of institutional racism.
But Clayborne Carson, history professor at Stanford University and founding director of The Martin Luther King, Jr. Research and Education Institute, points out that King didn't retire after the passage of the Voting Rights Act.
"He was in Chicago the next year dealing with problems more national in scope that are still with us today. He was dealing with the question of war, and now we're living in an era of perpetual war. He was dealing with issue of poverty on the day he died," says Carson. "If Martin Luther King were alive today, he would say that [the landmark legislation] was a tremendous victory, but it has made us very complacent about his goal of global human rights and social justice. That was his big picture."