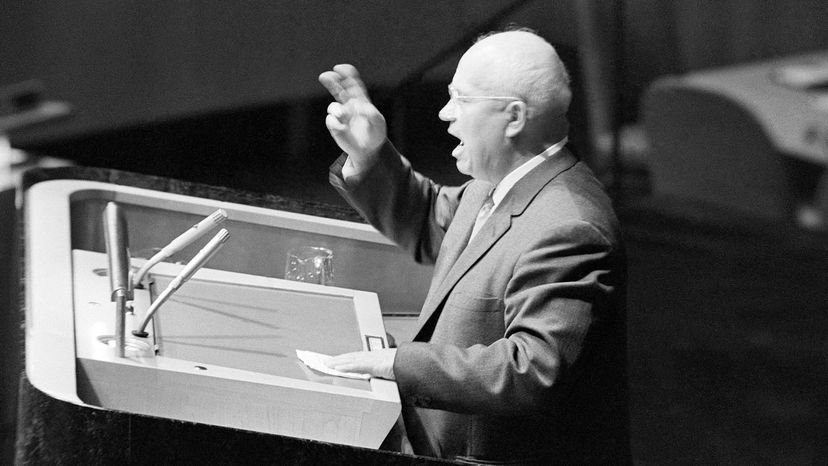 In October 1960, the former Soviet leader Nikita Khrushchev, in a veritable paroxysm of uncontained rage, forcefully banged his shoe on a desk at the United Nations to object to a speech critical of his nation. Or so the story goes.
The image of the red-faced and blustery Khrushchev — well, to be strictly accurate, no image of the famed shoe-banging incident ever was recorded, so the whole red-faced and blustery part may not be entirely on the money — became, to many, the image of the Soviet Union at the time. Angry. Forceful. Maybe a tad dangerous. Maybe a little over the edge. The Cold War was at its full-blown standoffish, below-zero chilliest at the time. To paranoid Russia-phobic Americans, an angry Soviet — especially one so brazen to actually use his loafer as a veritable hammer — was downright scary.
Unfortunately, especially if you enjoy a good Cold War drama, the shoe-banging affair may well be more histrionics than history. More exaggeration than exactness. As verifiable facts go, the story of Khrushchev and his shoe at the U.N. is notable mainly for one reason: its lack of proof.
"My personal position is that it's too good to be true, and if it actually ever happened, we would have had more corroboration, more witnesses and probably pictures, because this is the kind of stuff that gets caught on cameras," says Anton Fedyashin, a history professor at American University in Washington D.C. and former director of the school's Carmel Institute for Russian Culture & History. "So as far as the shoe-banging episode, per se, is concerned, I don't think it ever actually happened."
But you know what? Even if it didn't happen, even if Soviet shoe leather never met podium (or desk or lectern or wherever), it could have.
That story, true or not, is soooo Khrushchev.