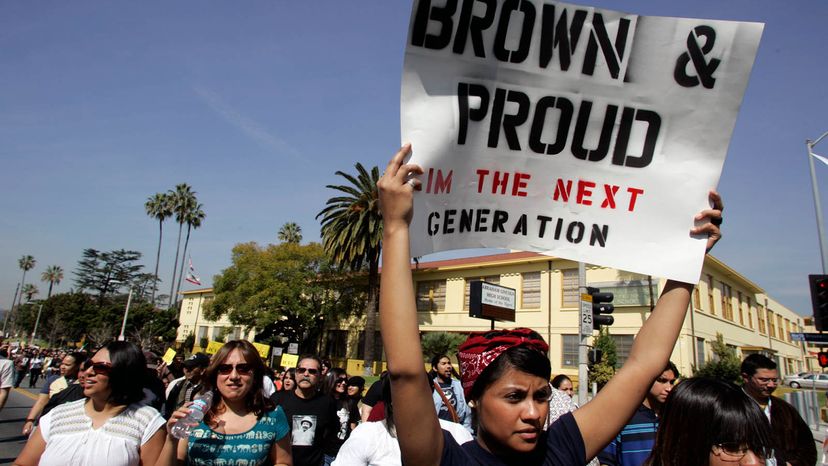 In 2008, Sonia Salazar, 20 at the time and a UC Santa Barbara student in Chicano Studies, joined more than 1,000 people to commemorate the historic East LA student walkouts of 1968, which helped launch the Chicano Civil Rights Movement.
Annie Wells/Los Angeles Times via Getty Images
For Hispanics in the United States, as for all groups still striving for justice and equality in America, the summer of 2020 looms as something potentially remarkable.
Whether this tumultuous moment in time — marked by a deadly pandemic, a polarizing presidential election, angry protests against racial injustice and for the Black Lives Matter movement, and, now, the celebration of Hispanic Heritage Month — actually turns out to be historically meaningful for the roughly 61 million Hispanics in the U.S., or just another blip in time, remains to be seen.
But it is different.
"I think the Black Lives Matter movement has really kind of quickened people's desire to change the historical narrative," says University of Florida historian Paul Ortiz, whose book, "An African American and Latinx History of the United States," examines the connection between the two groups. "That is, 'How did we get here?' involving the good and bad. 'Why do we still have systemic racism?' The good is, 'What about our legacies of struggle against systemic racism? And how can we recover those stories, those founding heroes if we will, if we've forgotten them? How do we remember them?'"