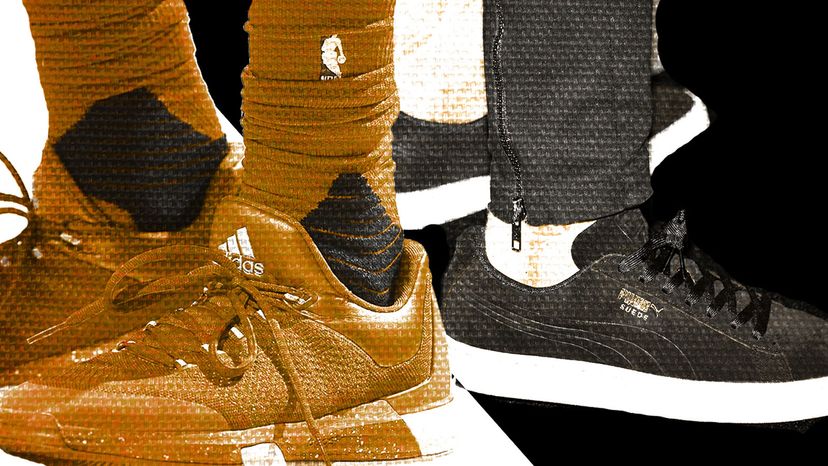 If only Adi and Rudi Dassler had learned to get along, Germany's Gebrüder Dassler might have bested Nike as the world's top sports footwear company today. Instead, the brothers' bitter feud caused the brand they created — Gebrüder Dassler Schuhfabrik (Dassler Brothers Shoe Factory) — to split in two as Adidas and Puma, the world's second and third top sports shoe businesses.
Adolf (Adi) Dassler began making shoes in 1924 in his mother's kitchen shortly after returning home to the Bavarian village of Herzogenaurach after World War I. His business did well, and older brother Rudolph (Rudi) Dassler joined him a few years later to help. Shy Adi was the creative force and brains behind the business, while extroverted Rudi was the salesman.
The Dassler brothers' main goal at this early stage of the company was to get their shoes on the feet of athletes. They believed if an athlete won a race while wearing their shoes, it would help authenticate their product. The chance came at the 1928 Olympics in Amsterdam when German distance runner Lina Radke not only won the 800-meter race in a pair of their spiked track shoes, she also set a new world record.
Gebrüder Dassler gained further acclaim at the 1936 Olympic Games in Berlin. Adi provided their shoes to athletes from several different nations. It was American Jesse Owens, who had the Olympics of his life in a pair of Dassler brothers track shoes, who became the catalyst for the company. Seven gold, five silver and five bronze medals were won by athletes in Dassler shoes during that Olympics — four gold medals by Owens alone.
But it wasn't quite the triumph it should have been because things inside the company were beginning to sour.