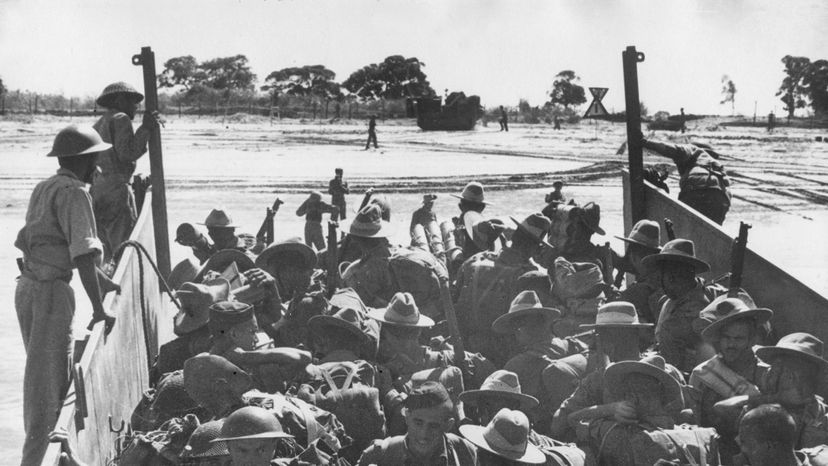 In early 1945, as part of the Pacific War during World War II, Allied forces pinned down 1,000 Japanese soldiers in a mangrove swamp off the coast of Burma (now Myanmar). Only 20 of the Japanese fighters made it out alive. The rest were reportedly eaten alive by hordes of prehistoric-looking saltwater crocodiles. According to one Allied commander:
"That night was the most horrible that any member of the M. L. [motor launch] crews ever experienced. The scattered rifle shots in the pitch-black swamp punctured by the screams of wounded men crushed in the jaws of huge reptiles, and the blurred worrying sound of spinning crocodiles made a cacophony of hell that has rarely been duplicated on earth. At dawn the vultures arrived to clean up what the crocodiles had left... Of about one thousand Japanese soldiers that entered the swamps of Ramree, only about twenty were found alive."
This horrific event is known as the Ramree Island crocodile massacre, and in 1968 the Guinness Book of World Records awarded it the dubious distinction of "most human fatalities in a crocodile attack" at roughly 900 dead.
But in recent decades, historians and herpetologists have cast doubt on the ghastly tale. While it's clear that scores of Japanese soldiers died in the battle for Ramree Island, there's no mention of a "crocodile massacre" in official military reports (either British or Japanese), and saltwater crocodiles aren't known for "feeding frenzies" of this scale, especially on live human prey.
So where did this apocryphal tale come from, and how did it spread so far and wide?