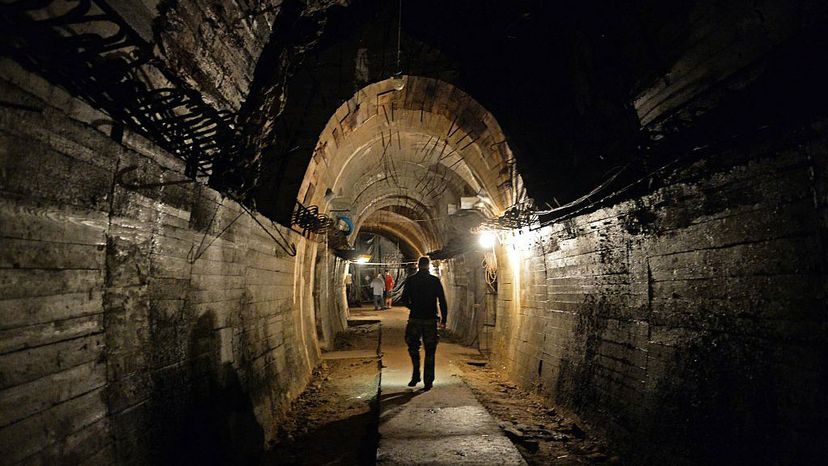 For more than 70 years, treasure hunters have flocked to a quiet corner of southwestern Poland in search of a legendary cache of Nazi loot. Deep inside the Owl Mountains, the Third Reich dug a vast network of mineshafts and tunnels between 1943 and 1945 (called the Riese Project), perhaps to hide a secret weapons program, or to carve out an impenetrable subterranean bunker for Hitler's last stand.
Whatever the Nazis had planned for their extensive underground complex -- dug by forced labor from nearby concentration camps -- the Soviets spoiled it. In 1945, with the Red Army at the doorstep, the Nazis fled their Owl Mountains refuge, blasting most of their tunnels to rubble behind them.
But according to legend, a Nazi freight train loaded with pillaged artwork, jewels and untold bars of gold bullion still rests somewhere beneath that rubble. Stories tell of a German miner who saw the Nazis pack up their "gold train" and park it inside the Owl Mountains, from which it never emerged.
"There is definitely a Nazi train buried somewhere in those tunnel complexes," says ecologist Rob Nelson, co-host of the Science Channel series "Secrets of the Underground," which launches its second season Saturday Oct. 28 with an episode devoted to the Nazi Gold Train.
"Having talked to the people [in Poland], and having spent time there, there's still so much that's unexplored," says Nelson, an adventurer with Indiana Jones issues. "The data says that there's only 5 percent we know about. The rest of it has been blasted away and blocked off. There's tons of stuff back there for sure."
The Nazi Gold Train story may have the whiff of myth, but it's rooted in historical precedent. A similar Nazi train carrying more than 5 tons (4.5 metric tons) of gold, 700 pounds (317 kilograms) of diamonds and pearls, 1,250 paintings and thousands of Oriental rugs -- stolen from grand estates as well as everyday victims of the Nazi genocide -- was intercepted by Allied forces in 1945 and dubbed the Hungarian Gold Train.
And the region surrounding the Owl Mountains, which was part of Nazi Germany in the 1940s, is home to several large mansions -- and one exceptional castle -- where Nazis were known to have stashed artwork and jewels. Much of it was never recovered.