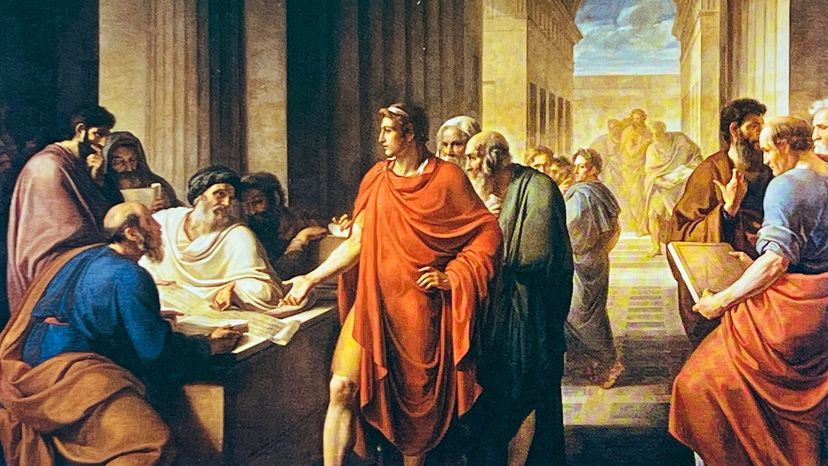 It was supposed to be the largest single repository of classical knowledge in the ancient world, the holder of all the "books" known at the time. Built by the Greek-speaking Ptolemaic dynasty of Egypt in the third century B.CE., the Library of Alexandria was said to contain hundreds of thousands of papyrus scrolls (as many as 700,000 according to one ancient source) as part of one king's Herculean effort to collect "all the books in the world."
Great minds of the Hellenistic period studied and taught in Alexandria, a cosmopolitan capital on the Mediterranean founded by Alexander the Great. The mathematician and geographer Eratosthenes lived there, as did Aristarchus, the first astronomer to argue that the planets orbited the sun. They and others were referred to as the "heads" of the Alexandrian Library by various ancient authors, and we can easily picture these beard-and-toga geniuses hunched over scrolls inside a magnificent, colonnaded hall.
And then comes the tragic part: Julius Caesar started a fire to destroy the library and that — along with the later fall of the Roman Empire — is to blame for the collective loss of knowledge that plunged Western civilization into the Dark Ages.
But is this true?
As intellectually vibrant as Alexandria was and as large as the Library of Alexandria looms in our imagination, "our actual information about that period, and specifically for the library, is pretty thin," says Thomas Hendrickson, an historian of ancient libraries and their legacies. "If the Library of Alexandria really existed, we don't have any information about it. But even the legend of the library seems to have been a huge inspiration for the entire ancient world."