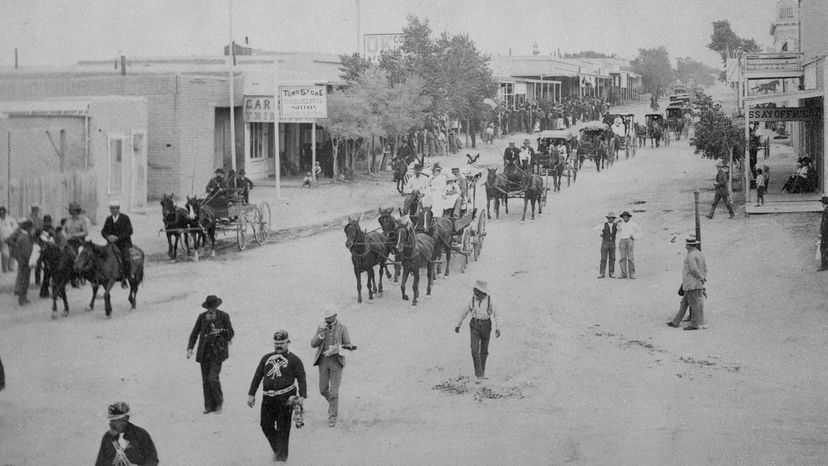 The Wild, Wild West would not be the, well, Wild West that we know today without the O.K. Corral and the famous gunfight that erupted there on a late October afternoon in 1881.
The romanticized version of the American cowboy, tin stars, quick draw gunfights, saloons on dusty streets, and unending desert landscapes wouldn't hold such a firm place in our consciousness if not for this infamous showdown. The one between tough-nosed lawmen and some hard-headed outlaws in the town of Tombstone, near the Mexican border in the Arizona Territory.
But just to clarify: The shootout wasn't even in a corral at all. It turns out, the shootout took place in a vacant lot, next to a photo studio and a boarding house.
Second point of clarification: Nobody ever called the standoff "the Gunfight at the O.K. Corral" until Hollywood sunk its claws into the story in the late 1950s. The deadly scrap was well-known by historians, but to them it was just a fight. It wasn't "the Gunfight at the O.K. Corral" until 1957's Burt Lancaster-Kirk Douglas blockbuster, "Gunfight at the O.K. Corral."
Which, you have to admit, does sound way cooler than "Gunfight in a Vacant Lot."
"That doesn't play well. But 'Gunfight at the O.K. Corral' is magic. It's all in a name. Everything's in the name," says Marshall Trimble, Arizona's official state historian. "I've written about 25 books and the hardest part of the whole thing is coming up with a catchy name."