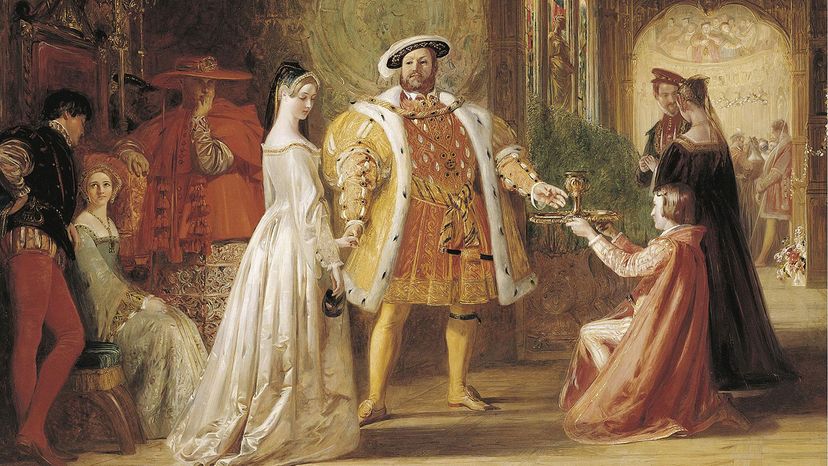 It was 1526. England's King Henry VIII was the midst of his first marriage to Catherine of Aragon, when he first caught sight of Anne Boleyn. At the time, Anne was maid-of-honor to Catherine and living in Henry's court. Love — or something like it — immediately ensued.
Henry already had had several mistresses (including Anne's sister Mary) in his quest to have the son and heir that Catherine had been unable to give him. He was infatuated with Anne and wished to bed her too. But Anne didn't want to be a mere mistress — she wanted to become queen. So, she turned down Henry's repeated requests, which made Henry all the more obsessed with her. But how was he to legally divorce Catherine?
In the 16th century, England was part of the Roman Catholic Church, which forbade divorce. So Henry asked Pope Clement VII to annul his marriage. The reason? Catherine previously had been wed to Henry's brother, Arthur, who died shortly after the nuptials. According to a biblical passage in Leviticus, Henry said, he was prohibited from marrying his brother's wife. Thus, his marriage to Catherine was invalid. But the pope disagreed and refused to grant an annulment.
With no legal way out of his marriage, Henry conspired with his chief minister, Thomas Cromwell, who advised him to proclaim himself head of his own church and grant himself an annulment.
Although Anne refused Henry's advances for years while he worked to divorce Catherine, she began to worry that he was losing interest in her. So late in 1532, Anne slept with him — and became pregnant. The couple hastily married in a secret ceremony in January 1533 after which the new archbishop of Canterbury annulled Henry's marriage to Catherine. The pope excommunicated Henry and British Parliament passed a law declaring that the power of the Catholic church was effectively transferred to the king of England. Anne was crowned queen in June 1533, a mere nine days after he divorced Catherine of Aragon.